The Biden administration has officially withdrawn the Department of Labor's November 5 mandate that workplaces employing more than 100 workers require COVID-19 vaccination, a Tuesday report by the Federal Register revealed.
This move follows a January 13 ruling by the Supreme Court wherein a 6-3 decision the justices decided that the Labor Department's Occupational Safety and Health Administration (OSHA) did not have the authority to enforce the Biden administration's order.
A Court of Appeals for the Sixth Circuit had been considering the legality of the Biden mandate; however, the Supreme Court's ruling all but affirmed that even if the lower court found the measure legal, the Supreme Court would have likely overturned the decision.
"Notwithstanding the withdrawal of the Vaccination and Testing ETS, OSHA continues to strongly encourage the vaccination of workers against the continuing dangers posed by COVID-19 in the workplace," the memo, which was signed by OSHA Assistant Secretary Douglas Parker, said.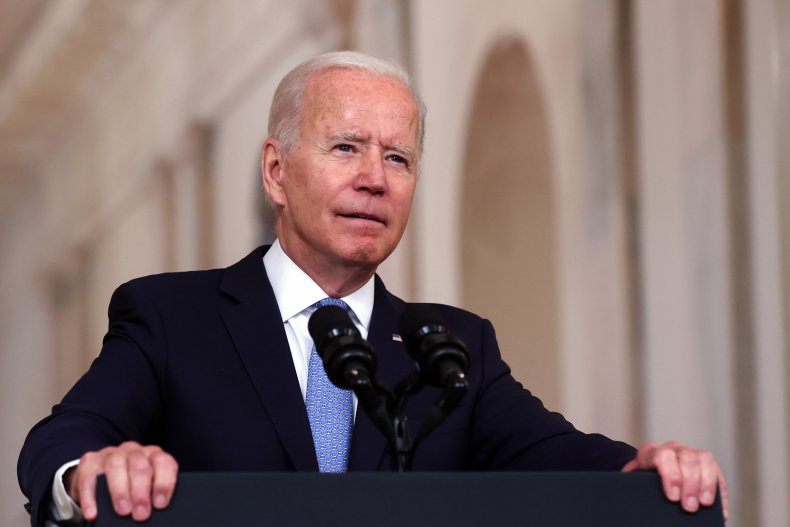 The number of COVID-19 cases has declined by 9 percent in the United States over the past two weeks. However, deaths have jumped 25 percent and hospitalizations have climbed 13 percent. The U.S. Centers for Disease Control and Prevention (CDC) reports that while breakthrough infections for vaccinated persons are "likely to occur," vaccines remain effective at "preventing severe illness, hospitalizations, and death."
While at the moment some 63 percent of Americans are fully vaccinated and nearly 76 percent have taken one dose, the remaining 24 or so percent generally hold strong feelings against taking the shot. A recent Morning Consult poll found those who plan on not getting the shot list concerns about side effects, quick clinical trials and mistrust in the vaccine producers as their top concerns.
The National Federation of Independent Business (NFIB), which sued the Department of Labor to take the OSHA mandate to the Supreme Court, did not focus on these particular concerns when bringing the case to court. Instead, it made an appeal that the mandate would present a challenge to businesses that struggled during the pandemic.
The NFIB argued that the OSHA mandate should not be enforced because the agency did not take a "typical notice-and-comment procedure" before implementing the rule, adding that the decision to enact such a measure should be left to Congress.
"We are pleased the Supreme Court stopped the rule from taking effect," Karen Harned, executive director of NFIB's Small Business Legal Center, said in a memo after the Supreme Court made its ruling. "As small businesses try to recover after almost two years of significant business disruptions, the last thing they need is a mandate that would cause more business challenges."