Some of President Joe Biden's failures, from the Afghanistan surrender to skyrocketing inflation, have gotten extensive—and well-deserved—press attention. But there is another fiasco that has as yet gone largely unnoticed: climate.
The Biden administration trumpeted itself as the greenest in history, and declared climate to be its driving strategic priority in everything from national security to energy policy. Yet in Biden's first year in office, the energy crisis in Europe and supply-chain problems at home have spiked global carbon emissions to unprecedented levels, while the White House shuns practical solutions simply because they involve natural gas.
On January 27, climate envoy John Kerry held a virtual summit of the world's largest polluters to harangue them about their lack of progress towards the lofty goals set at the UN's recent COP26 Glasgow meeting. "We all must move faster in this decade to accelerate the transition from coal to renewables," Kerry reportedly demanded.
Unfortunately, the trajectory Kerry laid out is fundamentally flawed. Europe's current energy crisis has provided a painful demonstration that renewables are not yet plentiful or reliable enough to supply 21st-century energy needs. Shortages drove consumers back to coal, resulting in a spike in carbon emissions, as well as in the price of permits required for emissions. Mitigating the damage will require embracing the intermediary step of expanding supplies of natural gas, even as we work on improving renewables. In other words, if you want to go from brown to green, you are going to have to go through blue.
Yet the Biden administration is rejecting opportunities to expand Europe's access to natural gas from friendly sources. Last month, for example, the White House withdrew its support for the Eastern Mediterranean pipeline under a new policy of withholding support for foreign fossil fuel projects.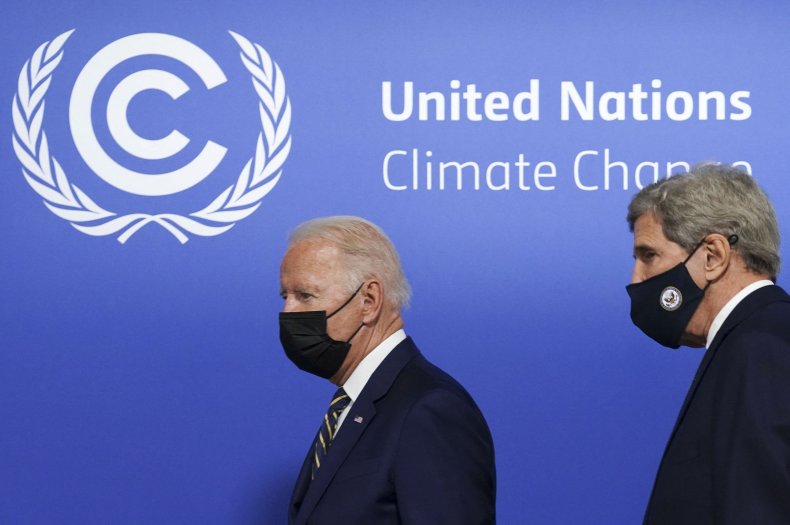 This policy is inherently self-defeating. A lack of U.S. government support may deter American private industry from participating, but that does not mean the projects will not go forward. Rather, it only increases the possibility that they will be executed in a less clean and safe manner by hostile states such as Russia and China. In the case of the Eastern Mediterranean Pipeline, the decision is also a strategic setback—the project represents a new level of cooperation between America's regional allies, including Israel, Greece, Cyprus and Egypt, as well as a potential alternative to Russian domination of Europe's energy supply via the Nord Stream 2 pipeline.
Even more disturbing than the situation in Europe is the environmental degradation taking place off the western coast of the United States due to the unresolved backup of container ships at the ports of Los Angeles and Long Beach. The idling vessels are burning diesel and belching amounts of pollution into California's air comparable to the approximately six million passenger cars on the area's highways. The Biden administration, however, has been largely dismissive of the problem, despite the fact a potential solution is in the offing.
The Australian conglomerate BHP Group, Ltd. recently announced it would be making its first bulk shipment on a vessel powered by liquid natural gas. The Mount Tourmaline will sail from Australia to an undisclosed location in Northeast Asia with a cargo of iron ore. The Tourmaline is the first of five ships that BHP is preparing to run on natural gas, and while that is currently just a fraction of the company's fleet, it represents a positive start—those ships make lower emissions by some 30 percent, and can be converted to even cleaner fuel as the technology becomes viable. Reducing shipping emissions by a third would be nothing short of historic in terms of responsible climate stewardship. President Biden has the opportunity to encourage and incentivize a widespread conversion for ships coming to the United States, and prevent what is happening in California now from happening again in the future.
Natural gas is, of course, just one component of any holistic energy modernization effort, which would also include a significant expansion of civil nuclear power as well as developing technologies such as hydrogen and ammonia. But after the Biden administration's dismal first year on climate, it should be clear to all that the aspirational leap straight to renewables the White House envisions is counterproductive. Instead of blowing more hot air, we should engage in a robust discussion between policymakers and industry leaders regarding existing solutions that will fuel the future while improving the environment here and now.
Victoria Coates is a Distinguished Fellow in Strategic Studies at the American Foreign Policy Council.
The views expressed in this article are the writer's own.