National Security Adviser Jake Sullivan on Sunday said the Biden administration is preparing a third round of sanctions for Russia over the poisoning of opposition leader Alexei Navalny following Joe Biden's first face-to-face meeting as president with Vladimir Putin.
"We are preparing another package of sanctions to apply in this case," Sullivan told CNN's State of the Union. "We've shown all along the way that we are not going to pull our punches, whether it's on solar winds, or election interference, or Navalny when it comes to responding to Russia's harmful activities."
The penalties will come "as soon as we have developed the package to ensure that we are getting the right targets," Sullivan added. "When we do that, we will impose sanctions with respect to chemical weapons."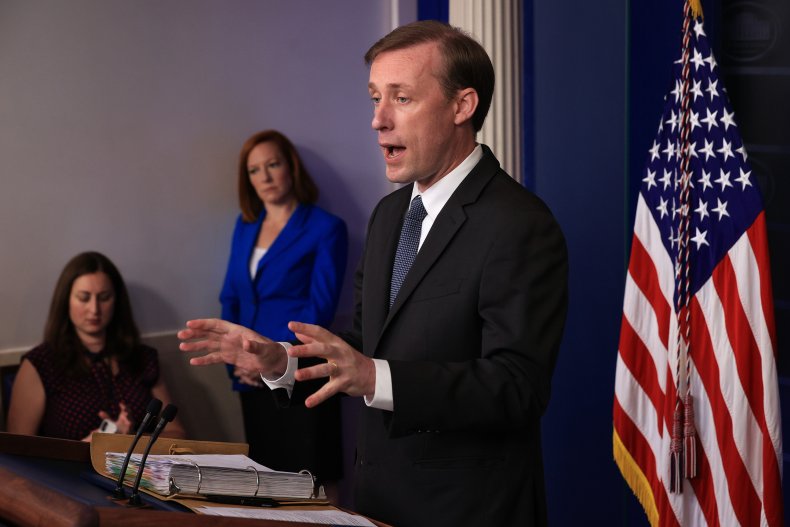 The Biden administration has already imposed two rounds of sanctions against the Kremlin since it took over the White House in January.
The first penalties, announced in March, were imposed against Russian officials over Navalny's poisoning and imprisonment. One month later, in April, the administration responded to the SolarWinds hack by announcing additional sanctions, including penalties against dozens of Kremlin-linked officials, the domestic expulsion of 10 Russian diplomats, and limits on purchasing sovereign debt.
Biden's Wednesday summit with his Russian counterpart concluded with minor gains, including an agreement to return each country's ambassadors to their posts and the forming of task forces to limit cyberattacks.
Ahead of their three-hour meeting in Geneva, Biden said that his modest goal was to establish a "predictable and relational" rapport with Putin. But critics argued that Biden's participation in the summit would boost Putin's position back home and on the world stage.
After their summit, Biden suggested he spoke to Putin about Russia's human rights abuses and said he warned that there would be "devastating" consequences for the country if Navalny dies in prison
"What do you think happens when he's saying it's not about hurting Navalny, all the stuff he says to rationalize the treatment of Navalny, and then he dies in prison?" the president added. "It's about trust. It's about their ability to influence other nations in a positive way."
Putin defended the actions that were taken against Navalny and his allies at a press conference in Geneva. "We sympathize with what is happening in the states, but we do not wish that to happen in Russia," he said.
Newsweek reached out to the Russia's Ministry of Foreign Affairs for comment. This story will be updated with any response.