Biden Administration Dodges Iran Offer to Coordinate Nuclear Deal Return
President Joe Biden's administration has dodged an Iranian offer to coordinate both countries' return to their nuclear deal commitments, arguing that the Islamic Republic must first reinstate the restrictions suspended in response to the U.S. having abandoned the agreement entirely nearly three years ago.
The agreement, officially known as the Joint Comprehensive Plan of Action (JCPOA), was reached in 2015 by the U.S. and Iran, alongside China, France, Germany, Russia and the United Kingdom.
Former President Donald Trump left the accord in 2018. Facing severe U.S. sanctions, Iran has begun enriching uranium beyond designated caps, something the Biden administration says is blocking a U.S. return to the deal.
"If Iran comes back into full compliance with its obligations under the JCPOA, the United States would do the same," State Department spokesperson Ned Price told reporters at his first press conference Tuesday, "and then we would then use that as a platform to build a longer and a stronger agreement that also addresses other areas of concern."
He emphasized, however, that "we are a long way from that."
Tehran has vowed to reinstate these limits, which Iranian officials argue were taken within the framework of the deal's dispute resolution clause, but only if Washington—as the party who first walked away—adhered to its obligations.
In an interview Monday with CNN, Iranian Foreign Minister Mohammad Javad Zarif proposed a different approach, one in which both countries would synchronize their JCPOA-related moves under the supervision of the European Union.
The top Iranian diplomat said that, in his role as JCPOA commissioner, EU Foreign Affairs High Representative Josep Borrell could "choreograph the actions that are needed to be taken by the United States and the actions that are needed to be taken by Iran."
He suggested that is the best way forward.
"Clearly, actions that Iran takes have always been monitored and certified by the IAEA and we have shown that we fulfill our promises," Zarif said. "The side that has not been able to show it fulfill its promises has been the United States, and as I said, the United States has to prove its bona fides, we have already proven our bona fides."
He repeated his offer to pave a path toward resolving the dispute.
"If we are away from the strict limitations of the nuclear agreement its because the United States tried to impose a full economic war on Iran," Zarif said. "Now if it stops that, we will go back into full compliance."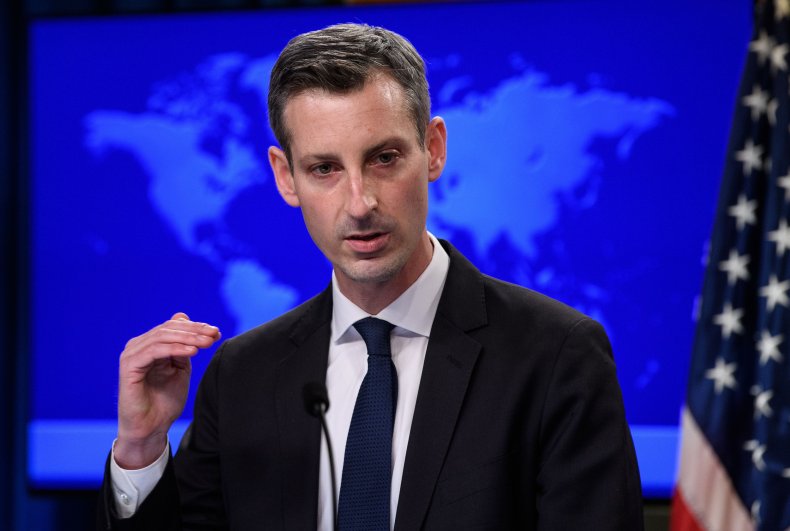 Borrell and his team, for their part, "are working extremely hard to get the JCPOA back on track," spokesperson Peter Stano told the Agence France-Presse.
Price said the U.S. diplomats had not yet opened the issue with the Iranian side. And though he said the negotiation of a new nuclear deal was an issue that "cannot wait" and a challenge that the new administration had to "tackle immediately," he indicated that Iran was "a far cry" away from taking initial steps needed to get diplomacy back on track.
"Iran has distanced itself from compliance on a number of fronts, and there are many steps in that process," Price said.
Among them he listed "consulting with our allies, consulting with our partners, consulting with Congress before we're reaching the point where we're going to engage directly with the Iranians and willing to entertain any sort of proposal, especially since we've been very clear about the proposition we have put on the table."
The State Department did not immediately respond to Newsweek's request for comment.
Reuters later cited an unnamed U.S. official as saying "there is no rejection" at the moment.
"We have not begun negotiating with Iran, or with anyone else, because our priority is to consult" with partners in the nuclear deal and in the region, the official was cited as saying.
Iran has always denied seeking a nuclear weapon, but the international community has expressed skepticism toward this claim. Still, the JCPOA was built to assuage those fears, imposing tight restrictions on Iran's nuclear program in exchange for sanctions relief.
Biden and a number of top officials, some of whom were involved in the implementation of the JCPOA during former President Barack Obama's administration, have criticized Trump's decision to leave the agreement, but have so far dismissed a hasty return.
Using similar language heard from Blinken on Tuesday, Secretary of State Antony Blinken said during his own debut press conference last Wednesday that the U.S. and Iran were "a long ways" from returning to JCPOA talks.
In response, Iranian permanent mission to the United Nations spokesperson Alireza Miryousefi told Newsweek that "the U.S., as the party that violated not just the JCPOA but also UNSCR 2231—in violation of international law—should comply with both and lift the sanctions it has imposed."
U.N. Security Council resolution 2231 supported the JCPOA approval and Paragraph 36 allows Iran "to cease performing its commitments under this JCPOA in whole or in part and/or notify the UN Security Council that it believes the issue constitutes significant non-performance," a clause the country argues justifies its higher enrichment amid the U.S. exit and European failures to normalize trade ties as a result of Washington's sanctions.
"Iran is not 'in violation' of the accord, it has merely triggered Paragraph 36 which allows Iran to take remedial actions in the face of continued non-compliance by other parties," Miryousefi said at the time.
With Iran once again enriching at higher levels, the Biden administration has raised the alarm on the potential for the Islamic Republic to hasten its breakout time to obtain a nuclear weapon should it seek one.
In his confirmation hearing two weeks ago, Blinken estimated this time to be around four-three months, about half the time cited Tuesday by Israeli Energy Minister Yuval Steinitz during a radio interview with Kan.
Israel is among a select few nations vocally opposed to the JCPOA or any deal like it. Also critical of the arrangement was Saudi Arabia, another close U.S. partner in the Middle East, where the emergence of the nuclear dispute has been accompanied by heightened unrest in several fronts including in Iraq and across the Persian Gulf.
This article and its headline have been updated to include comments by an unnamed U.S. official.