Iran Fires Back at Biden's Top Diplomat: We Didn't Violate Nuclear Deal, You Did
A senior Iranian official has delivered to Newsweek the Islamic Republic's response to Secretary of State Antony Blinken's first official remarks on President Joe Biden's approach to tensions between Tehran and Washington rooted in the latter's exit under the previous administration from the Joint Comprehensive Plan of Action (JCPOA), the multilateral nuclear deal with Iran.
While Biden promised in the past to restore U.S. adherence to the agreement reached by former President Barack Obama alongside other nations in 2015 and unilaterally abandoned by former President Donald Trump in 2018, Blinken told reporters Wednesday that the new administration was "a long ways" from returning to the pact.
In a statement sent to Newsweek, Iranian permanent mission to the United Nations spokesperson Alireza Miryousefi noted that the U.S. had not only broken commitments to the nuclear deal, but also to United Nations Security Council resolution 2231 that supported it.
"The current U.S. Administration, as its predecessor, is in violation of its commitments based on JCPOA and UNSC resolution 2231," Miryousefi said.
He referenced recent statements by Iranian Foreign Minister Mohammad Javad Zarif and permanent representative to the U.N. Majid Takht-Ravanchi, who both urged the Biden administration to reverse course ahead of Blinken's comments.
"As FM Zarif and Amb. Ravanchi reiterated in their recent op-ed, we have always maintained that the U.S., as the party that violated not just the JCPOA but also UNSCR 2231—in violation of international law—should comply with both and lift the sanctions it has imposed," Miryousefi said.
Iranian officials have walked away from key nuclear enrichment caps contained in the deal, but argue they have done so within the confines of the resolution, specifically Paragraph 36. This section allows Iran—following a long-past review process—"to cease performing its commitments under this JCPOA in whole or in part and/or notify the UN Security Council that it believes the issue constitutes significant non-performance."
Miryousefi cited this section to support Tehran's position.
"Iran is not 'in violation' of the accord, it has merely triggered Paragraph 36 which allows Iran to take remedial actions in the face of continued non-compliance by other parties," he told Newsweek.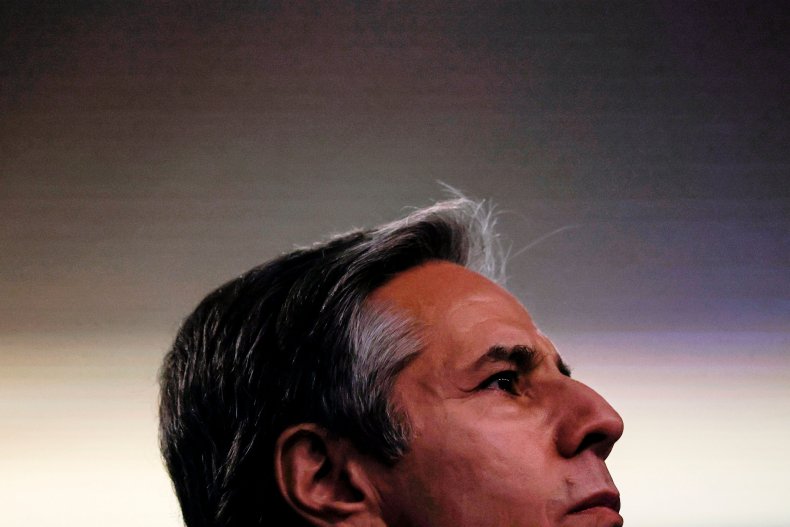 The Trump administration's departure from the agreement set off a "maximum pressure" campaign that has ravaged an Iranian economy already beset with financial woes. It's also forced international investors away from the Islamic Republic, further fueling Iran's suspension of its obligations under the agreement.
In his remarks Wednesday, however, Blinken laid the blame solely on Tehran, which he said would have to make the first move.
"With regard to Iran, President Biden has been very clear in saying that if Iran comes back to compliance with obligations under the JCPOA, the United States would do the same thing," Blinken said. "And then we would use that as a platform to build with our allies and partners what we call a longer and stronger agreement and to deal with others issues that are deeply problematic in the relationship with Iran."
Rebuffing Iranian appeals for a timely return to the pact, Blinken said there were no immediate plans to get diplomacy between the two longtime rivals back on track.
"Iran is out of compliance on a number of fronts, and it would take some time, should it make the decision to do so, to come back into compliance and time then for us to assess whether it was meeting its obligations," Blinken said. "We're not there yet, to say the least."
Fellow JCPOA signatories China, France, Germany, Russia and the United Kingdom have joined Iran in urging the U.S. to rejoin the agreement. But European parties to the deal have also emphasized that Iran must stop enriching uranium at rates beyond the designated limits of the accord.
Moscow and Beijing have also expressed concern, but they have blamed Washington's exit and subsequent sanctions as the primary instigators of the dispute, which has triggered tensions across the Middle East.
Among the select few nation's opposing a U.S. return to the JCPOA is Israel, which has intensified a campaign of targeting the Iran-linked groups accused of establishing forward bases and transferring arms in countries like Syria.
Israel's top general, Lieutenant-General Aviv Kochavi, called restoring the agreement or any similar deal with Iran "a bad thing operationally and strategically" during a high-profile speech Tuesday in which he hinted at new military options targeting the Islamic Republic.
Also expressing reservations toward any U.S.-Iran diplomacy are Sunni Muslim monarchies of the Arabian Peninsula, with whom the Trump administration had fostered close ties and oversaw a warming of relations with Israel.
While the Obama administration—in which Biden served as vice president and Blinken as deputy national security adviser—pursued a strategic detente with Iran, the Trump administration doubled down against a country with which the U.S. has been at odds for more than four decades.
Unrest has soared over the past four years in the Persian Gulf and in Iraq, where Trump ordered the killing of Iran's Revolutionary Guard Quds Force commander Major General Qassem Soleimani last January, an act that Biden criticized at the time. Heightened tensions surrounded the anniversary of the killing of the Iranian military leader earlier this month and a spate of back-to-back military exercises have coincided with Biden's inauguration.
As a new U.S. leader settles in, however, his Iranian counterpart's days in office were limited. Iranian President Hassan Rouhani's second term ends with the election in June, and political forces in Iran opposed to dealing with the West have become emboldened in recent years.
The Iranian president called the sanctions a failure during a cabinet session earlier Wednesday.
"Today, we are more confident than ever that the enemy's economic war has failed and is in its final days," the Iranian president said.
He added a call for Washington's return to the nuclear pact.
"These days, with the exception of a few countries, the whole world is calling on the United States to return to its commitments in the Joint Comprehensive Plan of Action," Rouhani said.