Iran Threatens to Take Out Tel Aviv if Israel Follows Through With New Military Plans
The Iranian armed forces have threatened to take out two Mediterranean cities should Israel follow through with new military plans announced the day prior by the country's top general.
Israeli Lieutenant-General Aviv Kochavi, chief of staff of the Israel Defense Forces, announced during a Tuesday address to Tel Aviv University's Institute for National Security Studies that he felt a return by President Joe Biden to a 2015 nuclear deal with Iran or similar arrangement would be a "bad thing operationally and strategically" as it would allow the Islamic republic a fast track to building a bomb—something Iranian leadership has always denied it sought to do.
Kochavi said this analysis had caused him to draw up new plans against Iran, which he accused of operating through allied militias across the Middle East, including Lebanon and Syria, where Israel was already active in a campaign of air raids.
"In view of this fundamental analysis, I ordered the Israel Defense Forces to prepare a number of operational plans, in addition to what we have already, and we will develop them over the next year," Kohavi said. "It will be the government, of course, who decides on implementing them, but these plans have to be ready, they have to be on the table and they have to be documented."
These remarks resounded in Tehran, where Iranian Armed Forces spokesperson Brigadier General Abolfazl Shekarchi dismissed them as "psychological warfare." He issued a stark warning in response.
"If even the slightest mistake is made, we will level Haifa and Tel Aviv in the shortest possible time," Shekarchi said in comments carried Wednesday by the semi-official Tasnim News Agency.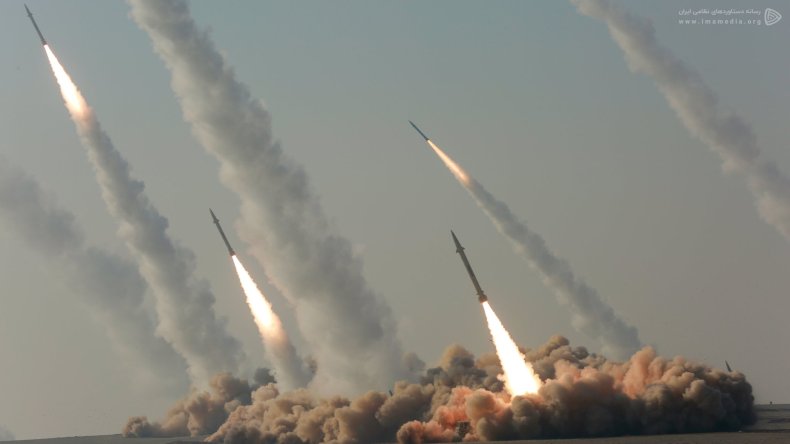 Kochavi's comments were also countered Wednesday by Mahmoud Vaezi, Iranian President Hassan Rouhani's chief of staff.
"Our people and people of the region are familiar with the language so far used by the Zionist regime's officials, who talk more and seek to conduct psychological warfare," Vaezi said, arguing that Israel had "neither a plan nor the ability" to wage an attack on Iran.
He pointed to recent back-to-back exercises carried out by various branches of the Islamic Republic of Iran Army and Revolutionary Guard as signs that "we do not intend to invade or fight, but we are serious about defending the country."
Vaezi mocked the previous administration of President Donald Trump, who closely aligned himself with Israel and withdrew from the nuclear deal, officially known as the Joint Comprehensive Plan of Action (JCPOA), in 2018. Vaezi called Trump's son-in-law and senior adviser Jared Kushner an "agent" of Israel, but said the new administration sworn in a week ago "has its own independence, like other countries."
He then urged Biden to immediately rejoin the JCPOA and remove harsh sanctions levied against Tehran throughout the recent years of Trump's self-styled "maximum pressure" campaign. The strategy, welcomed by Iran foes such as Israel and Saudi Arabia, severely escalated tensions in the region and led to the slaying of Revolutionary Guard Quds Force commander Major General Qassem Soleimani last year in Iraq, resulting in a retaliatory attack on U.S. positions and threats of further revenge.
Speaking at a vaccination event Wednesday, Israeli Prime Minister Benjamin Netanyahu doubled down on his warnings to Tehran.
"I would like to emphasize that the policy I am pursuing is clear: we will not allow Iran to arm itself with nuclear weapons," the Israeli leader said. "I say this to enemies and friends alike, it is our top mission, to preserve the life of our country."
Despite criticism of Trump's approach to the Middle East, neither Biden nor his officials have offered any indication of a speedy return to the nuclear deal. Secretary of State Antony Blinken told lawmakers the new administration was "a long way" from that point during his confirmation on the eve of Biden's inauguration last week.
Blinken repeated this position during a press conference conducted on his first full day in office Wednesday.
"Iran is out of compliance on a number of fronts," Blinken told reporters, "and it would take some time should it make the decision to do so to come back into compliance and time then for us to assess whether it was meeting its obligations. We're not there yet, to say the least."
Such remarks have frustrated Iranian officials who see a U.S. return to the deal as a precursor for restoring uranium enrichment limits temporarily breached over the agreement's failure to normalize trade ties due to U.S. sanctions.
"Why on earth should Iran—a country that stood firm & defeated 4 years of a brutal US economic terrorism imposed in violation of JCPOA & UNSC Resolution—show goodwill gesture first?" Iranian Foreign Minister Mohammad Javad Zarif tweeted Tuesday. "It was the US that broke the deal—for no reason. It must remedy its wrong; then Iran will respond."
Rouhani too weighed in as well during a Wednesday cabinet session.
"Today, we are more confident than ever that the enemy's economic war has failed and is in its final days," the Iranian president said, adding, "These days, with the exception of a few countries, the whole world is calling on the United States to return to its commitments in the Joint Comprehensive Plan of Action."
Biden's official policy statement praises the JCPOA, criticizes Trump's decision to leave it and lays out a path for U.S. return, one predicated, however, on initial Iranian actions.
"If Tehran returns to compliance with the deal, President Biden would re-enter the agreement," the policy states, "using hard-nosed diplomacy and support from our allies to strengthen and extend it, while more effectively pushing back against Iran's other destabilizing activities."
In addition to the U.S. and Iran, signatories to the JCPOA include China, France, Germany, Russian and the United Kingdom—all of which have called on the U.S. to return to the agreement.