Iran Vote to Push Nuclear Deal Limits After Scientist Assassinated Won't Hurt Future US Talks, Experts Say
An Iranian parliamentary vote in favor of further enriching the country's uranium stockpile and halting international inspections of key sites in the wake of the assassination of a top atomic scientist may not in itself prove harmful to the prospect of future nuclear talks, experts with firsthand experience in U.S.-Iran nuclear diplomacy told Newsweek.
Just days after senior Iranian nuclear official Mohsen Fakhrizadeh was gunned down in the streets east of the capital Tehran in a yet unclaimed attack on Friday, all but nine of the Islamic Consultative Assembly or Majlis' 260 lawmakers voted to require the government to suspend more measures of the nuclear deal reached with the United States and other major powers in 2015 but abandoned three years later by President Donald Trump.
Most importantly, this "Strategic Act to Lift Sanctions" included a plan to push the Atomic Energy Organization of Iran to enrich uranium at up to 20 percent and prevent inspections of nuclear sites by the United Nations' International Atomic Energy Agency.
The aim, according to the legislative National Security and Foreign Policy Commission spokesperson Abolfazl Amoui, "is to unlock the country's nuclear industry" in line with the aspirations of Fakhrizadeh and other Iranian scientists such as Majid Shahriari killed a decade ago in a series of assassinations that has also gone officially unclaimed.
Tehran has always denied seeking a nuclear bomb, a claim met by skepticism in Washington, where Democrats such as President-elect Joe Biden see a return to the nuclear deal, officially known as the Joint Comprehensive Plan of Action (JCPOA), as the best way to prevent Iran from obtaining a nuclear weapon and deescalating tensions across the Middle East.
Jarrett Blanc, who served under former President Barack Obama as the State Department's deputy lead coordinator for Iran nuclear deal implementation, told Newsweek that the latest vote in Tehran meant "nothing" unless approved by higher powers, such as the Guardian Council, and that even then there was much room for diplomacy.
"Pretty much everything they've done so far is reversible, and President-elect Biden and Tehran have indicated a similar desire of return for compliance, for return to the JCPOA," said Blanc, who today is a senior fellow in the Geoeconomics and Strategy Program at the Carnegie Endowment for International Peace.
"There are ways that we talk about it that are different that matter, and they could end up being problematic," he said. "But so far, they've sort of expressed a similar core ambition, which I think is good news."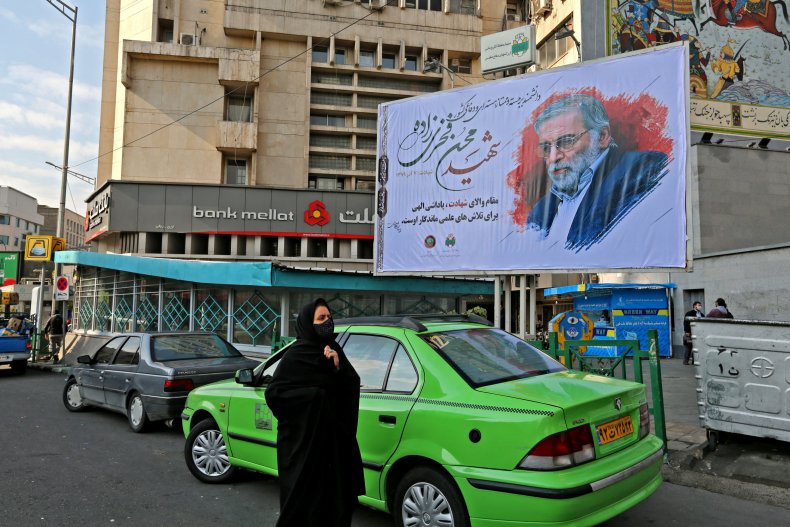 While Fakhrizadeh's assassination predictably sparked a wave of furor that fueled existing skepticism and opposition toward international talks among an increasingly influential cadre of hardliners in Iran, the reaction there has so far been relatively muted and has exposed divisions within the Iranian government.
Shortly after the latest bill was passed, Iranian presidential spokesperson Ali Rabiei told a press conference that the cabinet of President Hassan Rouhani disagreed with the measure because it did not adequately address the issue of sanctions that continue to crush the Iranian economy.
And while Iranian political and military officials have repeatedly vowed revenge, the official instructions by supreme leader Ayatollah Ali Khamenei were publicly limited to "investigate this crime and firmly prosecute its perpetrators and its commanders" and "to continue the martyr's scientific and technological efforts in all the sectors where he was active."
Blanc said it was too soon to tell for certain what Iran's next move will be, but he noted that past observations led him to believe that cooler heads are prevailing in the anticipation of a potential U.S. return to the JCPOA under Biden.
"It seems to me that they've played a pretty careful game to this point in order to leave that possibility open," Blanc told Newsweek. "And so to some extent, I do think you have to see their decision making as, 'Are we going to give that up now or are we going to try to keep that possibility alive as President-elect Biden gets close to taking office?'"
A similar assessment was shared by fellow former Obama administration official Richard Johnson, who also served as deputy lead coordinator on Iran nuclear implantation before resigning in the wake of Trump's May 2018 exit from the JCPOA.
Johnson, now senior director for Fuel Cycle and Verification at the Nuclear Threat Initiative, pointed to Rabiei's recent downplaying of the Iranian vote, telling Newsweek, "I don't see this particular action by the Majlis as having a lot of major impact at this point."
Johnson said he was more concerned about the threat of expelling IAEA inspectors than he was about the potential for further uranium enrichment. He described that possibility as "a dramatic step that would change the cooperation with the verification, because that would be really poorly received not only by the incoming by the administration, but by the Europeans, and by the Russians, who I think have an important part to play in all this."
Johnson said that to this point the Iranians have shown restraint.
"So far, the Iranians have taken what I would call very measured steps and have not really tread upon that verification relationship that has basically worked the way that the negotiators of the JCPOA hoped," he told Newsweek.
Iranian officials have vowed to return to their full commitments to the deal should the U.S. adhere to its own obligations, and Europeans do as well by normalizing trade ties.
"Iran makes decisions on its nuclear program based on national interests," Iranian mission to the U.N. spokesperson Alireza Miryousefi told Newsweek. "As you know, the steps taken since the U.S. withdrew from the JCPOA are incremental and will be in effect as long as other parties are in violation of the accord and/or are not fulfilling their obligations."
He warned, however, that vengeance was still in the works for Fakhrizadeh's killing.
"Retaliation for Dr. Fakhrizadeh's assassination will come in due course against the perpetrators of the terrorist action, and at a time and place of our choosing," Miryousefi said.
Washington has thus far not been directly implicated in Fakhrizadeh's killing, though the event likely only exacerbates bad blood. Still, a massive escalation was avoided even after the U.S. killing in January of Revolutionary Guard Quds Force commander Major General Qassem Soleimani at Baghdad International Airport in Iraq. A retaliatory missile strike injured over 100 U.S. troops, but was widely seen as a calculated effort to prevent an all-out conflict while demonstrating Iran's advanced missile prowess in an unprecedented fashion.
To this day, however, Iranian officials vow a "hard revenge" for the iconic military leader's killing. As for the death of Fakhrizadeh, Iranian authorities blame Israel and the outlawed dissident group, the People's Mojahedin Organization of Iran (PMOI), also known as Mujahedin-e-Khalq (MeK).
Contacted by Newsweek, the Israel Defense Forces said its personnel "remain vigilant as ever, prepared for various Iranian attacks and they stand ready to defend Israeli civilians." The IDF declined to comment further.
Paris-based PMOI/MeK spokesperson Shahin Gobadi accused Iranian officials, specifically Supreme National Security Council Secretary Ali Shamkhani, of espousing "rage, rancor, and lies against the People's Mojahedin Organization of Iran," tying this to the trial of Iranian diplomat Assadollah Assadi in an alleged 2018 bomb plot against MeK officials in Villepinte, France.
"Accusing the Mojahedin of killing the regime's nuclear experts is nothing new and is a reaction to the exposure of the entirety of the mullahs' nuclear structure and program as well as those involved by the Iranian Resistance," Gobadi said.
He touted his organization's role in having "informed the world about the regime's nuclear danger" in 2002, a move he said "saved the world and the Iranian people from the danger of the mullahs' speedy access to a nuclear bomb and blocked their path in this field, which the regime leaders emphasize is the guarantee to preserve the rule of the medieval theocracy."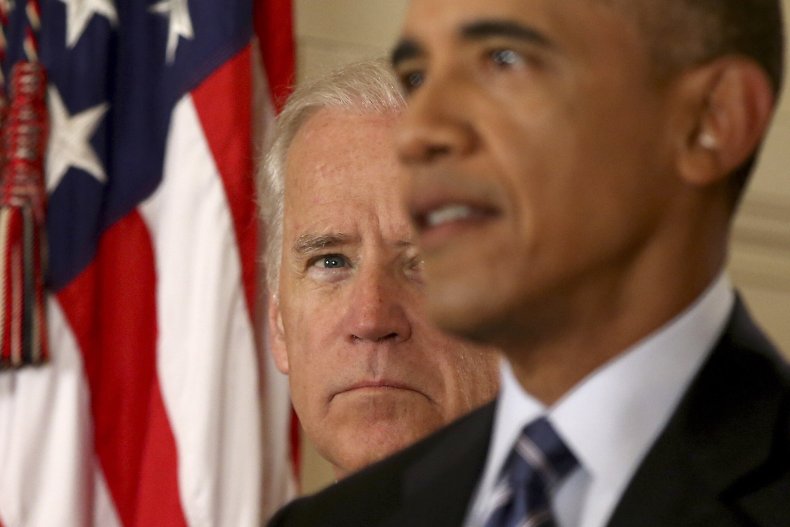 Iranian officials have cited the White House's tight ties with Israel and Sunni Muslim monarchies of the Arabian Peninsula, as well as the close association with the MeK of Trump administration affiliates such as former national security adviser John Bolton and the president's personal lawyer, Rudy Giuliani, as damaging to the prospects of U.S.-Iran diplomacy in recent years.
Visiting Middle East partners in the final weeks of the Trump administration, Secretary of Mike Pompeo railed against Iran on various stops. On Tuesday, he praised the White House's success in having "isolated Tehran and cut off tens of billions of dollars for Iranian malign influence and terror" along with the first-ever bilateral strategic dialogue with Bahrain via virtual link.
With Biden promising a reset, however, Johnson said mutual interests, if mixed with a concerted effort to rebuild trust, could bring the nuclear deal back on track within months, even if Rouhani's own administration was set to end as early as this summer, paving the way for less amenable leadership.
"The best way to do it would be to do it in a parallel process whereby both sides announced their intention to return to this deal, and that they're going to begin to take steps to do so," Johnson told Newsweek, "signaling strongly what those steps are going to be so that the markets know, for example, that in a few months, oil sales would be allowed, certain financial transactions would be allowed, as the Iranians are taking steps on the nuclear side."
He called this sequenced, step-by-step measure "probably the most realistic way of going about" the rehabilitation of the JCPOA, which both Blanc and Johnson noted could serve as the basis for more comprehensive agreements to better serve both sides, as already suggested by both the Biden team and Iranian officials. But first, two longtime foes who briefly found common ground just a few years ago would need to once again demonstrate good will to mend ties frayed by the current administration.
"I think we've forgotten about the carrot part, and have only been focused so much on the stick part of diplomacy," Johnson said.