Israel Security Officials Reveal the Top Threats They Face on Four Fronts This Year
The Middle East has navigated another tense year without the outbreak of a major conflict. But tensions remain, many of them surrounding Israel, which contends with four serious simultaneous border conflicts.
The officials charged with defending these borders have shared with Newsweek their strategies for the upcoming year.
As did some of their top foes.
SYRIA
Syria is one of many Arab nations that fought with Israel upon its establishment on Palestinian-claimed territory in 1948, and the two remain technically in a state of war today.
Israel's occupation of the Golan Heights is a product of this long-running conflict, functioning as both a major thorn in Syria's side and a violation of international law, as recognized by the United Nations. The boundary remained relatively quiet until civil war consumed Syria, allowing insurgents and the Islamic State militant group (ISIS) to occupy Syria's side of the Golan before the government retook the area with help from Russia and Iran.
Israel considers the presence of Iran and allied forces such as the Lebanese Shiite Muslim Hezbollah movement to be a national security theat. Israeli forces warned their Syrian counterparts about the growing Tehran-aligned influence among their ranks, but Damascus saw Hezbollah as a natural ally against the existential threat of nationwide insurrection, and Israel as a natural foe given their troubled history.
Today, Israel conducts airstrikes on Syria on a semi-regular basis, targeting suspected Iran-linked forces and, on occasion, regular Syrian military units.
"[The Syrian army] gives [Hezbollah] a lot of space to do what they want, and it makes life a bit uncomfortable," an Israeli security official dealing with Syria told Newsweek. "It's a big problem for us to actually decide who to strike and what to do."
Despite Syrian outcry over such aggressions, Israel has only intensified its campaign in recent weeks. The Israeli security official said that Syrian strategy for 2021 "is for now very clear" as long as the country's government continues to allow Hezbollah and other Iran-backed forces to transport munitions and establish forward bases to be used in the next upcoming regional conflict.
"Hezbollah gives them a lot of their forces and teaches them a lot about how to fight against Israel," the Israeli security official said, "how to arrange their army for the next fight against Israel."
And while the official regarded the U.S. killing last year of Iran's Revolutionary Guard Quds Major General Qassem Soleimani—largely seen as a mastermind of Iranian networking with foreign partners—as "a big change" that "makes all the players here think a lot before they do something," the Israeli security official said Israeli forces remain on alert "every day and every night" in anticipation of a potential attack.
Syrian officials have called Israeli strikes "acts of aggression" and Israeli presence in the Golan Heights a "vile occupation," both contrary to international law in previous statements sent to Newsweek.
A second Israeli security official tasked with Syria described the overall Israeli mission to Newsweek: "Our main goal is to prevent southern Syria from becoming like a second southern Lebanon."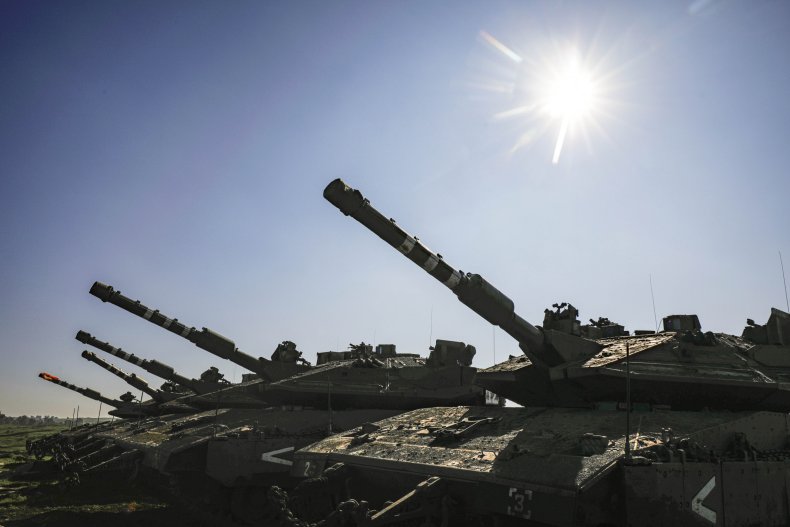 LEBANON
The decades-long Arab-Israeli conflict also carved out a conflicted border between Israel and Lebanon, Hezbollah's home nation from which it has twice faced off against Israeli invasions and engaged in numerous border skirmishes.
An Israeli security official dealing with Lebanon said this remains the top northern border threat for Israel in 2021.
"The enemy on the other side of the border is Hezbollah, one of the biggest proxies of Iran," the Israeli security official told Newsweek. "Nothing new about that."
Echoing the official's colleague tasked with the Syrian border, this official saw Hezbollah preparing for another fight with Israel, one in which the powerful group would utilize precision-guided munitions, or PGMs.
"The fact that PGMs continue to flow to Lebanese territory to be used by Hezbollah in the next war is a fact that Israel cannot live with," the Israeli security official said.
Like previous conflicts, it was anticipated that it would be fought largely on Lebanese soil, an eventuality that could lead to mass civilian casualties. War is an outcome that the Israeli security official said Israel sought to avoid, but could not rule out.
"We have no interest in a war with Hezbollah on Lebanese ground," the Israeli official said, "and we hope that Iran will not force Hezbollah to act against Israel, but we have to prepare ourselves."
Complicating this issue is a new threat that crosses borders—COVID-19. The disease has inflamed an ongoing economic crisis in Lebanon already exacerbated by a disastrous port explosion last August that has pushed the country further to the brink.
"COVID-19 affected both sides, actually," the Israeli official said. "I remind you that Lebanon is in one of its worst economic crises ever, I think since the Civil War, and the coronavirus has a huge effect on this economic crisis. I think that without outside help as soon as possible, Lebanon will just collapse."
Newsweek recently spoke with an Israeli official who, while welcoming Soleimani's death as a stabilizing factor, dismissed the notion that the situation at the border with Lebanon is peaceful.
"I don't think it is quiet here, I think everything is very tense," the Israeli official said. "We are much more ready than before to act against any hostile act that will be executed by Hezbollah operatives."
The possibility of all-out conflict was actively anticipated at a contested crossing that has seen several alleged infiltration attempts throughout 2020.
"We are preparing ourselves very, very intensively and not only to react against a terror attack," the Israeli official said, "but also to react against I would say a more intensive fighting day when both sides will have to fight against each other."
Readiness is also a point of pride with Hezbollah.
"Naturally, any attack will not be tolerated, and Hezbollah is in a constant state of preparedness to respond to any attack on Lebanon," a Hezbollah spokesperson told Newsweek.
But the spokesperson did not see confrontation as imminent.
"Currently, the atmosphere is calm, and there is nothing new," the Hezbollah spokesperson added. "Conditions are stable."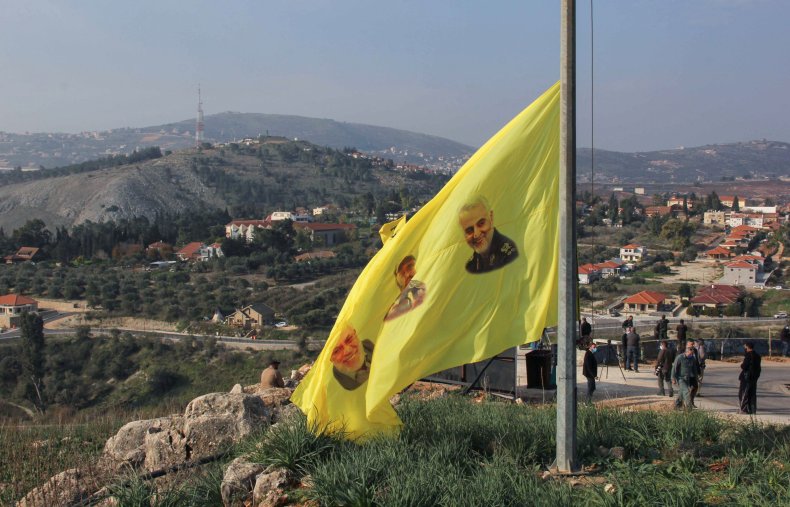 GAZA
Explosions have been a regular appearance across Gaza, a strip of Mediterranean territory led by the Palestinian Sunni Islamist movement Hamas. Here, Palestinian fighters have fired off rockets toward Israeli territory, and Israel has conducted strikes against Palestinian land.
Meanwhile, infighting between Muslim Brotherhood-linked Hamas and Iran-aligned Palestinian Islamic Jihad has further divided Palestinian rivalries already defined by the schism between Hamas in Gaza and the Palestinian National Authority based in the West Bank, where longtime revolutionary party Fatah rules.
Palestinian Islamic Jihad has also taken a toll in the wake of Israel killing its senior commander, Abu el-Atta, in a November 2019 strike that an Israeli security official dealing with Gaza compared to the U.S. killing of Soleimani.
"No one has gotten into his shoes yet,'' the Israeli security official told Newsweek, "and we feel they are less active. They're still acting but less, they are not as strong as they had actually been when Abu Atta was alive."
Considering the violent history of Gaza, the Israeli security official described 2020 as a relatively "quiet year," which he credits primarily to the installation of a new sensory concrete barrier designed to prevent infiltration at a time when Gaza's economic situation looked more desperate than ever.
"I think it's the best barrier all over the world by the intelligence that it has, the technology and the physical and technological means," the Israeli security official told Newsweek. "It also includes a surveillance system that gives us the option to monitor almost all of the Gaza border."
The official sees the barrier as an effective multi-level deterrent.
"With that barrier, I think the other side must understand that it's preferred to invest their money not to dig those tunnels," he said, "but improve their economy and to invest in their people."
Amid Gaza's own infighting, conflict with Israel and deteriorating living conditions, the Israeli security official did not rule out that Hamas would act in the interest of the Palestinian people as perceived by the Israeli side by not stoking tensions.
"Although I have a lot to say against Hamas, they still are people after all," the Israeli security official told Newsweek, "and they still take care of the people."
From the West Bank, Palestinian leadership has expressed to Newsweek hope as President-elect Joe Biden was set to take office, replacing an administration seen as closely aligned with Israel.
President Donald Trump's legacy was marked by the recognition of the international yet long-disputed holy city of Jerusalem as Israel's capital, and the attempted implementation of a so-called "deal of the century" that was enthusiastically accepted by Israeli leadership but instantly rejected by the Palestinian side.
The agreement would have further fractured Palestinian territory in exchange for billions of dollars of investment, most likely from wealthy Sunni Muslim monarchies of the Arabian Peninsula, which have since grown increasingly close to Israel during the Trump administration.
Overturning 1948-era policies, the Arab countries of the United Arab Emirates, Bahrain, Sudan and Morocco have normalized relations with Israel as part of a peace pact called the "Abraham Accords," another legacy of the Trump administration's Middle East policies.
The Israeli security official told Newsweek that traditional Palestinian partners moving toward Israel may mean Palestinians "have less reasons to start a war or maybe less money from those countries."
As Gaza's woes add up, other destabilizing factors fester. Israel has distributed coronavirus vaccines at a higher rate than any other country on the planet, while Palestinians are mostly without access to them, left to the mercy of a broken and failing healthcare system to save them from the pandemic.
The World Health Organization and international monitors like Human Rights Watch have raised the alarm on the stark difference in the numbers of Israelis and Palestinians vaccinated, and Hamas has accused Israel of weaponizing the inoculations, the first of which are reportedly set to arrive in Palestinian territory next week amid ongoing tensions between the two sides.
"Unfortunately, there is always an opportunity for a renewal of the violent conflict in light of the continued siege," Hamas spokesperson Hazem Qasem said in a statement sent to Newsweek. "The blockade on the Gaza Strip is intensifying, and its impact is multiplied by the outbreak of the coronavirus pandemic, and the continuation of these conditions is unacceptable."
Complex factors plaguing the Israeli-Palestinian conflict at the Gaza flashpoint have led Israel to diversify aims for 2021. The first goal, predictably was to protect Israel.
The Israeli security official said the primary aim is "to keep the security for the people living in Israel, and continue to defend the border without any terrorists that threaten my soldiers and the citizens in Israel."
But there was another less hostile component of the policy as well, the Israeli security official said.
"But on the other hand, also, [a goal is] to grow and improve the economy on the other side in Gaza, because improvements in their economy will be another reason why we will have peace or quiet here," the official said. "I think that a better economic situation in Gaza, that means a better security situation here in Israel. So for me, what we can do for their economy will be also one of our main goals for this year."
But disease and war both threaten to spread, and the Israeli security official expressed concern that Israeli forces, for all their preparations, may be less equipped to handle an uncontrollable humanitarian crisis in Gaza.
"The humanitarian situation, for now, has bothered me more than any attacking issue that I can see now," the Israeli security official told Newsweek. "Because I think that against attacks, we have great answers, and we have a great defense, but for something humanitarian, it could start to be more complicated for us than just to stand against terrorists. This is my challenge for 2021."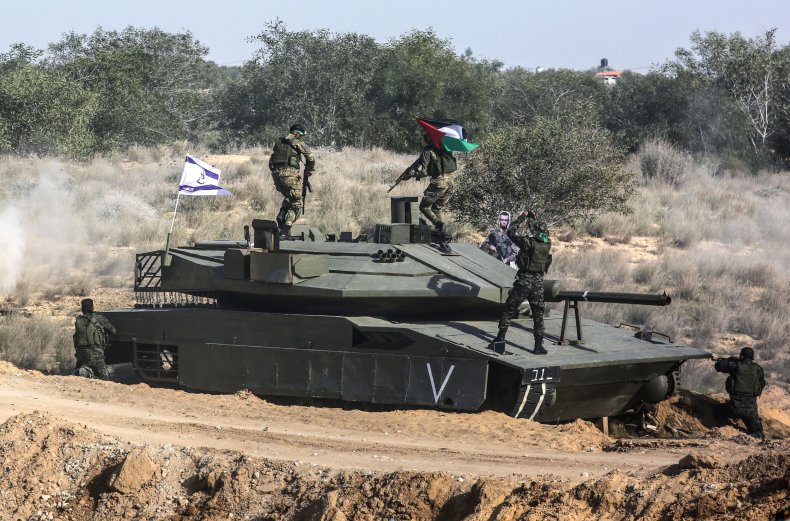 EGYPT AND JORDAN
Just miles from the tensions of Gaza, the border between old foes Israel and Egypt is defined by peace and cooperation, as is the opposite southern border with Jordan. The two countries settled their disputes with Israel with deals in 1979 and 1994, making them the first two Arab states to do so prior to the Abraham Accords of last year.
"Walking on this border with counterparts and partners," an Israeli security official dealing with the southern border told Newsweek, "I have to say it's almost emotional."
While the Israeli security official extolled his relationships with Egyptian and Jordanian counterparts, he also detailed lingering threats, especially those lying across Egypt's Sinai Peninsula, where the Islamic State militant group (ISIS) is active.
The Sinai province of ISIS never swept through Egypt with the same velocity and viciousness as its counterparts in Iraq and Syria, but it has staged deadly attacks over the years, mostly targeting Egypt's security forces and the Coptic Christian minority community.
The Israeli security official described the ISIS branch in Sinai as "one of the most efficient and deadly" provinces of the multinational jihadi organization.
While ISIS has rarely targeted Israel, the country's threat assessment changed after ISIS spokesperson Abu Hamza al-Qurashi announced directives in his debut speech last January to attack Israel. The remarks were delivered at a time when much of the region was more concerned with blowback from Soleimani's killing just weeks earlier.
"[Qurashi] called on, for the first time in our perspective, his operators to act against
Israel and the Jewish people in Palestine in Israel," the Israeli security official told Newsweek, "and he specifically told the operators in Syria and in Sinai to start acting against the Israeli state."
But it didn't happen.
"We didn't experience any of those acts," the official said. "But we understand that if you combine the tactical ability that we see together with a new motivation, we might face this challenge in the future, so this is our main focus."
The Israeli security official has made direct links between ISIS Sinai and the group's central leadership, the location of which is officially unknown, since a new caliph known by many names, including Muhammad Said Abdal-Rahma al-Mawla, Abdullah Qardash, sometimes spelled Kardesh, and Hajji Abdullah al-Afari.
The speech "came from the leadership and went down all the way to the last operator in Sinai," the Israeli security official said. "We have very hard evidence to understand it, so we do see the chain of command going from upwards with the policy, and then down to the operations."
Israeli forces with eyes on the southern borders also combat drug smuggling and work to prevent jihadi cells in Jordan.
"[But ISIS is] definitely the most organized and important for me and relevant," the official said. "We assume that the size of the organization in Sinai is like hundreds of operators, and the fact that we are concerned is due to the fact that we see a constant vector of strengthening in weekly attacks on the Egyptian military."
As for the lack of major attacks on Israel so far, the Israeli security official said ISIS fighters "are deterred and they're afraid, because they know the full abilities of the IDF. They have a lot of challenges facing the Egyptian military, and I think they don't want to have the coalition of Egypt, Israel against them."
He said the larger difficulties facing ISIS are something of a deterrent as well.
"The general state of ISIS all over the world also affects them," the official said. "So now they don't have a current vision of expanding or bringing more targets to the table."
The group, whose territory once spanned territory the size of the United Kingdom, has been decimated by a number of local, regional and international forces including those of the United States, Russia and Iran.
Meanwhile, Iran has since eclipsed the jihadis as a top threat for the U.S., Israel and friendly Arab states.
"Iran is a bigger threat right now than ISIS, so I think that we're managing and succeeding in holding this threat right now," the security official said. "But the challenge is to be with one eye open to this direction all the time, and not letting it expand again."
For this official, the mission was clear.
"It's my job to defend," the Israeli security official said. "I always have to be ready."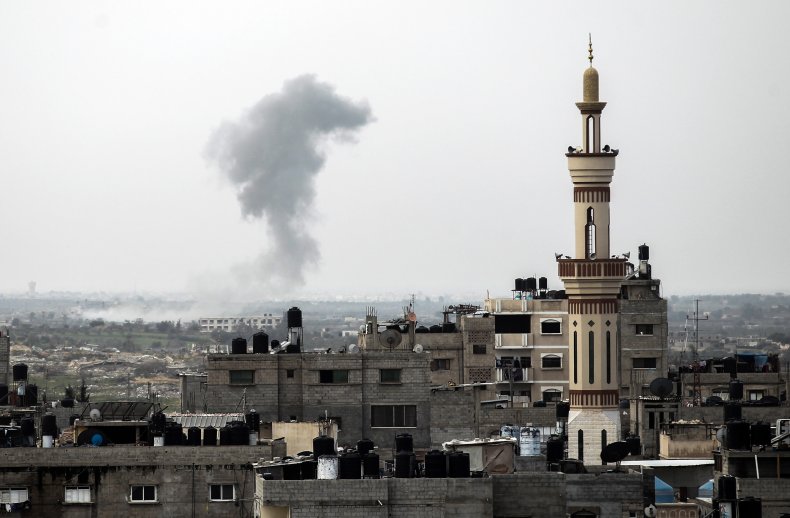 This article has been updated to include a statement by Hamas spokesperson Hazem Qasem.