Palestinians Hope for Better US Ties, Tougher Stance on Israel Under Biden
Palestinian leadership has expressed to Newsweek what it hopes to see from the upcoming administration of President-elect Joe Biden, who Palestinian officials hope will depart from the current White House's staunchly pro-Israel policies to seek a more balanced approach on negotiations to end the decades-long Middle East conflict.
With roughly two months left in office, President Donald Trump sent Secretary of State Mike Pompeo to Israel, where he became the first top U.S. diplomat to set foot on occupied territories in the West Bank—as well as Syria's Golan Heights— and cemented the administrations' legacy of unprecedented alignment with the United States' closest ally in the region.
To Palestinians, it was a parting shot. Now, those tasked with engaging in future talks on behalf of the Palestine Liberation Organization, which represents the Palestinian government led by President Mahmoud Abbas, sees an opportunity to mend ties with Washington as the Biden administration begins its transition.
"Palestine looks forward to strengthening relations with the U.S. under the administration of President-elect Joe Biden and VP-elect Kamala Harris," the Negotiations Affairs Department of the PLO told Newsweek in a statement.
Above all, Palestinians seek a U.S. return to international consensus on certain key issues such as an end to Israel's occupation and settlement construction on lands recognized as Palestinian by United Nations resolutions. They are also seeking the eventual recognition of the eastern half the of the contested capital holy city of Jerusalem's as a sovereign Palestinian state.
"In line with international law and U.N. resolutions, we are also keen on engaging the U.S. in the multilateral effort to advance the Middle East Peace Process, with clear terms of reference and a timeline, towards achieving the internationally endorsed two-state solution on the 1967 borders, with East Jerusalem the capital of the State of Palestine," the statement said.
Palestinian leadership sees achieving these goals as intrinsic to its struggle, especially amid historic setbacks suffered under the Trump administration, and the sole way to prevent further deadly unrest.
"After 53 years of occupation, oppression, and injustice, the only way forward is to end Israel's occupation and colonial settlement enterprise towards fulfilling the national rights of the people of Palestine, foremost of which is our right to self-determination," the PLO's Negotiations Affairs Department told Newsweek. "For our region to live in peace and security, it's imperative to achieve independence, freedom, justice, and dignity for all."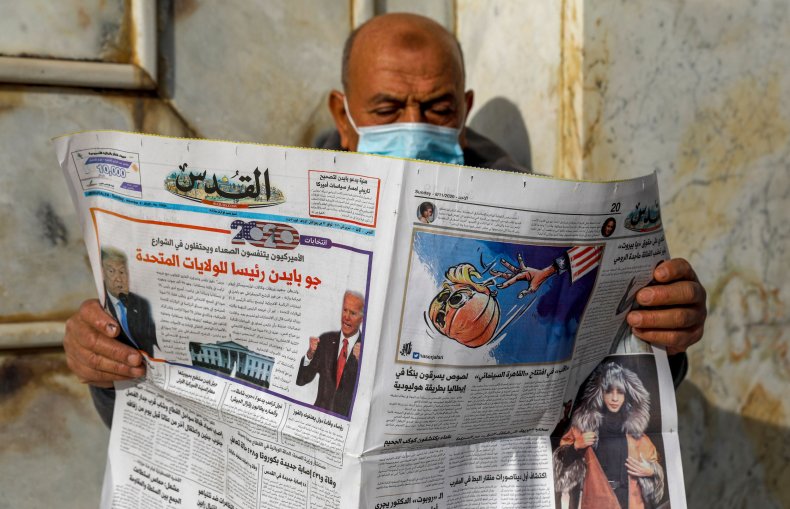 Palestinian officials have previously shared their grievances with the Trump administration's strategy, while Israelis have had few complaints about how the Trump administration has handled the historic feud.
Less than a year into his first term, Trump unilaterally declared the entirety of Jerusalem to be the capital of Israel, and soon after moved the U.S. embassy there from Tel Aviv in a move that sparked violent, recurring protests that continue to this day. To achieve a long-term solution, the president promised a so-called "Deal of the Century," officially called the Peace to Prosperity plan.
The vision vowed up to $50 billion in investment in the economically beleaguered West Bank and Gaza, much of which was hoped to come from wealthy monarchies in the Arabian Peninsula. But this would come in exchange for further fragmentation of Palestinian lands, which today are only a fraction of their prior form before the outbreak of the1967 Six-Day War between Israel and a coalition of Arab states.
And while Arab countries continue to offer at least nominal support for the Palestinians, the Trump administration succeeded earlier this year in bringing back-door relations among regional states with Israel out in the open. The United Arab Emirates, Bahrain and Sudan have all normalized ties with a country they long formally boycotted due to its policies toward Palestinians, and did so without the consent of Abbas' administration, which considers such policies to be a "betrayal."
Biden has also commended these agreements, and calls for "an ironclad commitment to Israel's security" in his official foreign policy position. His website also includes a page dedicated specifically to his record as it relates to the Jewish community, including many references to supporting Israel.
Antony Blinken, Biden's pick to replace Pompeo as Secretary of State, has also highlighted his upbringing as the stepson of a Holocaust survivor in a message meant to resound with Jewish audiences.
But in contrast to the Trump administration, Biden and Harris have also said they see more room for more engagement with Palestinians.
As to Biden's official position, his campaign says he and Harris "believe in the worth and value of every Palestinian and every Israeli, and we will work to ensure that Palestinians and Israelis enjoy equal measures of freedom, security, prosperity and democracy."
This likely means outright opposition to some of Israeli Prime Minister Benjamin Netanyahu's right-wing policies that were readily embraced by Trump. Decisions to downgrade economic assistance and political ties with Palestinian leadership could well be reversed.
"We are committed to a two-state solution, and we will oppose any unilateral steps that undermine that goal," the official page says. "We will also oppose annexation and settlement expansion. And we will take immediate steps to restore economic and humanitarian assistance to the Palestinian people, address the ongoing humanitarian crisis in Gaza, reopen the U.S. consulate in East Jerusalem and work to reopen the PLO mission in Washington."
A statement sent to Newsweek on Wednesday by the West End Strategy communications firm attributed the financial crisis preventing the United Nations Relief and Works Agency for Palestine Refugees in the Near East (UNRWA) from even meeting its employees' salary requirements this month to "a long-term implication of the Trump administration's suspension of funding to the Agency starting in 2018."
In a call Monday with Jordan's King Abdullah II, Biden also said he looked forward to working with the monarch on "supporting a two-state solution to the Israeli-Palestinian conflict," according to a readout released by his campaign.
He also stated his intention to reverse "the Trump Administration's destructive cutoff of diplomatic ties with the Palestinian Authority and cancellation of assistance programs that support Israeli-Palestinian security cooperation, economic development, and humanitarian aid for the Palestinian people in the West Bank and Gaza."
As for what Israel would hope and anticipate to see from the Biden administration, the country's embassy in Washington declined Newsweek's request for comment.
Forced to contend with the exit of a U.S. administration that Netanyahu and his officials branded Israel's best friend, it's unlikely that the two countries' alliance would be fundamentally damaged, but an end to their absolute convergence in beliefs could see a restart to diplomacy.
Still, tensions remain high.
Israel continues to regularly conduct strikes on the Palestinian Islamist Hamas movement-controlled Gaza Strip, where militias repeatedly launch rockets on Israeli towns and cities. Palestinian protests demanding a right to return to lands they lived on prior to the 1948 and 1967 wars continue as well, bringing frequent clashes with Israeli security forces.
Demonstrating its preparedness for another conflict amid ongoing unrest, the Israeli military conducted a surprise large-scale exercise simulating another invasion of Gaza over the weekend.
A related video sent to Newsweek showed Israeli ground forces conducting various kinds of training, including for combat, and an attached press release detailed the involvement of air, naval, cyber, intelligence and police forces as well.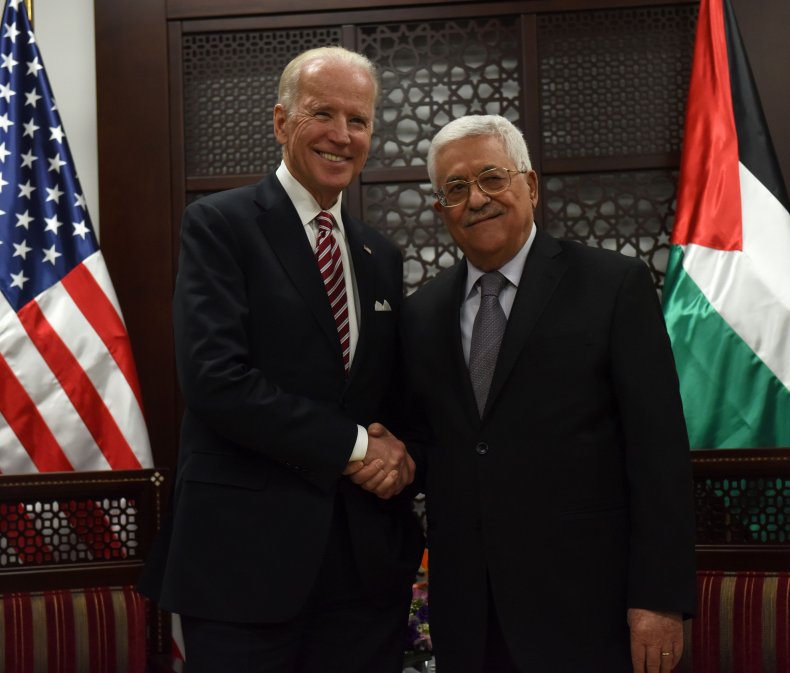 Still, the declaration of Biden's victory earlier this month appeared to already have somewhat of a stabilizing effect on the conflict. As both sides congratulated the president-elect, they quietly agreed to resume all forms of cooperation amid assurances they were both still committed to agreements they had previously reached.
On the part of Palestinians, Palestinian Authority Prisoners Affairs Commission told The New York Times on Thursday that a proposal had been introduced to end automatic payments to the families of those imprisoned by Israeli forces, a practice deemed controversial because its benefactors include families of those detained for violent crimes. The new plan would instead offer compensation on the basis of economic need.
Biden had voiced his opposition to the original system in his policy page that related to his record with the Jewish community, citing it as one of the conditions for his restarting economic assistance to the Palestinian Authority consistent with the Taylor Force Act signed into law by Trump in 2018.
The President-elect has vowed to "work with the Israeli and Palestinian leadership to support peacebuilding efforts in the region," but, unlike his predecessor, sees the onus for changing course to pursue peace as being on both parties, not just the Palestinians.
"Biden will urge Israel's government and the Palestinian Authority to take steps to keep the prospect of a negotiated two-state outcome alive," his policy states, "and avoid actions such as unilateral annexation of territory and settlement activity, or support for incitement and violence, that undercut prospects for peace between the parties."