Sudan and Israel have made peace in what will be the third such agreement overseen by President Donald Trump, making Sudan only the fifth Arab country to establish diplomatic relations with Israel.
The move comes shortly after Trump officially announced to Congress his intent to remove Sudan from the State Department's list of State Sponsors of Terrorism. Khartoum agreed to provide $335 million to victims of terrorism ahead of the decision.
"The State of Israel and the Republic of Sudan, have agreed to make peace," Trump said at the White House. "For many many years, they've been at odds, to put it nicely and didn't normalize their relations."
Less than two weeks ahead of the election, he said this was just the beginning.
"This will be the third country where we're doing this—and we have many, many more coming," the president promised. "They're coming at us hot and heavy in the coming weeks."
Last month, the UAE and Bahrain become the first two Arab countries to officially recognize Israel since the peace agreements reached by Jordan in 1994 and Egypt in 1979. Mauritania established ties in 1999 but severed them a decade later in response to Israel's war in the Palestinian-controlled Gaza Strip.
The Arab World has fought three major wars with Israel since its 1948 establishment, a move that conflicted with a desired Palestinian state with overlapping territorial claims. The unresolved land dispute, namely over the holy city of Jerusalem, has for decades led most Arab nations to boycott relations with Israel.
Sudan sent troops to all three conflicts and it was in Khartoum in 1967 where the Arab League declared the "three no's"—"no peace with Israel, no recognition of Israel, no negotiations with it."
Israel also for decades backed Christian militias in Sudan's two deadly civil wars, the latter of which ended with a peace process that ultimately led to the independence of South Sudan.
Despite such historical hostilities, Trump has pushed the region to embrace ties with Israel, especially as common concerns about an increasingly influential Iran have arisen among certain Arab states. Khartoum for years developed strategic ties to Tehran only to begin distancing itself in 2014, instead warming up to Saudi Arabia and the West.
This trend was expected to accelerate with the ousting last year of three-decade Sudanese President Omar al-Bashir, who has been replaced with a Sovereignty Council collectively governing the North-East African nation.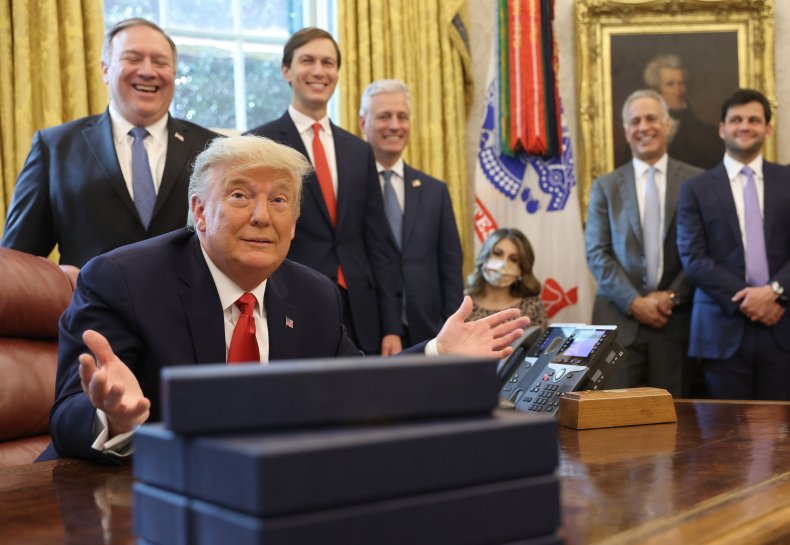 Israeli Prime Minister Benjamin Netanyahu cheered Sudan's decision to establish ties with Israel in a joint speakerphone call at the White House, expressing gratitude to Trump.
"We are expanding their circle of peace so rapidly with your leadership," the Israeli leader told the U.S. leader.
Netanyahu also weighed in on the historic magnitude of the decision. Recalling the Arab League's 1967 Khartoum Resolution, the Israeli prime minister touted the recent progress made by his country in recalibrating regional relations.
"Today Khartoum says—yes to peace with Israel, yes to recognition of Israel and to normalization with Israel," Netanyahu said in remarks sent to Newsweek by his office. "This is a new era. An era of true peace. A peace that is expanding with other Arab countries—three of them in recent weeks."
He said representatives of the two countries would soon meet to discuss agreements on trade, agriculture and other areas of cooperation, including travel.
"The skies of Sudan are open to Israel today," Netanyahu said. "This allows for direct and shorter flights between Israel and Africa and South America."
In a format similar to that of the previous "Abraham Accord" agreements involving Israel, the UAE and Bahrain, a joint statement was released by the heads of state of the countries involved.
"After decades of living under a brutal dictatorship, the people of Sudan are finally taking charge," the statement attributed to Trump, Netanyahu, Sudanese Sovereignty Council Chairman Abdel Fattah al-Burhan and Sudanese Prime Minister Abdalla Hamdok read.
"The Sudanese transitional government has demonstrated its courage and commitment to combating terrorism, building its democratic institutions, and improving its relations with its neighbors," it added.
Also speaking at the White House on Friday was Jared Kushner, Trump's son-in-law and senior adviser, largely seen as an architect for the president's Middle East dealings.
"Today is another great example of what is possible when you have strong and smart American leadership in the Middle East and throughout the world," Kushner said. "For those who follow the history of this conflict the significance of this cannot be overstated enough."
He too referenced the 1967 Khartoum declaration—"Under President Trump we have peace, we have recognition, we have negotiation."
Displeased by the recent events are Palestinians.
The Palestinian government who feel the recent reversals by the UAE, Bahrain and Sudan represent a violation of the 2002 Arab Peace Initiative through which 22-member league pledged to forego relations with Israel until it withdrew from occupied Palestinian land, including East Jerusalem, which would serve as the capital of a Palestinian state, as well United Nations Security Council resolution 1515, which sought a two-state solution with a Palestinian state in exchange for security guarantees for Israel.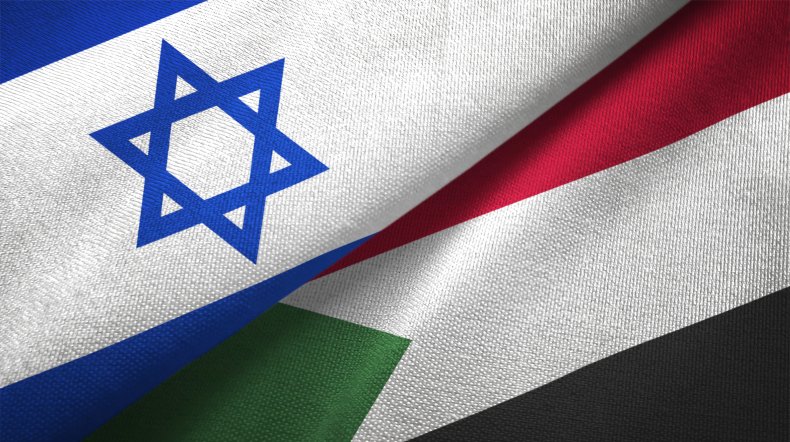 Palestinian President Mahmoud Abbas formally denounced Sudan's decision in a statement sent to Newsweek by the Palestine Liberation Organization Negotiation Affairs Department.
"The Palestinian Presidency affirmed its condemnation and rejection of normalization of relations with the Israeli occupation state that usurps the land of Palestine, because this contradicts the decisions of the Arab summits, as well as the Arab Peace Initiative, approved by the Arab and Islamic summits, and by the U.N. Security Council in accordance with the resolution 1515," the statement read.
The statement echoed past condemnations of the UAE and Bahrain in saying that "no one has the right to speak on behalf of the Palestinian people and the Palestinian cause" and in "stressing that the path to a comprehensive and just peace must be based on international law, international legitimacy decisions and specific references, in a way that leads to an end to the Israeli occupation of land."
Trump and Netanyahu earlier this year unveiled a joint plan for peace between Israelis and Palestinians, one that would establish a path for Palestinian statehood for which heavy investments would be promised in exchange for further territorial concessions.
Abbas replied to the offer with "a thousand no's," arguing it would represent a betrayal of longstanding Palestinian claims to Jerusalem and other occupied territories.
One potential, highly-anticipated signatory to an Israel peace deal is Saudi Arabia, long viewed as a leader by much of the Islamic world. Both U.S. and Israeli officials have appealed directly to the kingdom to endorse their effort to court Arab countries.
"I'm sure you'll see Saudi Arabia in there very soon," Trump said Friday. "I really believe that will happen too."