Biden Administration's Muddled COVID Messaging Just Got More Confusing
The Biden administration's messaging on COVID-19 measures has been particularly confusing over the past week—even compared to the mixed signals emanating from the White House during the past year.
On Tuesday, Anthony Fauci, chief medical advisor to President Joe Biden, told PBS NewsHour the U.S. is "out of the pandemic phase," only to walk back that comment the next day, clarifying to the Associated Press, "by no means does that mean the pandemic is over."
Then Fauci avoided the White House Correspondents' Dinner on Saturday due to COVID concerns, but a maskless Biden did attend, skipping the meal but still interacting with other attendees.
Meanwhile Biden's team, including Surgeon General Vivek Murthy, continues advocating for wearing masks on public transportation, even after a federal judge effectively ended the mask mandate in a ruling earlier this month. The decision about whether to impose mandates has fallen to the discretion of transportation providers, with mixed outcomes nationwide further confusing the public.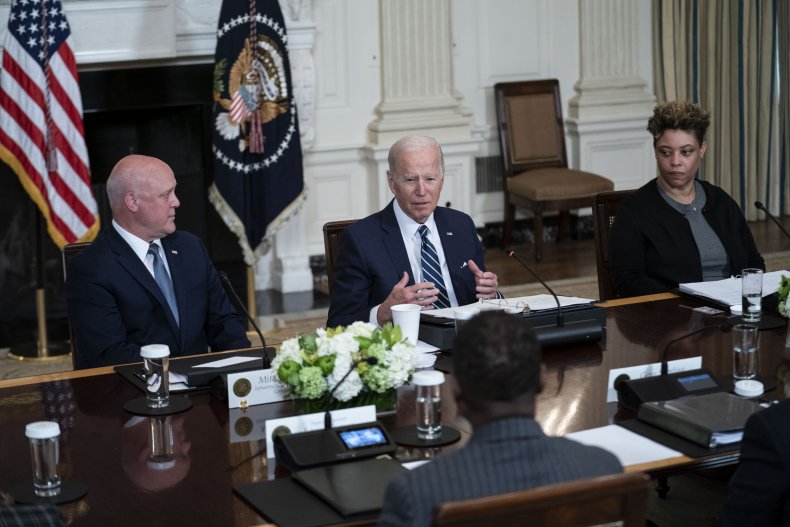 With the country in an "ambiguous moment about when the pandemic is ending, we're also in the ambiguous moment about when those emergency measures are going to recede," said Andrew Lakoff, a sociology professor at the University of Southern California. But, he added, "Even if it's an ambiguous situation, the administration should decide on a consistent line. There is a danger of further undermining the trust that is necessary in order to get members of the public to follow guidelines by conveying inconsistent messages."
Jonathan Reiner, a professor of medicine at George Washington University, tweeted earlier this week that the White House "has been walking a tightrope" when it comes to the pandemic. "They're trying to portray that we're in a much better place w/ COVID and the risk is low. But the virus is surging in a lot of places and we're nearing 1 million dead and they're trying to protect POTUS without having everyone at the WH mask."
He also questioned the logic of Biden attending the White House Correspondents' Association dinner but Fauci avoiding it, tweeting:
"Dr Tony Fauci has decided not to attend this weekend's WHCA dinner because he's concerned that it could become a superspreader event. Why is the president still planning to attend?"
Biden health officials attended another large event in Washington, D.C. this past week, the American Hospital Association summit. Politico reported that none of the top ones who went—including Health and Human Services Secretary Xavier Becerra and Centers for Medicare and Medicaid Services Administrator Chiquita Brooks-LaSure—had committed to wearing a mask.
The list also included Murthy, whose spokesperson pointed to CDC guidance recommending masks only when COVID hospitalizations and transmissions are high in a given area.
The Biden administration's response to the federal judge's ruling on masks and transportation has also sparked confusion. While the Justice Department filed an appeal, it did not seek a stay, which could have put the mask mandate back in place immediately. Instead, legal experts have noted that the administration appears to be prioritizing defending the Centers for Disease Control and Prevention and its authority over public health decisions in the long term.
That's raised questions about its view of mask mandates at this juncture in the pandemic.
"Basically, it is giving up on the mask mandate," Lawrence O. Gostin, a professor of global health law at Georgetown University, told The New York Times. "The administration's goal is a legal principle, which is to ensure that the CDC has strong public health powers to fight Covid and to fight future pandemics. And it appears much less important to them to quickly reinstate the mask mandate."
Lakoff said the administration seems to be "acting inconsistently as far as how concerned they are that the members of the public keep on wearing masks...That leaves us in confusion about what we should do, even if we do want to follow expert guidelines."
The Biden administration "could do a better job" with it's COVID messaging, Stanley Perlman, a coronavirologist in the Department of Microbiology at the University of Iowa, told Newsweek.
"I don't think there should be this going back and forth on really what are issues that that should be explained readily," he said, adding the administration could more clearly explain its strategy with its challenge to the mask mandate ruling, for example.
He added that "having very specific suggestions" for "masking under certain circumstances, if there are any right now, would be very helpful."
Perlman also said it would be better if information about the pandemic came from a single voice in the administration.
"It would have been good if the communication had been done by one person, or somebody at the CDC, without lots of other people having lots of other opinions because that's confusing for the public then" Perlman added.
Adding to pandemic uncertainty this past week, the Food and Drug Administration said it may not be able make a decision on authorizing vaccines for children five and under until June. It is still awaiting data from drugmakers, as many concerned parents continue to wait for the shots.
The Biden administration has previously faced criticism for its communication during the pandemic. In January, Ashish Jha, then dean of the Brown University School of Public Health and now the White House's COVID response coordinator, told Fox News that the admin needs get its "messaging discipline together" when it comes to the pandemic.
Newsweek has reached out to the White House and the National Institute of Allergy and Infectious Diseases for comment.