Biden Admits Major Legislation Has Stalled, Blames GOP's 'Stalwart Effort' to Block Agenda
For the first time in 10 months, President Joe Biden held a press conference, in which he fielded questions from reporters Wednesday in the East Room of the White House for nearly two hours on everything from the coronavirus to infrastructure.
The conference fell on the eve of the one-year anniversary of his inauguration.
"It's been a year of challenges, but it's also been a year of enormous progress," Biden said in his opening remarks.
Biden addressed the press corps as he faces low poll numbers—52.3 percent of Americans disapprove of his job as president, according to the latest polling data from FiveThirtyEight—and a number of ongoing challenges, including the COVID-19 pandemic and rising prices.
More than a third of voters recently graded Biden's first 365 days in office, giving him an "F" rating.
His appearance at the podium also comes as his domestic agenda stalls in Congress. The Senate has so far failed to pass two pieces of voting rights legislation and Biden's Build Back Better social safety net package.
Lawmakers began debate Wednesday on two voting rights bills, but there seems to be no path forward for the legislation amid total Republican opposition and pushback from Democratic senators Joe Manchin and Kyrsten Sinema on changing the chamber's 60-vote filibuster.
Biden acknowledged Wednesday it's "true" that Build Back Better and voting rights legislation have hit major roadblocks but maintained that he will be able to get parts of them passed before the 2022 midterm elections.
The president opened the door for breaking up Build Back Better into smaller, standalone bills.
"I think we can break the package up, get as much as we can now, come back and fight for the rest later," he told reporters.
Biden said he's confident the energy and environment portion of the bill would pass, as well as other proposals like early childhood education. But he acknowledged that there are two things he's not sure he can get: the expanded Child Tax Credit and help for costs of community colleges.
Biden also lamented Republican opposition to his agenda, reading aloud one interview in which Republican New Hampshire Governor Chris Sununu said he was bothered that the party's objective is to be a roadblock to Biden for the first two years of his term.
"I did not anticipate that there'd be such a stalwart effort to make sure that the most important thing was that President Biden didn't get anything done," Biden said. "Think about this, what are Republicans for? What are they for? Name me one thing they're for."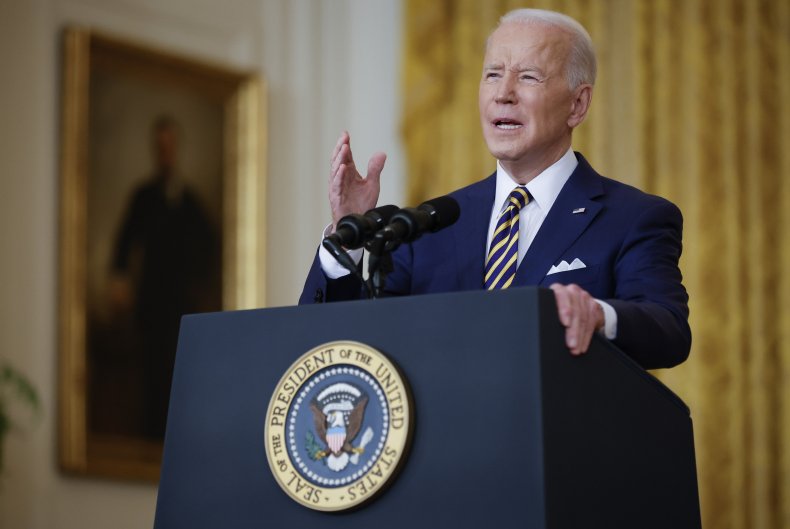 Biden also took the opportunity to tout what his administration sees as major victories of his first year: vaccinating 200 million Americans, unemployment nearing pre-pandemic levels and passing the American Rescue Plan and bipartisan infrastructure law.
"Still for all this progress, I know there's a lot of frustration and fatigue in this country," Biden said. "We know why: COVID-19."
The president said he was "satisfied" with his administration's response to the pandemic, and that he was happy to have a debate on how he's handled the economy.
Biden also said Wednesday that the rapid price increases plaguing consumers are an economic complication of the COVID-19 pandemic, and urged Congress to pass Build Back Better to help address inflation.
"No other plan will do more to lower the costs for American families," he said.
Inflation is at a 40-year high amid supply chain constraints and significant demand from consumers. The Consumer Price Index rose 7 percent in the year through December, according to the Department of Labor. Americans are largely blaming Biden for inflation, polls have shown, and he continues to receive low grades on the economy overall.
Looking ahead to 2022, Biden listed some priorities for his administration.
"Number one, I'm going to get out of this place more often," he said. "I'm going to go out and talk to the public. I'm going to do public fora. I'm going to interface with them. I'm going to make the case of what we've already done, why it's important and what we'll do, what will happen if they support what else I want to do."
The president also said he wants to be "deeply involved" with the Democratic Party in the 2022 midterm election cycle. Biden vowed that the party will raise a lot of money to help candidates across the country and said he intends to go on the campaign trail to help make their case.
But Biden declined to say that the November elections would be legitimate if Congress doesn't pass voting rights reform.
"It all depends on whether or not we're able to make the case to the American people that some of this is being set up to try to alter the outcome of the election," the president said.