Afghanistan Was a Turning Point for Joe Biden's Approval Rating. Omicron Tests May Be Too
You can see the moment the American public turned against President Joe Biden in the polling data. Around the end of August, just as the U.S. was completing its troop withdrawal from Afghanistan—a chaotic and deadly saga—Biden's approval rating sank underwater.
Though the withdrawal was inevitable, planned by his predecessor President Donald Trump, the botched handling by the Biden administration was not a foregone conclusion. Accordingly, the ignominious scenes from Kabul airport coincided with Biden's flip to negative net approval.
It has stayed negative since. Per the 538 tracker, which takes a weighted average of the polls, Biden's approval rating is 43.4 percent and his disapproval is 51.4 percent as of December 22, putting him at a net rating of minus 8 percentage points.
The one positive running through this, however, is the public's view of his response to the pandemic. The 538 tracker on this issue shows a narrowing over time, but Biden remains net positive; as of December 22, he has 47.9 percent approval and 45.6 percent disapproval, coming out at plus 2.3 percentage points.
Just like Afghanistan, the Omicron variant—an inevitability in which the real political test is how it is prepared for and then handled—may prove a turning point for the view of Biden, who had promised to get control of the federal government's response to the pandemic.
"The challenges linked to the rapid rise of the Omicron variant are making it doubly clear that Biden's presidency is going to hinge first and foremost on the COVID situation," Thomas Gift, founding director of University College London's Centre on U.S. Politics (CUSP), told Newsweek.
"Eleven months into his term, Biden 'owns' the pandemic—so any success he's going to get credit for, and any problems he's going to get scapegoated. That might not be fair, but it's the political reality.
"To suggest that the surge in the Omicron variant was unexpected—as Biden has said—is true. But if there's anything we've learned from COVID, it's that nothing happens as planned.
"Ultimately, it's the job of the president to expect the unexpected. That's where preparedness comes in, and it's why Biden's approval ratings on the handling of the pandemic have been lagging—and could dip even lower."
Omicron is sweeping through the U.S. as Christmas approaches, accounting for nearly three-quarters of all new cases in the country, according to figures from the Centers for Disease Control and Prevention (CDC).
Early data suggests this variant is highly transmissible, which will lead to many infections, but it is also typically milder for those who catch it, especially if they have had their vaccine shots and a booster.
Still, it is not risk-free, particularly for the clinically vulnerable and the unvaccinated.
This wave and its festive timing are putting extra strain on a testing infrastructure that was already buckling under the pressure. Laboratory backlogs causing delays in results from PCR tests have been a problem for months.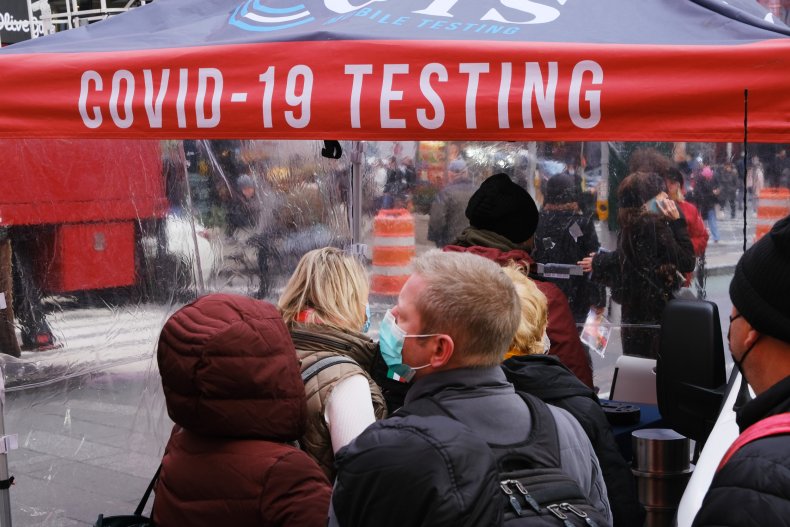 Having to wait several days for a test result renders the process all but pointless if the goal is to detect infection and slow down its spread. For many Americans, testing ahead of Christmas is a way to reduce the risk to vulnerable relatives.
"It is hard to get a test quickly right now in the U.S.," Mara Aspinall, professor of practice at ASU's College of Health Solutions and an adviser to The Rockefeller Foundation on COVID testing, told Newsweek.
"Pre-Omicron I thought there was enough capacity for PCR tests and most labs were keeping up with a 24-to-48-hour response. I no longer believe that."
Aspinall said she is hearing that PCR tests are spending 48 to 72 hours in the lab, plus an additional 12 hours for the travel time.
Big cities such as New York and Los Angeles—which, troublingly for Biden, are deep blue—are hardest hit, she said. Many people are waiting in line for an hour just to get tested.
Moreover, the supply of antigen tests has fallen short. The market has been slow to react to the sudden surge in demand. Many retailers simply hadn't stockpiled enough of these over-the-counter tests to cope with the emergence of a new variant.
Aspinall said the situation with antigen tests is "very tough" and "very challenging."
Biden has ordered half a billion new COVID tests for at-home use in response to Omicron. Americans will be able to order them online for delivery.
These tests show results in just 15 minutes. Though they are less sensitive than PCR tests, the nature of Omicron suggests antigen tests will be more effective at detecting it.
"Is it a little late? Yes, but is it a huge and important step forward? Absolutely. I call it necessary, but not necessarily sufficient," Aspinall said of Biden's order.
"I have a lot of confidence, including with Omicron, in these rapid antigen tests...The power of getting an answer in 15 minutes to me trumps waiting two days to get your answer."
She added: "It's all about testing. Testing at this point in the pandemic is our only way to exit."
However, these tests are not immediately available.
Jen Psaki, the White House press secretary, said at a briefing on Wednesday that the "first delivery for manufacturers will arrive in January, and we anticipate having the full timeline of delivery of all 500 million in the weeks following."
Biden has made several references to the federal government's testing efforts over the past year in statements and speeches.
In February, for example, the White House said it would invest $815 million "to increase domestic manufacturing of testing supplies and raw materials that have created shortage issues."
Later, in July remarks, Biden said "we're going to deploy things like testing to expand detection of the virus."
By September, Biden announced that "we're committing $2 billion to purchase nearly 300 million rapid tests for distribution to community health centers, food banks, schools, so that every American, no matter their income, can access free and convenient tests."
But in a December 22 interview with ABC News, Biden said "I wish I had thought about ordering" 500 million at-home tests "two months ago"—despite his September commitment.
Since his inauguration, Biden has repeatedly promised more action on testing. Yet, issues persist. In remarks on Tuesday, Biden acknowledged the problems around testing in America and his administration's responsibility for that.
"Because Omicron spreads easily, especially among the unvaccinated, it's critically important that we know who's infected. That means we need more testing. And on that score, we are now [not] where we should be," the president said.
Biden reeled off a number of things the federal government is doing, including 20,000 free testing sites, using the Defense Production Act and spending $3 billion on at-home tests, and ensuring that PCR tests are covered by health insurance.
He also noted that as of January, private health insurance will also cover at-home testing so people can get reimbursed for ordering tests.
Moreover, the federal government is spending the final days before Christmas setting up emergency testing sites in areas that need additional capacity, such as New York City, though Biden did not address the long waiting times for results.
"But it's not enough. We have to do more. We have to do better, and we will," Biden said.
Gift said that Biden's speech "was an effort to reassure Americans that the administration is responsive to a shape-shifting virus. The problem, however, is that the White House appears very much in reactive mode right now."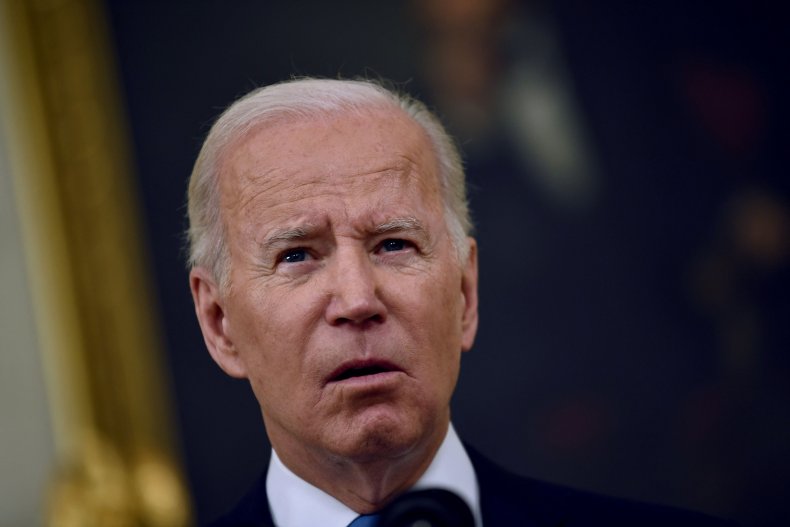 Aspinall said the federal government is addressing its test supply issues, but she pinpointed two other things it could be doing to overcome the long-running testing problems.
One is ensuring the FDA is fully staffed so it can continue to issue emergency use authorizations (EUAs) for new test kits. The U.S. only has 10 over-the-counter home tests compared to several dozen in the EU.
"Some would say that the EU standard is too low and the tests aren't of high quality. But is there a happy medium somewhere where we have faster EUAs?" Aspinall said, noting that it is taking the FDA four or five months to reject EUA applications and one or two months to approve them.
"We're in a pandemic. If it's taking them that long because they're not fully staffed—and traditionally diagnostics has not been well-staffed—that is a huge issue that needs to be fixed."
Another thing the Biden Administration could do is replicate Operation Warp Speed—the program that brought together government and private companies to rapidly deliver vaccines—but for testing.
"I think from the testing-specific point of view, there was too little focus on testing. It was considered a 'nice to have,' not a 'need to have.' It was considered a burden, certainly by the last administration," Aspinall said.
"And even in the Biden Administration the focus was on vaccination—which it needed to be—but the focus needs to be on both vaccination and testing. Because we now know with Omicron, it evades the vaccines.
"It can't be one or the other, it needs to be both, plus masking. This is the opportunity to put testing where it needs to be—front and center in our fight against COVID."
For now, Aspinall implored Americans to be responsible if they think they might have COVID or were potentially exposed to it.
"I think what's most important is that if anyone has symptoms or has any reason to believe they were exposed—which probably means left their house—it's so hard to say this, but they should isolate," she said.
"Christmas is three days away so I just get tearful when I think about people waiting so long. It's an absolute nightmare scenario that people can't be together.
"At a minimum, people need to get tested...What we have to do is we have to get tested immediately after the holidays."
Newsweek has asked the White House for comment.