It's been a year since the majority of Americans approved of President Joe Biden and new polling shows that the low ratings could only continue for the president, as those figures plummeted again last month.
A Monmouth University poll released Tuesday found that Biden's approval rating dropped to a new low in June, with 58 percent of Americans saying they disapprove of the job he's doing. Just over a third of Americans—36 percent—approve.
While the new figures show only a slight shift from May, they are part of a downward trend that first hit the Biden presidency last summer. The survey also marks a year since Biden has had a net positive rating. The last time more Americans approved of Biden than those who didn't, according to Monmouth's polling, was July 2021, when 48 percent approved and 44 percent disapproved.
June's all-time low of 58 percent has also surpassed the relatively high rating Biden held when he entered office. The same month he was inaugurated, 54 percent of Americans approved of the job he was doing as president.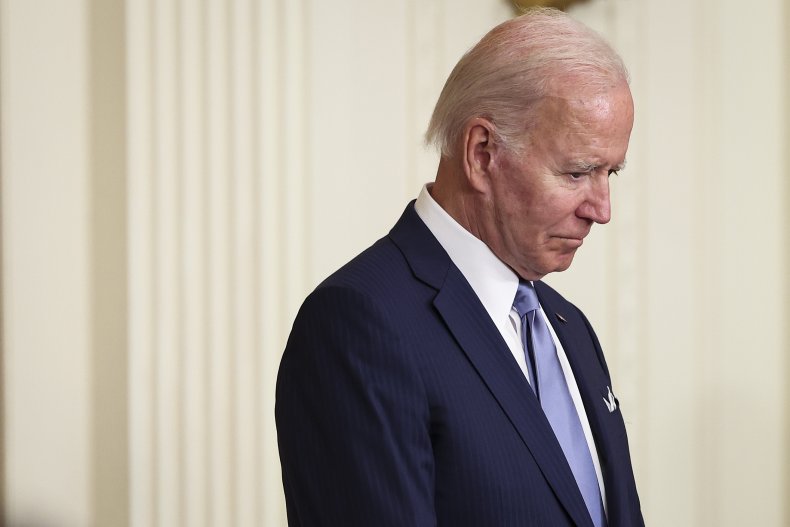 When respondents are broken down by party affiliation, Biden is still highly popular among Democratic voters, of whom 74 percent approve of his job in the White House. By contrast, only 29 percent of independents and 3 percent of Republicans say the same.
The current state of the U.S. economy has become a particularly difficult challenge for the Biden administration to overcome.
Skyrocketing inflation—which the White House had initially believed to be transitory— has many Americans worried. Nearly half of the public said it is the biggest concern facing their family right now.
Despite efforts by the federal government to help Americans with consumer costs, the latest poll is the first time in five years that more than 3 in 10 Americans are struggling to remain where they are financially.
The survey also found that 57 percent of Americans say that the recent actions of the federal government have only hurt their family when it comes to their most important concern—the first time this sentiment was in the majority opinion. The closest it had come previously was in January 2015, when 47 percent of Americans said the same.
"The state of the economy has Americans in a foul mood. They are not happy with Washington," Patrick Murray, director of the independent Monmouth University Polling Institute, said in a press release.
"However, that has not changed the overall picture of whom they want in control of Congress. The question is who actually shows up to vote in the fall," Murray added.
The survey also showed that Americans remain divided in an even split over whether Republicans or Democrats should have control of Congress.
The poll was conducted between June 23 and 27 and has a margin of error of 3.1 percentage points.