Biden Ban on Russian Imports to Cost Putin More Than $1 Billion
President Joe Biden on Friday announced further economic actions against Russia for its invasion of Ukraine which includes a ban on several Russian imports, a move that could cost Russia more than $1 billion in revenue, the White House said.
Biden also announced the U.S. will join the European Union and Group of Seven (G7) countries in downgrading Russia's "most favored nation" trade status, which could result in higher tariffs on imported goods from the country. The actions are the latest economic measures designed to damage Russia's economy.
Thus far, previous sanctions and a U.S. ban on Russian oil have dealt severe financial blows to Russian President Vladimir Putin, with Fitch Ratings moving Russia's credit rating to "junk status" and the ruble dropping precipitously in value.
The new executive order issued by the president blocks U.S. imports of Russian products such as seafood, non-industrial diamonds and alcohol (including vodka).
"This will deny Russia more than $1 billion in export revenues and ensure U.S. citizens are not underwriting Putin's war," a statement from the White House said.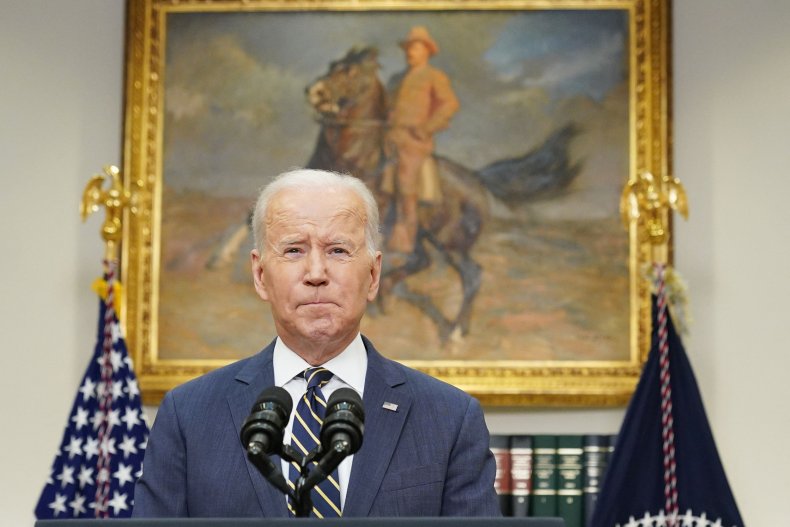 Biden's executive order also bans the export of luxury goods to any person located in Russia. Mentioned on a White House fact sheet of items that will no longer be available to Russians are watches, vehicles, alcohol and jewelry that are deemed "high-end," as well as "other goods frequently purchased by Russian elites."
The White House also placed sanctions on additional Russian oligarchs and their family members on Friday. The sanctions are designed to target elites who are profiting from the invasion, according to the statement. Any assets that Russian elites and their family members hold in the U.S. will be frozen and they are blocked from traveling to the U.S.
The White House estimated the U.S. export value of the luxury products being banned is almost $550 million per year. The statement said, "The elites who sustain Putin's war machine should no longer be able to reap the gains of this system and squander the resources of the Russian people."
According to the Office of the United States Trade Representative, Russia was the 26th largest supplier of goods in the U.S. in 2019, making up $22.3 billion worth of the nation's imports. Most of that figure comes from mineral fuels, but precious metals and stone, iron and steel worth 1.4 billion and fertilizers also accounted for billions.
"They're not the last steps we're taking," Biden said in a Friday speech announcing the actions.
He added, "Putin is the aggressor and Putin must pay the price."
Follow our live blog for updates on the Russia-Ukraine conflict.