Biden Boosts Legacy with Energy, Health Care Bill. Will Voters Reward Him?
One month ago, the heart of President Joe Biden's domestic agenda was on life support, and his job approval rating had dropped to a new low. Biden and his party appeared headed for a shellacking in the midterm elections. Even Democratic voters seemed ready to move on from the president, openly questioning whether he should seek a second term.
But seemingly overnight, in an unexpected turn of events, Biden has regained some momentum following what has been the most productive period of his presidency.
In a rare flurry of bipartisan activity over the past six weeks, Congress passed the most significant gun control regulation in three decades and made a major investment in U.S. manufacturing to counter competition from China. And on Sunday, Senate Democrats approved an energy, tax and health care package on a party-line vote, delivering on a number of longtime Democratic priorities. The House is expected to vote on the bill Friday.
Still, the president's approval rating remains underwater. Concerns in Democratic circles over his age haven't gone away. The national mood is uneasy in the face of high inflation and fears that the economy may slide into a recession. Democrats are still in danger of losing control of both chambers of Congress in November.
Nevertheless, as members of Congress leave Washington for the August recess, Democrats and the president have a more robust legislative track record to run on in the midterms this fall than most people expected.
Now comes the hard work of selling the accomplishments to voters.
"Biden has a significant record. He's not FDR or Lyndon Johnson, but he's found ways to move legislation through a very gridlocked Congress," said Julian Zelizer, professor of political history at Princeton University. "But often when you have a lot of legislative success, it doesn't mean things go well in the midterms."
This moment marks an inflection point in Biden's presidency. Most American presidents have roughly 18 months when they take office — from their inauguration to the summer before the midterm general elections get underway — to achieve as many of their campaign promises as possible. After spending most of their political capital during that period on their top issues, it becomes much harder to get additional things done, especially if the president's party loses power in Congress.
Republicans are expected to win control of the House and could gain a majority in the Senate as well, despite the recent string of Democratic victories. Biden's ability to move his remaining legislative agenda forward would be severely limited in a divided or fully Republican-controlled Congress.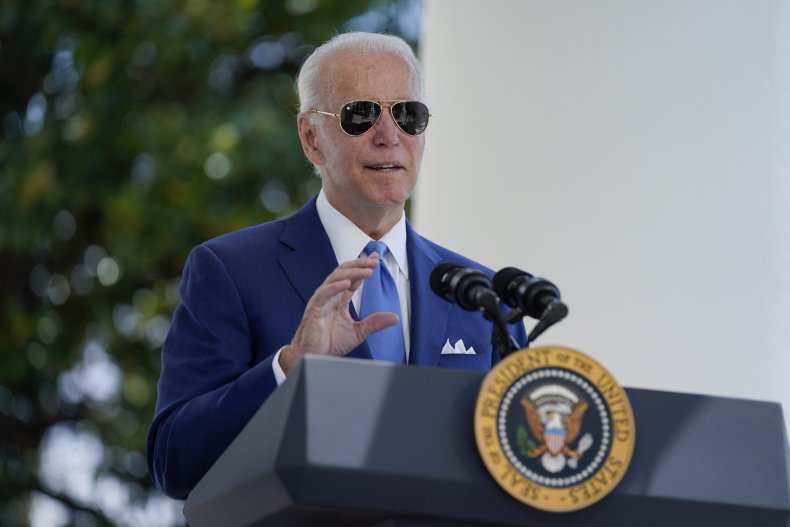 The president will have more room to maneuver independently of Congress on foreign affairs. Biden has won praise across the political spectrum for his leadership in rallying the West to oppose Russia's invasion of Ukraine. Coordinating the international response to the war will continue to be a top priority for the administration, regardless of the makeup of Congress.
But given the blunt reality of the U.S. political calendar, Biden's body of work on big-ticket domestic issues likely won't change much between the midterms and the 2024 presidential election.
Republicans have already made up their minds about Biden's presidency. They have been sharply critical of the way he has handled the economy and the largest spike in inflation in four decades.
"He's pretty boxed in by the circumstances he's got," Terry Holt, who served as a senior campaign adviser to former President George W. Bush, told Newsweek. "Inflation and the economy [will] drive the election."
Presidents have often struggled to weather periods of economic uncertainty. Ronald Reagan, a gifted communicator, was able to convince most Americans that the economy would recover from a downturn at the start of his first term. George H.W. Bush's approval rating soared to 89% after the First Gulf War. But a sagging economy caused his popularity to plummet and he wasn't able to recover, leading to his defeat in the 1992 presidential election. Similarly, Biden does not appear able to shore up public confidence in the economy, said Lee Ohanian, an economics professor at the University of California, Los Angeles.
"Biden's not able to deliver the message that gets people waking up in the morning saying things will be better," Ohanian said.
Republicans in Washington and around the country also blame Biden for the surge of migrants at the Southern border. Senate Republicans opposed the energy and health care bill. In early campaign ads, Republican candidates and conservative groups have painted the president as an extreme, far-left Democrat who hasn't accomplished anything in office.
This line of attack belies the fact that Biden has pushed through many parts of his agenda in a difficult political environment. The list includes the $1.9 trillion American Rescue Plan, the aid package passed early last year to tackle the pandemic; the $1 trillion infrastructure law, and Biden's appointment of Supreme Court Justice Ketanji Brown Jackson.
Democrats have a slim majority in the House, and have often had to rely on Vice President Kamala Harris to cast the tie-breaking vote in an evenly split, 50-50 Senate. The razor-thin margins in both chambers have hampered Biden's ability to act on issues like abortion, which will play a large role in the midterm elections after the Supreme Court ruling in June striking down Roe v. Wade.
"It's pretty remarkable that Biden has accomplished what he has so far," said Barbara Perry, the director of presidential studies at the University of Virginia's Miller Center. "I think it's about the best he could do in this crucial 18-month window."
The assessment by Democrats of Biden's presidency so far is more mixed.
Biden's record would be more impressive, allies argue, if Democratic Sens. Joe Manchin of West Virginia and Kyrsten Sinema of Arizona had agreed last year to back Biden's original Build Back Better proposal.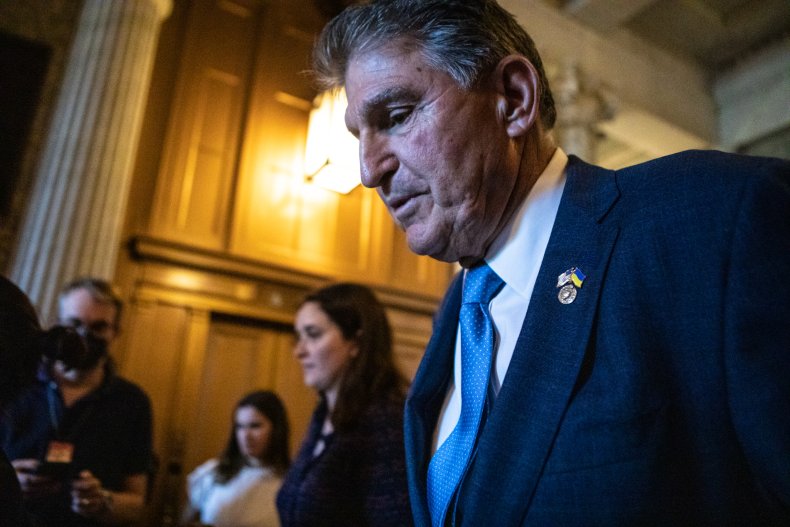 The plan, which was rebranded several times as Democrats tried to keep it alive, included more funding for climate and health care than the bill the Senate just passed, as well as significant investments in child care, education, and housing. Manchin and Sinema also angered many in their own party by rejecting a plan by Democrats in January to change the Senate's filibuster rules in order to pass voting rights reform.
In the end, the two centrist Democrats helped resurrect Biden's domestic agenda ahead of the midterms. Manchin brokered the energy and health care deal with Senate Majority Leader Chuck Schumer of New York in recent weeks. Sinema backed the plan after reaching an agreement with her Democratic colleagues to change new tax provisions in the legislation.
Biden remained in the background while Manchin and Schumer finalized the deal, an approach that reflected his respect for Congress as someone who spent 36 years as a senator. He was also a less visible presence because he spent two separate stretches isolating in the White House after testing positive for COVID-19, while Democrats strategized how to approve the final bill using a parliamentary move known as reconciliation, which allowed them to pass it without any Republican votes.
The resulting legislation, named the Inflation Reduction Act, is a smorgasbord of energy, tax and climate measures. It includes the most funding to combat climate change that Congress has ever passed. The bill also provides funding to extend subsidies for people who receive health care coverage through the Affordable Care Act, and will allow the Medicare program to negotiate the prices of some prescription drugs.
It's unclear, however, exactly how the legislation will reduce inflation in the short term. There are also so many different parts of the bill that it may prove a challenge to get voters to understand its overall impact, Zelizer said.
"We're in an era where presidents use reconciliation to get things through, and it's messier," Zelizer said. "It's not like, 'Here's one program, Congress passed it and now you have this benefit.' It's a mishmash of things in a process that nobody understands."
Recent presidents have had more success rallying their base around legislation that focused on one policy area. Donald Trump's biggest legislative accomplishment in his first two years in office was a straightforward tax overhaul that cut individual and corporate tax rates. Barack Obama signed the Affordable Care Act into law early on in his tenure, setting in motion the biggest health care reform in generations.
Biden, arguably, does not have a similar signature achievement that can be easily framed as a milestone to supporters. He has called the energy and health care bill a historic investment in America's future. He also likes to tout the COVID bill and infrastructure law as important accomplishments. Both were significant pieces of legislation, but they didn't capture the public's imagination, an neither provided Biden with a lasting boost in popularity. Time will tell how voters perceive the Democrats' newest legislation.
Critics on the left said Biden's domestic policy record, while impressive in some regards, has not lived up to the transformative vision he laid out as a presidential candidate, in part because he has been willing to compromise instead of pushing harder for sweeping change.
"Biden has been very technocratic and focused on what we can do on the margins, nibbling here and there," said Kait Sweeney, the spokesperson for the progressive group Democracy for America. "That is not a compelling vision, and it's going to hurt us in the midterms."
Perry said the idea that Biden could have pushed through a more ambitious agenda is unlikely, given the makeup of Congress. Whether his accomplishments inspire voters remains to be seen, she said.
But especially with the latest victory, Perry said, "at least now Biden can make a case to voters."