Biden to Campaign in Georgia for Warnock and Ossoff in Runoff Elections Deciding Control of Senate
President-elect Joe Biden will join the lineup of influential Democrats involved in Georgia's ongoing senatorial campaigns, according to his recently-named forthcoming chief of staff.
Ron Klain—who will formally step into the role when become Biden assumes office in January—discussed the outcomes of Georgia's two runoff elections, and how they could affect the next administration's political agenda, during an appearance on NBC News' Meet the Press Sunday morning. Klain previously served as Biden's chief of staff between 2009 and 2011, during his vice presidency under Barack Obama.
"We're going to work hard to win those Senate seats in Georgia," Klain told Meet the Press moderator Chuck Todd.
"I think you'll see the president-elect campaign down there as we get closer to Election Day," he continued. "We're going to put people, money, resources down there to help our two good candidates win. I'm very hopeful that we can win those seats."
Georgia's runoff elections will take place on January 5, just about two weeks before Biden's scheduled presidential inauguration. The state will begin to distribute absentee ballots later this week, and voters can register to participate in the early 2021 election until December 7.
The two races will see Democratic challengers Rev. Raphael Warnock and Jon Ossoff contend for U.S. Senate seats currently occupied by Kelly Loeffler and David Perdue, who are both Republicans. In Georgia, runoffs take place when no candidates receive a plurality of votes during initial elections.
How the upcoming runoff elections unfold will determine if Democrats are able to gain a majority in the U.S. Senate. Democrats need to fill two additional seats in order to match the 50 seats currently held by Republican representatives. Vice President-elect Kamala Harris, a Democrat, would then act as a tie-breaking vote to tip the scale.
Several notable Democratic figures—including New York Rep. Alexandria Ocasio-Cortez and Georgia's former gubernatorial candidate State Abrams—have already organized fundraising initiatives to support Warnock and Ossoff's respective campaigns. The Democratic Senatorial Campaign Committee additionally said it will commit to a "multi-million dollar field effort" in comments to Newsweek on Friday, although the group declined to provide specific numbers.
A number of prominent Republicans, as well as the Republican National Committee and National Republican Senatorial Committee, have also pledged to donate large sums in efforts to re-elect Loeffler and Perdue.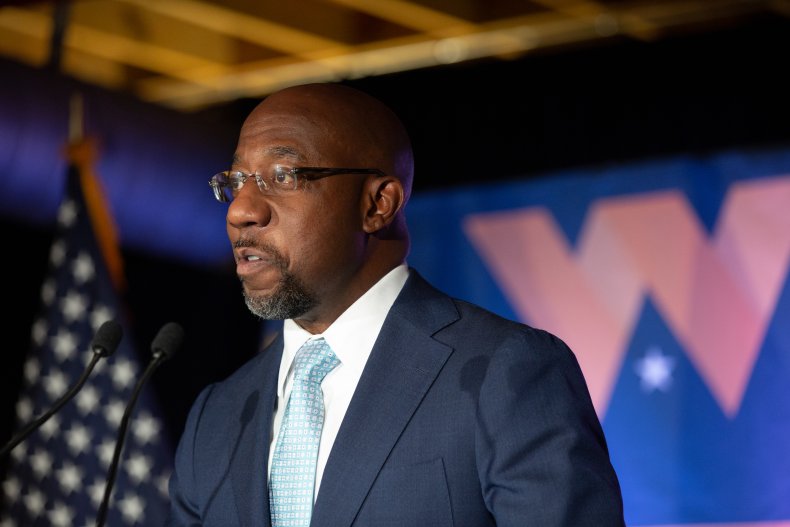 Whether Democrats can secure control of the Senate after January's runoff elections could potentially impact policy agendas put forth under Biden's administration. The president-elect's transition team released early details about its plans to manage the coronavirus pandemic, climate change, health care and the economy last week. Those proposals could face opposition in Congress if Republicans maintain their Senate majority.
During his Meet the Press appearance, Klain acknowledged that "it's obviously important" for Democrats to win Georgia's Senate seats not only to further Biden's presidential agenda, but also to pursue "better" government leadership in general.
"One thing that I think Joe Biden has made very clear...you've talked about it all year long, Chuck...is that he's going to work with whomever gets elected, Democrats, Republicans, independents, people across the country people in civil society, people in all kinds of sectors," Klain said. "And so, that's what he's going to do. We want to win those seats in Georgia, it will certainly be helpful to win those seats in Georgia. But we're not going to let anything deter us from moving forward with our agenda."
Newsweek reached out to Biden's transition team for additional comments, but did not receive a reply in time for publication.