GOP, Democratic Fundraising Hauls Now Pouring Millions Into Georgia's Senate Runoff Elections
As Georgia's two senatorial races head toward January runoff elections, Republican and Democratic donors are prioritizing fundraising hauls to support their party's ongoing campaigns. One week after the general election, prominent political figures have already poured millions into Georgia's critical pair of races.
The January 5 election will see Democratic challengers Jon Ossoff and Raphael Warnock contend for Senate seats currently occupied by Republicans David Perdue and Kelly Loeffler. In the aftermath of last week's congressional elections, how the upcoming races unfold will determine if Democrats are able to gain control of the U.S. Senate or if Republicans will maintain their majority.
Democratic politicians have launched fundraising efforts to support Ossoff's and Warnock's campaigns throughout the week. Stacey Abrams, a vocal advocate for voting rights and a former gubernatorial candidate in Georgia, helped raise close to $10 million through her organization, Fair Fight, earlier this week, several news outlets reported. On Thursday, the organization said it received donations from upward of 125,000 contributors in five days, which will help support the Ossoff and Warnock campaigns.
Newsweek reached out to Fair Fight for confirmation and further comment but did not receive a reply in time for publication.
Representative Alexandria Ocasio-Cortez of New York also led community fundraising hauls this week to support Ossoff and Warnock. As of Thursday, the Democratic congresswoman's grass-roots initiative had accumulated at least $370,000 in donations, after initially receiving $280,000 in just one night.
On Thursday, former Democratic presidential candidate and Indiana mayor Pete Buttigieg appeared at a virtual fundraising event supporting Warnock's campaign. Vermont Senator Bernie Sanders, also a former Democratic presidential candidate, is working to raise money for Warnock's race against Loeffler.
"Throughout decades of leadership in Georgia on voting rights, health care and criminal justice reform, Rev. Raphael Warnock has fought tirelessly for the security and dignity of working people," reads a description of Loeffler's Democratic challenger that appears on Sanders' campaign website. Sanders has formally endorsed Warnock's campaign.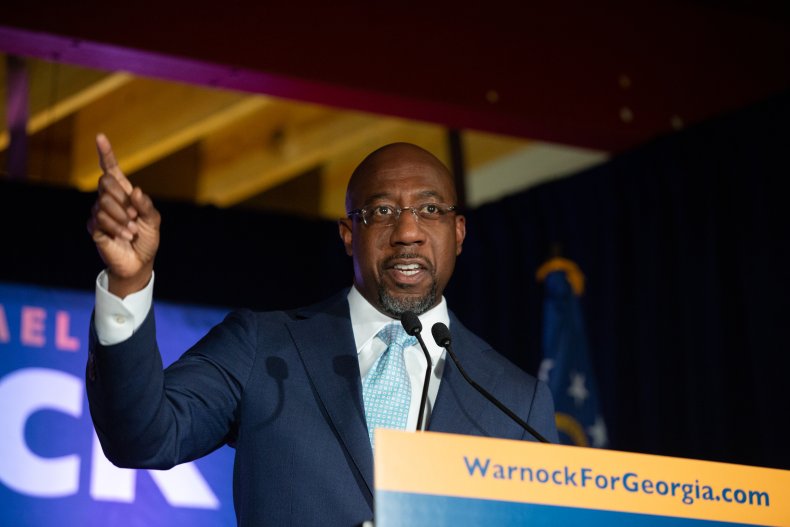 Meanwhile, prominent Republicans have taken big steps to support Perdue's and Loeffler's campaigns. On Thursday, Republican Senator Lindsey Graham of South Carolina told Fox & Friends that he will donate at least $1 million to the Republican incumbents' senatorial bids. Meanwhile, Republican Senators Rick Scott and Marco Rubio attended rallies supporting Perdue and Loeffler this week, urging attendees to help "save" the GOP's Senate majority.
Partisan fundraising groups are also focusing contributions on Georgia. The National Republican Senatorial Committee said it has raised more than $30 million for Perdue and Loeffler since last week.
In comments to Newsweek on Friday, a spokesperson from the Democratic Senatorial Campaign Committee did not provide specific figures regarding its own fundraising haul, but said it will "commit to a multimillion-dollar field effort" to increase voter registration and turnout ahead of the runoff election.
"The program will include on-the-ground organizers, direct mail, phones and text messaging as well as digital mobilization efforts," the spokesperson said.
The Republican National Committee plans to invest $20 million in Georgia's runoff races, which will allow the committee to place 600 staff members throughout the state leading up to January. The Associated Press first reported the committee's fundraising intentions Thursday morning, and an RNC spokesperson later confirmed those details to Newsweek.
Newsweek reached out to the Democratic National Committee for comments about its fundraising intentions in Georgia but did not receive a reply in time for publication.