U.S. President Joe Biden's invitation to his Chinese counterpart for a summit next month on climate change pits his administration's parallel approaches to the People's Republic against one another: tough talk from diplomats versus hopes for cooperation on environmental issues.
The White House released on Friday a list of 40 world leaders invited to take part in the virtual meeting, a concept first established under former President George W. Bush, carried on by former President Barack Obama but scrapped by Biden's predecessor, former President Donald Trump.
Among the notable names on the list are Chinese President Xi Jinping and Russian President Vladimir Putin, as Washington officials feuded with both Beijing and Moscow in the first two months of Biden's administration.
Talks with China, in particular, hit a high temperature last week when Secretary of State Antony Blinken and White House national security adviser Jake Sullivan opened their first talks with Chinese Communist Party Foreign Affairs Director Yang Jiechi and Foreign Minister Wang Yi by confronting them on sensitive accusations of human rights abuses denied by Beijing, compelling Yang to hit back hard on a list of alleged U.S. violations at home and abroad.
Messages that emerged after the meeting indicated little headway on these hot topics, but Blinken did reveal some areas of common ground in his post-meeting remarks. He named climate change, along with Iran, North Korea and Afghanistan, as an issue on which "our interests intersect."
Chinese Foreign Ministry spokesperson Hua Chunying also discussed the prospect of working together in this field.
"The two sides had discussions on cooperation and other issues in specific areas and reached consensuses including stepping up dialogue and cooperation on climate change by establishing a joint working group on climate change," Hua said Monday.
Despite the intense rhetoric elsewhere, it appears the two powers may have found an elusive path to engagement.
"While both sides may not have been able to agree on much in Anchorage, they did agree that cooperating on climate change is in both of their interests," Thom Woodroofe, senior advisor at the Asia Society Policy Institute and a former climate diplomat, told Newsweek.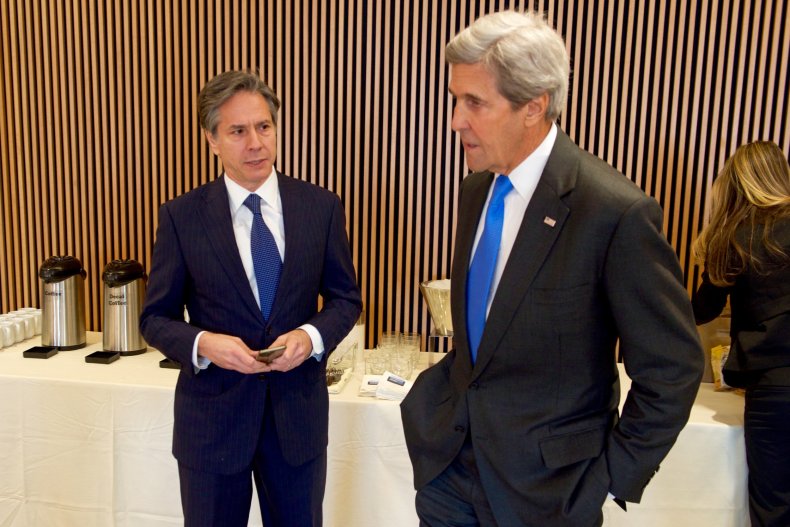 But steep obstacles do remain, and they block important paths to diplomacy as the Biden administration, spearheaded by its top diplomat, has chosen to challenge China directly.
Blinken's charge against China began early on in the Biden administration, signaled by his nomination testimony in which he stated that Trump was "right" for adopting more assertive positions against Beijing. Carrying on his predecessor's foreign policy turn, he referred to allegations of the mass internment of the Muslim Uighur community in Xinjiang as a "genocide" and pressed on with other accusations of abuses regarding Hong Kong, the South China Sea, Taiwan, Tibet and more.
Chinese officials, who deny wrongdoing and consider these internal affairs not warranting U.S. action, appeared to immediately temper expectations on turning around deteriorating relations between the two nations.
But a ray of hope for improving bilateral interactions came in Biden's appointment of former Secretary of State John Kerry to a newly formed position: climate envoy. In addition to this subject being one of the increasingly rare areas of agreement between the U.S. and China, Kerry has a familiar face in his Chinese counterpart, Xie Zhenhua.
The two men held discussions during the Obama administration and spoke via telephone early last month shortly after Xie's reinstatement as Beijing's top climate envoy. Kerry has argued it was necessary to maintain cooperation with China on climate issues regardless of their disagreements elsewhere.
The strategy may be working. Sullivan announced Monday that Kerry and Xie would meet despite setbacks on other matters in Alaska.
As long as such a heated dynamic exists between the U.S. and China, the world's top two polluters, Woodroofe argued it was key to shield the crucial channel of climate change discussions from other issues on which the pair appear fundamentally at odds.
"The most important thing now is that a lane for this cooperation can be built in a way that protects it from the thorny issues across the rest of the bilateral relationship," he said. "This will require patience from both sides and we should temper our expectations—in the short term this is likely to involve engagement, but not necessarily joint action and certainly not the kind of headline announcements we saw in 2014."
He pointed out, however, that it's not as if talking climate change is a concession on Beijing's part. Chinese officials have consistently raised the alarm of the impacts of environmental unrest on their own country, even as the issue was shelved under the Trump administration.
"Ultimately for China, they have more to gain than lose from this cooperation. The strength of Biden's climate agenda and their own desire to be seen as a global climate leader means they won't want to be seen to cut against this," Woodroofe said. "Beijing is also deeply conscious of China's own vulnerability to the impacts of climate change."
With plenty of stake for both world powers, Sharon E. Burke, director of the Resource Security group at the New America think tank and former assistant secretary of defense for operational energy under the Obama administration, commended Biden's ability to press forward with climate change cooperation regardless of the wider dispute plaguing U.S.-China relations.
"In my view, it was important for Biden to send a message that climate change can't be a bargaining chip," Burke told Newsweek. "They needed to frame progress on cuts in emissions as something that's in China's own interests, not a favor to the rest of the world or a U.S. priority that can be traded for impunity on other U.S. priorities."
"Risky maybe, given how important China is on climate change," she added, "but no sense in going into the relationship in a submissive way—that leaves nowhere to go but down."
The Biden administration's national security doctrine, outlined in the Interim National Security Strategic Guidance published earlier this month, described China "as the only competitor potentially capable of combining its economic, diplomatic, military, and technological power to mount a sustained challenge to a stable and open international system."
It defined a "strategic competition" playing out between Washington and Beijing, but at the same time said this contest would not preclude working together.
"We will conduct practical, results-oriented diplomacy with Beijing and work to reduce the risk of misperception and miscalculation," the document said. "We will welcome the Chinese government's cooperation on issues such as climate change, global health security, arms control, and nonproliferation where our national fates are intertwined."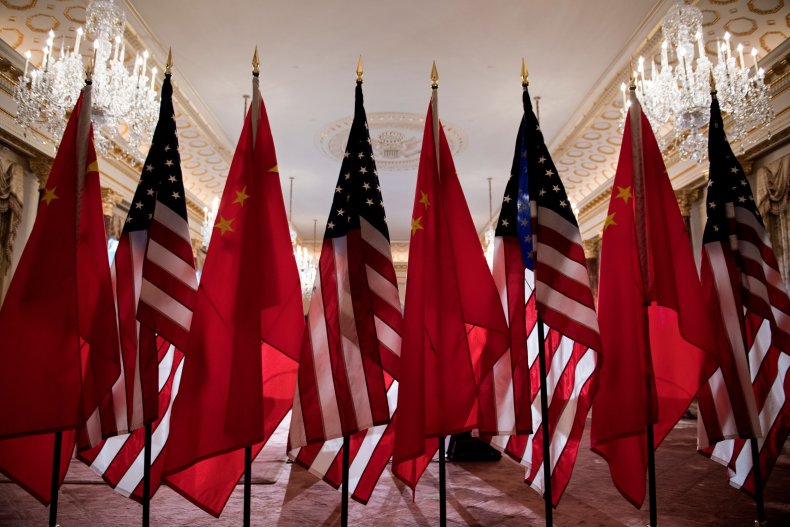 Just like the nuclear weapons amassed throughout the Cold War, inaction on climate change represents a form of mutually assured destruction both governments are eager to avoid.
"While it is a challenging time in U.S.-China relations, both countries have a common interest in addressing climate change and see benefits to engaging with each other," Joanna Lewis, director of Georgetown University's Science, Technology and International Affairs Program, told Newsweek.
"Despite signals to the contrary this past week," she added, "I am optimistic that we will see some cooperative efforts on climate change in the coming months."
And there's a lot of work to be done.
Among the new president's first international actions after being sworn in office in January was to recommit the U.S. to the Paris Agreement, a landmark deal with the rare distinction of having been signed by every nation on Earth. But even with this pledge in place, Lewis notes that targets "need to be dramatically scaled up" and this requires the U.S. and China's help for both logistical and political reasons.
"The United States and China key here, not just because of the role both countries play in contributing to global emissions, but also the crucial role they play on the global stage in influencing the positions of other countries," she said. "In the international climate talks China has long been a voice for the developing world, and its climate actions—most notably a pledge for carbon neutrality by 2060—are watched closely by other emerging and developing economies."
But given the intensity with which Washington has so far chosen to pursue issues viewed as taboo for Beijing, and the unwavering response by Chinese officials, the a venue with multiple parties involved—such as the upcoming climate summit—may prove the best toward address the issue, rather than attempting to tackle it head-to-head.
"Engagement between the United States and China is crucial, but complicated, given the current dynamic between the two countries," Lewis said. "As a result, we are likely to see more U.S.-China climate engagement within a multilateral context, or in partnership with key allies such as the EU, and somewhat less emphasis on bilateral engagement."