President Joe Biden has revealed that Vice President Kamala Harris will be his running mate once again if he runs for reelection in 2024. Biden made the announcement during his address on Wednesday, which comes one day before the one-year anniversary of his inauguration.
When taking questions during his address, a reporter questioned Biden about the decision to put Harris in charge of voting legislation and rights: "Are you satisfied with her work on this issue, and can you guarantee do you commit that she will be your running mate in 2024 provided that you run again?"
In response, Biden replied, "yes and yes."
When the reporter asked to expand his comments, he said that there was not anything, in particular, to expand upon.
"She's going to be my running mate, number one," Biden continued, "and number two, I did put her in charge. I think she's doing a good job."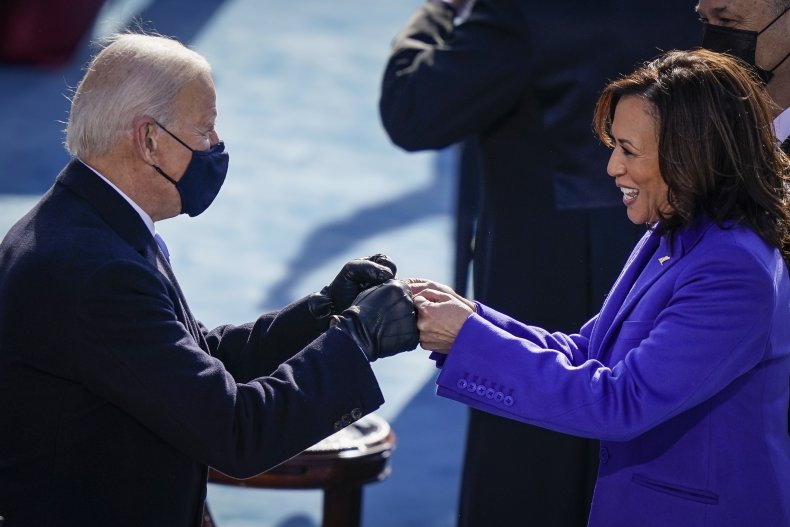 However, many American voters might not have the same opinion. Satisfaction with Harris among the general public is decreasing, along with satisfaction with the entire administration during Biden's first year in office. Newsweek recently reported that both Biden and Harris are currently disliked by the majority of the public, with a new Politico/Morning Consult poll showing that 54 percent of Americans view the vice president "unfavorably."
Harris' rating is not the only thing that could set back a potential reelection campaign. The aforementioned poll also graded Biden an overall "F" for job performance, with 37 percent of poll participants giving him the failing mark. These new findings are a stark contrast from the approval ratings tallied when the current president was inaugurated.
Speculation also arose in November claiming that the relationship between the President and his VP is worsening, although White House Press Secretary Jen Psaki quickly addressed those claims.
"For anyone who needs to hear it," Psaki tweeted, '[Harris] is not only a vital partner to [Biden] but a bold leader who has taken on key, important challenges facing the country—from voting rights to addressing root causes of migration to expanding broadband."
As for the Wednesday address, Biden fielded questions regarding many contentious topics. One reporter asked him about the current status of the two voting rights bills and whether their passage or failure could result in unfair midterms.
"It depends on whether or not we'll be able to make the case to the American people that some of this is being set up to try to alter the outcome of the election," Biden replied.
He also directly countered critics of his coronavirus strategy, especially those who thought that the Biden administration should have been more proactive in their response.
"Should we have done more testing earlier? Yes," the president answered, "But we're doing more now."