Biden Commits to North Korea Peace as U.S., South Korea Talk End-of-War Declaration
President Joe Biden's administration has committed to achieving peace with North Korea through dialogue as the United States and its ally, South Korea, discuss a possible declaration to end the decades-long conflict between the two rival states of the Korean Peninsula.
The ongoing consultations between Washington and Seoul were confirmed to Newsweek by a South Korean Ministry of Unification official, who said the issue had also been previously discussed between Washington and Pyongyang, without specifying when those discussions took place.
"As the matter has been discussed several times between the North and the U.S., once the ROK-U.S. consultation is completed, there will be ways to resolve such conditions through dialogue and consultations with the North," the official said.
The U.S. and North Korea launched an unprecedented level of dialogue in 2018 during the Trump administration, following an initial period of tensions. That year would see a record three inter-Korean summits as well as a landmark U.S.-North Korea leaders' summit, which was followed by another summit the following year and a meeting between all three heads of state in summer 2019.
Among the ideas floated at the time was a peace treaty that would once and for all end the Korean War that pitted South Korea, officially the Republic of Korea (ROK), backed by the U.S. and United Nations forces on one side, against North Korea, officially the Democratic People's Republic of Korea (DPRK), and its Chinese and Soviet allies on the other. Combat lasted from 1950 to 1953 and ended with a stalemate and armistice but no official peace, leaving the belligerents in a technical state of war up that persists to this day.
A senior Biden administration official would not directly comment on the U.S.-South Korea talks, which were also reported on last week by Politico, but did reiterate that the administration continues to pursue peace between the two Koreas.
"The United States remains committed to achieving lasting peace on the Korean Peninsula through dialogue and diplomacy with the DPRK," the senior administration official told Newsweek. "That is why we remain prepared to engage in diplomacy with DPRK."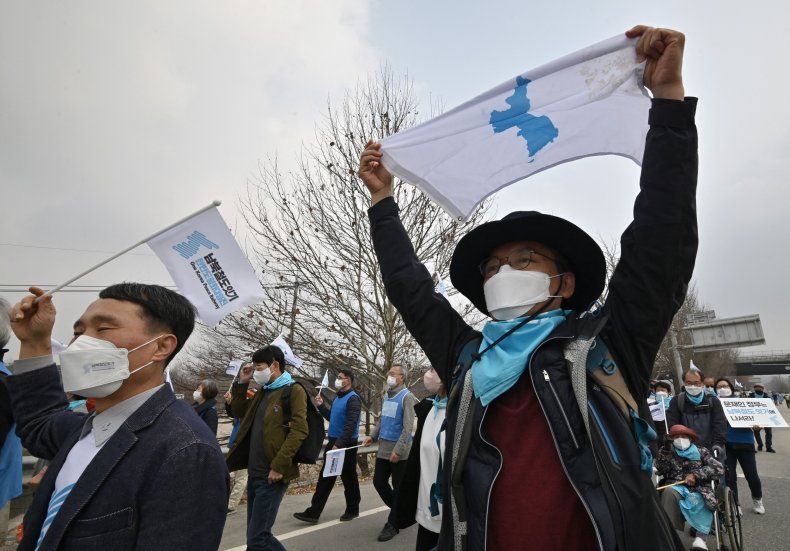 The senior administration official would also not "get into hypotheticals" about how such a declaration may be received by North Korea and how it might advance U.S. interests.
But the South Korean Ministry of Unification official provided some evidence as to how the move aligned with the goals of President Moon Jae-in, whose term is set to end in March.
"The ROK Government aims to completely end the 68 years of abnormal ceasefire and pave the way for resuming the stalled denuclearization talks by promoting the end-of-war declaration on the Korean Peninsula," the South Korean official said.
This official went on to explain how marking an official end to the conflict could serve as a gateway to realizing a broader framework for peace with little cost to the parties involved.
"The end-of-war declaration can be regarded as a door to a peace regime," the South Korean official added. "It can be a very useful tool with a practical and sensible approach in which the two Koreas and the U.S. can build trust and start a dialogue, without having to charge an immediate expense, undergo abrupt changes in military status, and experience a shift in legal and institutional arrangements."
Such a move "would also weaken the justification and motivation to create military tensions between South and North Korea including the development of nuclear arms," according to the South Korean official.
North Korea's development, testing and advancement of nuclear weapons has been a key area of contention with the U.S. and much of the international community, which has placed sanctions on the secretive militarized nation via the United Nations Security Council. Pyongyang paused nuclear and longer-range missile tests ahead of the peace process in 2018 and has yet to resume them, though a number of shorter-range weapons launches have taken place.
While the Trump-era dialogue never panned out, Moon has continued to pursue efforts to reverse the backslide toward tensions with North Korea and restart peace talks. The North-South commitment to ending their war is enshrined in at least two key declarations, one from the first meeting between Moon and North Korean Supreme Leader Kim Jong Un in April 2018, and the other from the last inter-Korean summit prior to that, which took place in October 2007.
Excerpts from both declarations were shared with Newsweek by the South Korean Ministry of Unification official, who said North Korea has responded positively to more recent calls for an end-of-war declaration issued by Moon, including during his address to the United Nations General Assembly in September.
"Despite North Korea's recent request to stop applying double standards and hostile policy toward the North as prerequisites for the end-of-war declaration, it has also shown positive responses through Kim Yo Jong's statement on September 24, stating President Moon's proposal to declare a formal end to the Korean War is an 'interesting and admirable idea,'" the South Korean official said.
Kim Yo Jong is the sister of Kim Jong Un and serves in the elite position of vice department director of the Central Committee of the ruling Korean Workers' Party. She is also widely seen as having been delegated with the handling of some of the nation's most senior level foreign affairs, including making diplomatic statements regarding South Korea and the U.S. on behalf of her brother.
As such, her openness to Moon's open support for an end-of-war declaration was viewed as a shift in the hardline approach North Korea adopted as its peace process under Trump unraveled. Shortly after her statement, Kim Jong Un announced his intention to restore communication lines between the two countries, a decision that was enacted on October 4.
And while the ruler chastised South Korea during a speech last month at a defense exhibition for conducting joint exercises with the U.S. and arming itself with more advanced weapons of its own, Kim Jong Un also offered an assurance that North Korea's military buildup was not directed at its neighbor.
He even walked back from earlier descriptions of the U.S. as his nation's "principal enemy."
"Our arch-enemy is the war itself, not south Korea, the United States or any other specific state or forces," Kim Jong Un said at the time.
He then called for a change in Seoul's perception of Pyongyang, explaining, "all I want is that the authorities and the whole society of south Korea, in their viewpoint towards the north, get rid of their outdated and anachronistic worry and anxiety and illusory sense of mission that the north's threat should be contained, and free themselves from the excessive crisis-consciousness and persecution complex as soon as possible."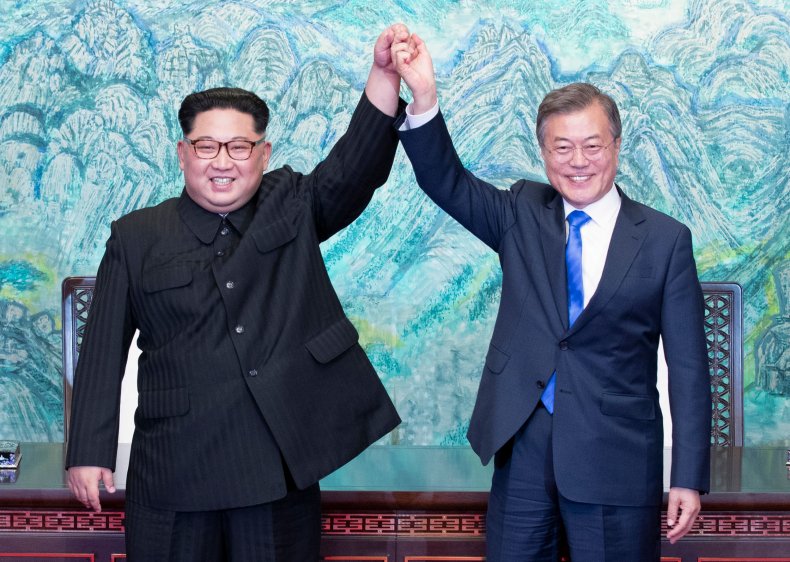 The prospect of an end-of-war declaration also came up during the trilateral talks held earlier this month between U.S. Deputy Secretary of State Wendy Sherman, South Korean First Vice Foreign Minister Choi Jong-kun and Japanese Vice Foreign Minister Mori Takeo in Washington.
Following the meeting, Choi confirmed the ongoing discussions and said closed-door consultations were being led by U.S. special representative for North Korea Sung Kim and South Korea's Korean Peninsula Peace Negotiation Headquarters Director Noh Gyu-deok.
Sherman had earlier told reporters she was "very satisfied" with the progress of talks on achieving an end-of-war declaration, something Choi highlighted in his own remarks, though he said he hoped to see other key players step up as well.
"Declaration of the end of the war should be joined by not only South Korea and the United States, but also North Korea, and perhaps China," Choi said at the time. "Even if South Korea and the U.S. are satisfied, it is a separate matter how North Korea and China will react."
Chinese special representative for Korean Peninsula affairs Liu Xiaoming had weeks earlier stated that "as an important party of the Peninsula affairs and a signing party of the Korean Armistice Agreement, China is willing to play a constructive role by maintaining communication with relevant parties on matters including the promotion of peace talk and the announcement of the End-of-War Declaration" during a conversation with South Korea's Noh.
Just ahead of the trilateral talks, Biden spoke directly with Chinese President Xi Jinping via virtual link for a summit in which the Chinese Foreign Ministry later confirmed that the Korean Peninsula was among the issues discussed by the two leaders.
Choi too said that "consultations have also been made with the White House, however, it would be diplomatic disrespect to conclusively evaluate the position of the other country's president." He also declined to discuss whether contacts were being made directly with Pyongyang through the "New York channel," referring to North Korea's permanent mission to the United Nations in Manhattan.
As U.S.-South Korea discussions on the matter continue, U.S. Defense Secretary Lloyd Austin was set to travel Tuesday to Seoul in order to meet U.S. troops and senior South Korean officials, such as his South Korean counterpart Suh Wook, as part of the 53rd U.S.-Republic of Korea Security Consultative Meeting.
"The annual Security Consultative Meeting has played a pivotal role in the development of the U.S.-ROK Alliance," a Pentagon readout stated. "The SCM continues to be a cornerstone venue to discuss and affirm national commitments. Both sides are expected to pledge to continue to develop the Alliance — the linchpin of peace and stability on the Korean Peninsula and in Northeast Asia — in a mutually reinforcing and future-oriented manner."