Biden Condemns 'Horrifying' Violence Against Transgender People on Day of Remembrance
President Joe Biden issued a statement on Transgender Day of Remembrance condemning "horrifying" acts of violence after more than 40 trans Americans were killed this year.
In a message from the White House on Saturday, Biden mourned those who have lost their lives in both the U.S. and around the world.
"This year, at least 46 transgender individuals in this country—and hundreds more around the world—were killed in horrifying acts of violence. Each of these lives was precious. Each of them deserved freedom, justice, and joy," he said. "We mourn those we lost in the deadliest year on record for transgender Americans, as well as the countless other transgender people — disproportionately Black and brown transgender women and girls — who face brutal violence, discrimination, and harassment."
According to the Human Rights Campaign (HRC), an LGBTQ advocacy group, at least 47 transgender or gender non-conforming Americans have been fatally shot or died by violent means in 2021. That number marks the highest on record for the group, which has been recording violence against transgender individuals since 2013.
Last year, the group recorded 44 deaths of transgender or gender non-conforming people.
"These victims, like all of us, are loving partners, parents, family members, friends and community members. They worked, went to school and attended houses of worship. They were real people—people who did not deserve to have their lives taken from them," HRC said in a statement.
On Saturday, Biden called on the Senate to pass the Equality Act, which amends the 1964 Civil Rights Act to protect people from being discriminated against based on sexual orientation and gender identity. He also called on state leaders, lawmakers and members of his administration to "address the epidemic of violence and advance equality for transgender people."
"Too many transgender people still live in fear and face systemic barriers to freedom and equality," the president said in his statement."Transgender people are some of the bravest Americans I know. But no person should have to be brave just to live in safety and dignity. Today, we remember. Tomorrow—and every day—we must continue to act."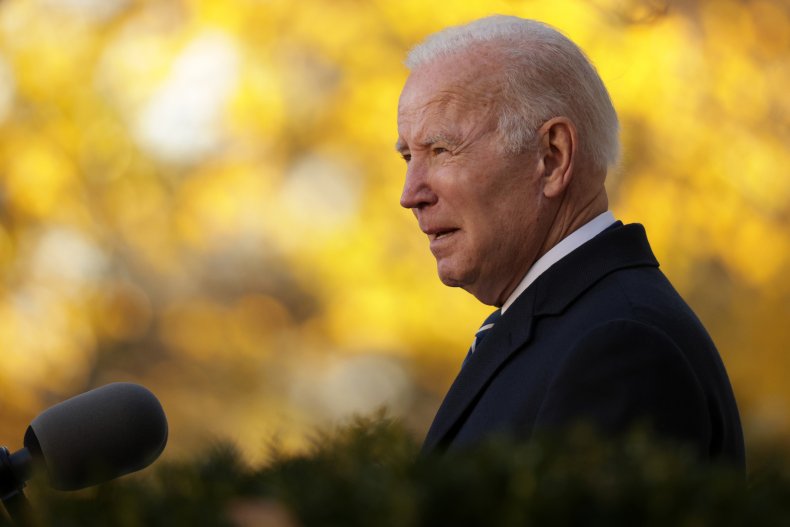 Transgender Day of Remembrance began in 1999 by activist Gwendolyn Ann Smith and is recognized each year to memorialize victims of violence across the country.
The day caps off Transgender Awareness Week, which included a White House vigil hosted by Second Gentleman Doug Emhoff, as well as speeches from members of Congress.
"This day was created to memorialize the loss of her life and far too many others due to transphobic violence," Democratic Representative Ayanna Pressley said during a Wednesday speech in which she named each of the transgender Americans who have been killed this year.
"The cruelty of transphobia is a threat that we must confront and root out wherever it exists, whether in music or on television or in the hallowed halls of the nation's capital. There is no place for hatred because someone is brave enough to show up exactly as they are and to live their truth," she added.