Biden Condemns Violence in Portland While Trump Blames 'Radical Left' Dems
A night of deadly violence Saturday in Portland had America's two presidential candidates speaking out the day after. And their remarks were about as different as their national conventions over the last two weeks.
The fact that there was another night of protests for Black Lives Matter (BLM) and for social justice in Portland isn't anything new, as Saturday marked the 94th-consecutive day since they began in late May. The day turned deadly, as a group of Donald Trump supporters clashed in the streets with BLM supporters. One man was fatally shot during the confrontations.
The Portland Police Bureau (PPB) had not released details of the shooting, nor the identity of the man who was shot.
"It is still early in this investigation, and I ask everyone to give the detectives time to do their important work before drawing conclusions about what took place," PPB Chief Chuck Lovell said.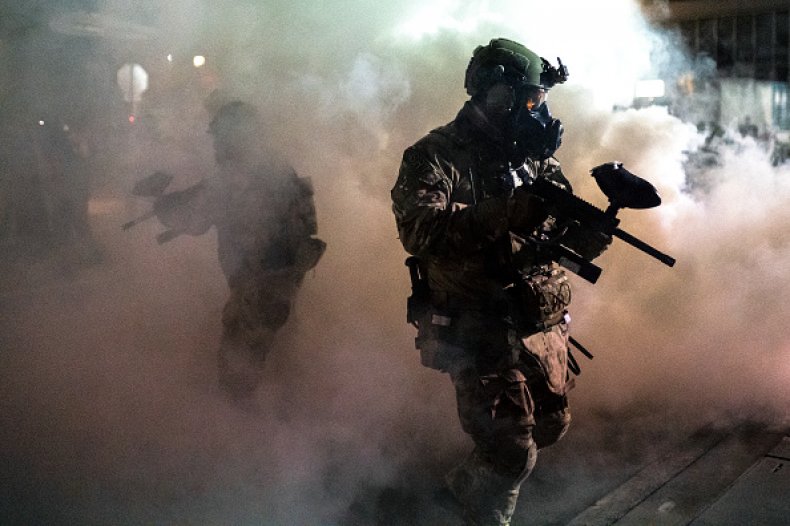 On Sunday, Democratic presidential nominee Joe Biden condemned all violence—by either Democrats or Republicans—and he urged President Trump to do the same.
"The deadly violence we saw overnight in Portland is unacceptable. Shooting in the streets of a great American city is unacceptable," Biden said in a statement through his campaign website. "I condemn this violence unequivocally. I condemn violence of every kind by any one, whether on the left or the right. And I challenge Donald Trump to do the same.
"It does not matter if you find the political views of your opponents abhorrent, any loss of life is a tragedy. Today there is another family grieving in America, and Jill and I offer our deepest condolences."
Meanwhile, the president published a series of tweets that didn't necessarily "condemn" the violence as Biden requested, but rather pointed the finger at Ted Wheeler, the Democratic mayor of Portland.
"Ted Wheeler, the wacky Radical Left Do Nothing Democrat Mayor of Portland, who has watched great death and destruction of his City during his tenure, thinks this lawless situation should go on forever. Wrong! Portland will never recover with a fool for a Mayor," Trump tweeted.
"The people of Portland, like all other cities & parts of our great Country, want Law & Order. The Radical Left Democrat Mayors, like the dummy running Portland, or the guy right now in his basement unwilling to lead or even speak out against crime, will never be able to do it!," Trump said.
California Senator Kamala Harris, who is Biden's vice presidential running mate, also condemned the violence.
"This can not—and must not—be who we are. Americans deserve a president who will heal our country and bring people together—not fan the flames of hate and division," Harris tweeted.
Protests began nationwide after the May 25th police-involved death of George Floyd. Former Minneapolis officer Derek Chauvin was seen in a video kneeling on Floyd's neck for several minutes. The last words heard by Floyd on the video were "I can't breathe."
Since then, peaceful protests in Minneapolis and Portland have turned into riots and violent clashes from coast-to-coast.
Then, a week ago, a video surfaced from Kenosha, Wisconsin that shows an officer shoot Jacob Blake, a Black man, seven times. Protests have also turned violent in that city recently.
The Democrats held their national convention to choose Biden as their presidential candidate two weeks ago. That event, which was virtual, was originally scheduled to be held in Milwaukee, which is about an hour north of Kenosha. Democrats did not mention violence in America during any of their high-profile speeches, but rather focused on COVID-19, health care, education, Trump, social justice, mail-in voting, jobs and the economy.
The Republicans mounted their convention last week in Charlotte, North Carolina to nominate Trump for a second term, and concluded with the president's 70-minute speech at the White House on Thursday night. Republicans and Trump did speak about COVID-19, but also needled into Biden while talking about the economy, trade deals, China and violence in America. One of Trump's major points was to "restore law and order" in America.
Biden has said Trump stirs the pot to "divide" the country.
"The job of a President is to lower the temperature. To bring people who disagree with one another together. To make life better for all Americans, not just those who agree with us, support us, or vote for us," he said. "Donald Trump has been president for almost four years. The temperature in the country is higher, tensions run stronger, divisions run deeper. And all of us are less safe because Donald Trump can't do the job of the American president."
Trump again pointed out that violence is running rampant in Democrat-led cities like Portland, Chicago and New York City.
"The only way you will stop the violence in the high crime Democrat run cities is through strength!" Trump said.