Man Shot Dead After Caravan of Trump Supporters Clashes With Portland Protesters
A man was shot dead after a large group of President Donald Trump supporters traveled into Portland and clashed with Black Lives Matter protesters on Saturday evening.
Officers heard gunfire coming from the area of Southeast 3rd Avenue and Southwest Alder Street at around 8.45 p.m., the Portland Police Bureau (PPB) said in a news release. They responded and found a man with a gunshot wound to the chest.
"Officers arrived within a minute to find a small group gathered around a man down in the street," the PPB said. "The man had been shot, and did not survive."
Early on Sunday, the PPB said its homicide unit had concluded its on-scene investigation and reopened the street. It also said detectives are aware of videos circulating on social media that show the shooting.
"It is still early in this investigation, and I ask everyone to give the detectives time to do their important work before drawing conclusions about what took place," Police Chief Chuck Lovell said in a statement.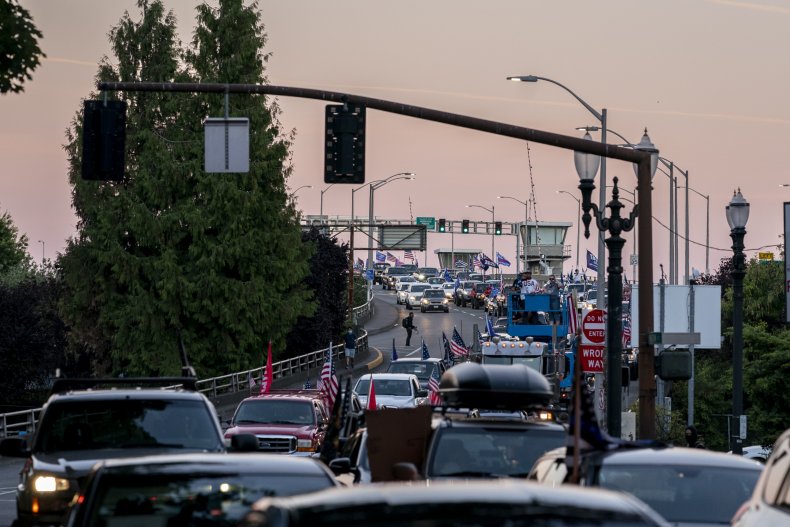 "If anyone can provide information about this case, I ask them to please reach out to our detectives. This violence is completely unacceptable and we are working diligently to find and apprehend the individual or individuals responsible."
The PPB did not release any additional details about the man who was killed or the suspect in the shooting. The department has been contacted for comment.
It wasn't clear if the incident was linked to the fights that broke out as a caravan of about 600 vehicles was confronted by protesters in downtown Portland earlier in the evening, according to The Associated Press.
But a freelance photographer working for the agency heard three gunshots and saw police medics working on the victim, who appeared to be a white man.
The photographer said the man was wearing a hat with the insignia of Patriot Prayer, a right-wing group whose members have previously clashed with Portland protesters.
Nightly protests against police brutality and racial injustice have taken place in Portland for more than three months since the killing of George Floyd in Minneapolis in May.
On Saturday, the pro-Trump caravan gathered at a suburban shopping mall and then drove as a group to downtown Portland just as another planned protest was getting underway.
Videos showed protesters attempting to stop the caravan by standing in the street and blocking bridges.
One video posted by Mike Baker, a reporter with The New York Times, showed Trump supporters firing paintball pellets and pepper spray as protesters threw things at the Trump caravan.
Portland Police said they made 10 arrests on Saturday after the caravan's arrival in downtown Portland at around 5.30 p.m.
"As vehicles inched along streets on both sides of the Willamette River, pedestrians and vehicle occupants periodically exchanged words," police said.
"At times fights broke out; there were some minor collisions. Portland Police responded to scenes of fights, disturbances and collisions throughout downtown and made some arrests." They said the caravan had left downtown by about 8.30 p.m.
Saturday night's shooting came after Trump on Thursday decried Portland as being home to the "rioting, looting, arson and violence we have seen in Democrat-run cities" in his speech at the Republican National Convention.
The president, who has made law and order a key theme in his re-election campaign, recently said he would again deploy federal law enforcement agents to quell unrest in the city.
Federal agents repeatedly clashed with protesters outside a courthouse in downtown Portland in July, regularly deploying tear gas and other less-lethal munitions, after the Trump administration sent them to the city to protect federal property.