In a letter sent Friday evening, Portland, Oregon Mayor Ted Wheeler responded to a Friday afternoon tweet from Republican President Donald Trump offering to send federal troops to Wheeler's city to quell the ongoing racial justice uprisings there.
Wheeler's response: "No thanks," and "Stay away please."
Early Friday afternoon, Trump tweeted, "Success: Since the National Guard moved into Kenosha, Wisconsin, two days ago, there has been NO FURTHER VIOLENCE, not even a small problem. When legally asked to help by local authorities, the Federal Government will act and quickly succeed. Are you listening Portland?"
Trump's tweet was a reference to his deployment of almost 1,000 National Guard and over 200 federal law enforcement personnel, including FBI and U.S. Marshals, to quell social unrest and civil uprisings in Kenosha. The uprisings occurred in response to viral video showing police shooting Jacob Blake seven times in the back while Blake attempted to enter his vehicle where his three sons were waiting. Blake did not have a weapon on his person, but the Wisconsin Department of Justice says there was a knife in his car.
As video of Blake's shooting went viral, Monday's protests in Kenosha turned to civil unrest as citizens set fire to buildings and vehicles and others looted local stores. Police responded to protesters demonstrating outside of a courthouse with tear gas and less-lethal munitions. On Tuesday, an armed militia member fired into a group of protesters, killing two and seriously injuring one.
Wednesday and Thursday's protests were reportedly more peaceful as residents sought to avoid another lethal shooting or escalation, according to NPR.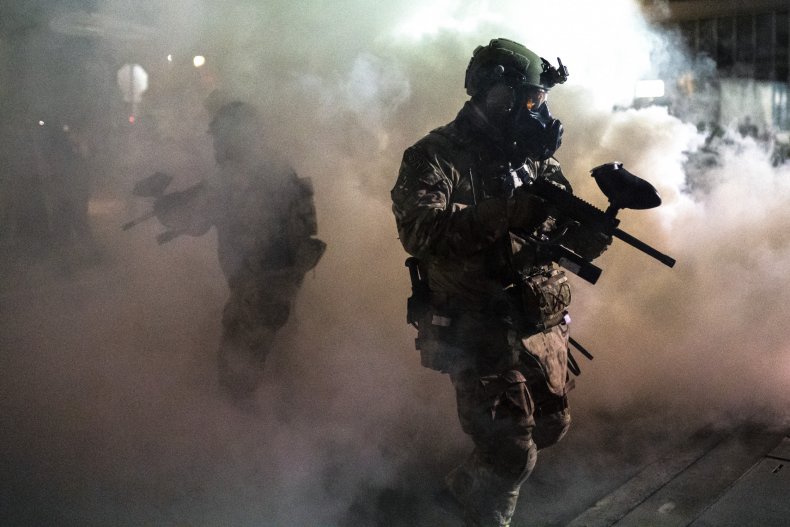 "Portlanders are onto you," Wheeler's letter to Trump read. "We know you've reached the conclusion that images of violence or vandalism are your only ticket to reelection."
"When you sent the Feds to Portland last month," Wheeler continued, "you made the situation far worse. Your offer to repeat that disaster is a cynical attempt to stoke fear and distract us from the real work of our city."
In his letter, Wheeler said that Portland's protesters are dedicated to the "noble cause of fixing our broken criminal justice system," and pledged to apprehend and prosecute those who commit criminal acts.
Trump's introduction of federal troops into Portland to guard the Mark O. Hatfield Federal Courthouse—the site of continuous nightly protests since the May 25 murder of Black Minneapolis resident George Floyd by a white police officer—reenergized protests and led to national outrage following reports of federal officers apprehending people off the street in unmarked vans.
Wheeler, who also serves as the Portland Police Commissioner, has been criticized by the city's citizens for permitting the police use of tear gas, a chemical weapon banned in war zones by the Geneva Conventions, and less-lethal munitions against protesters.
Newsweek contacted Wheeler's office for comment.