Trump Deploys Nearly 1,000 National Guard, 200 Feds To Kenosha for Protests
Republican President Donald Trump has deployed almost 1,000 National Guard and over 200 federal law enforcement personnel, including FBI and U.S. Marshals, according to the White House.
The forces will go to Kenosha, Wisconsin to quell the social unrest following the August 23 police shooting of Jacob Blake, an unarmed Black man. Police shot Blake seven times in the back while he attempted to enter his vehicle. His three sons were waiting in his car when he was shot.
Trump reportedly spoke to Wisconsin's Democratic Governor Tony Evers on Wednesday evening and followed up with a tweet which read, "We will NOT stand for looting, arson, violence, and lawlessness on American streets. My team just got off the phone with Governor Evers who agreed to accept federal assistance. Portland should do the same!"
Blake, a 29-year-old father, was left paralyzed and will probably never walk because the police's bullets shattered his spine, his family's attorney Ben Crump said Tuesday during a news conference. Blake also reportedly has "holes in his stomach" and had nearly all of his small intestine and colon removed.
As video of Blake's shooting went viral, Monday's protests turned to civil unrest as citizens set fire to buildings and vehicles and others looted local stores. Police responded to protesters demonstrating outside of a courthouse with tear gas and less-lethal munitions. On Tuesday, a group of armed men ostensibly protecting a gas station killed two protesters and seriously injured one.
Blake's mother Julia Jackson said that neither her son nor family would want to see violence committed in his name.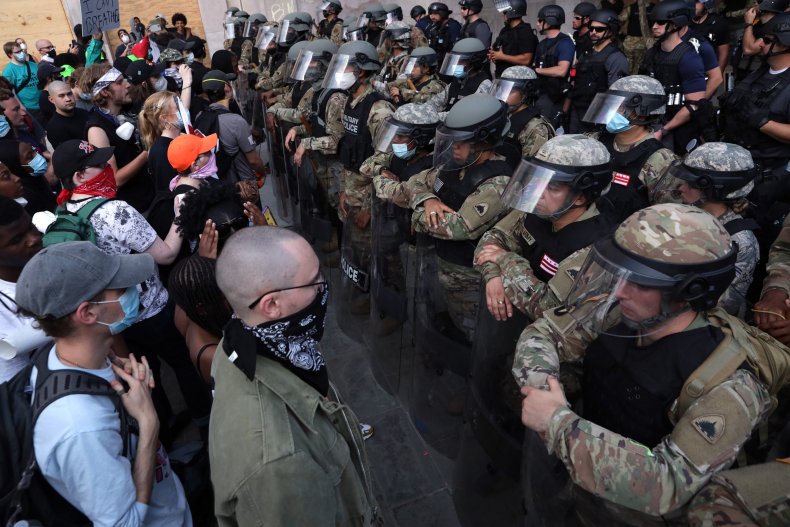 On Monday, Governor Evers mobilized 150 Wisconsin National Guard members to help local law enforcement quell the uprising. On Tuesday, Evers declared a state of emergency and increased the number of National Guard members to 250.
In a statement obtained by Newsweek on Tuesday, Evers said, "There remains a line between peaceful assembly and what we saw [Monday] night that put individuals, families, and businesses in danger."
"We cannot forget the reason why these protests began, and what we have seen play out over the last two nights and many nights this year is the pain, anguish, and exhaustion of being Black in our state and country," Evers continued, adding, "Please do not allow the actions of a few distract us from the work we must do together to demand justice, equity, and accountability."
Over 500,000 people have signed a petition demanding criminal charges to be brought against the officers involved in Blake's shooting.
In a Wednesday news conference, Blake's sister Letetra Widman said she wasn't saddened by her brother's shooting because she has become numbed by the numerous police murders of Black people.
"I have been watching police murder people that look like me for years," Widman said. "I'm not sad. I don't want your pity. I want change."