Jacob Blake's Sister Isn't Sad About Brother's Shooting: 'I Don't Want Your Pity. I Want Change'
Jacob Blake's sister said she doesn't want pity as her brother fights for his life in hospital, but change.
Letetra Widman was one of several relatives who spoke at a news conference on Tuesday—two days after police in Kenosha, Wisconsin shot 29-year-old Blake, apparently seven times in the back at close range.
In a powerful statement to reporters, Widman called herself her "brother's keeper" but said she isn't sad or sorry about what happened to him because it is "nothing new."
Referencing the lynching of 14-year-old Emmett Till in 1955 and some of the Black men and women who have been killed by police in recent years, Widman said she has become numb.
"So many people have reached out to me telling me they're sorry that this happened to my family," she said.
"Well, don't be sorry 'cause this has been happening to my family for a long time, longer than I can account for. It happened to Emmett Till. Emmett Till is my family. Philando, Mike Brown, Sandra.
"This has been happening to my family and I've shed tears for every single one of these people that it's happened to. This is nothing new. I'm not sad. I'm not sorry. I'm angry. And I'm tired.
"I haven't cried one time. I stopped crying years ago. I am numb. I have been watching police murder people that look like me for years."
She added: "I'm not sad. I don't want your pity. I want change."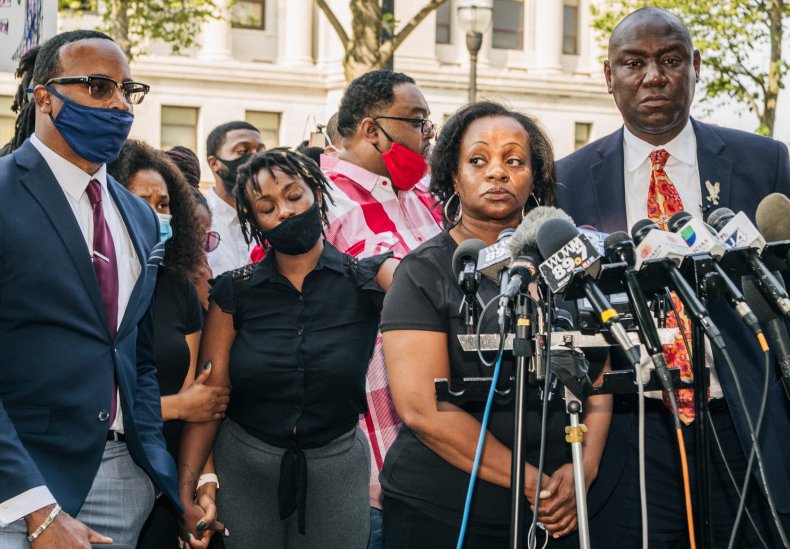 Widman added that she wanted people to remember that her brother is a father, a son, an uncle and a human.
"I am my brother's keeper," she said. "And when you say the name Jacob Blake, make sure you say father, make sure you say cousin, make sure you say son, make sure you say uncle.
"But most importantly, make sure you say human. Human life. Let it marinate in your mouth and your minds. A human life. Just like every single one of you all and everywhere... We're human. His life matters."
At the news conference, attorney Ben Crump revealed that Blake is paralyzed from the waist down and unlikely to ever walk again because the bullets that struck him severed his spinal cord and shattered some of his vertebrae.
Blake's mother Julia Jackson urged people to stop the violence that has erupted amid protests sparked by the shooting.
"It doesn't reflect my son or my family. If Jacob knew what was going on as far as that goes, the violence and the destruction, he would be very unpleased," Jackson said.
The family is planning to file a civil lawsuit against the Kenosha Police Department over the shooting. Crump added that they are calling for the officer who shot Blake to be arrested and the others at the scene to be immediately terminated.
The Kenosha Police Department have said little about what led up to the shooting, except that the officers involved had been responding to a "domestic incident" at the time.
But a cellphone video that captured the shooting circulated widely on social media showed a police officer grabbing the back of Blake's shirt as he leaned into his SUV and opening fire, apparently striking him several times in the back. Three of Blake's young sons witnessed it from the back seat of the vehicle.
The officers have not been identified, but they have been placed on administrative leave, according to the Wisconsin Department of Justice (DOJ), which is investigating the shooting.
Newsweek has contacted the Kenosha Police Department and the DOJ for additional comment.