Jacob Blake's mother called for an end to the violence that has erupted in Kenosha, Wisconsin since her son was shot by police.
Blake, a 29-year-old Black father, is paralyzed and unlikely to walk again because bullets severed his spinal cord and shattered some of his vertebrae, the family's attorney Ben Crump revealed during a news conference on Tuesday.
Cellphone video of Sunday's encounter, which circulated widely on social media, showed an officer grab Blake's shirt as he leaned into his SUV and apparently open fire at close range.
Protests have turned violent every night since, with police clashing with protesters outside a courthouse and firing tear gas and less-lethal munitions. Dozens of buildings were destroyed by fire and many vehicle were set ablaze on Monday night.
The violence continued on Tuesday night when a group of armed men protecting a gas station reportedly confronted and shot at protesters, leaving two dead and another person seriously injured.
Hours earlier, Blake's mother Julia Jackson had said that the destruction taking place in Kenosha does not reflect the wishes of her family. Her son would not be pleased to see the devastation caused in his name, she added.
"We really just need prayers," Jackson said. "As I was riding through here, through the city, I noticed a lot of damage. It doesn't reflect my son or my family. If Jacob knew what was going on as far as that goes, the violence and the destruction, he would be very unpleased.
"So, I'm really asking and encouraging everyone in Wisconsin and abroad to take a moment and examine your hearts. Citizens, police officers, firemen, clergy, politicians, do Jacob justice on this level and examine your hearts."
She added: "We need healing. As I pray for my son's healing physically, emotionally, and spiritually, I also have been praying even before this for the healing of our country."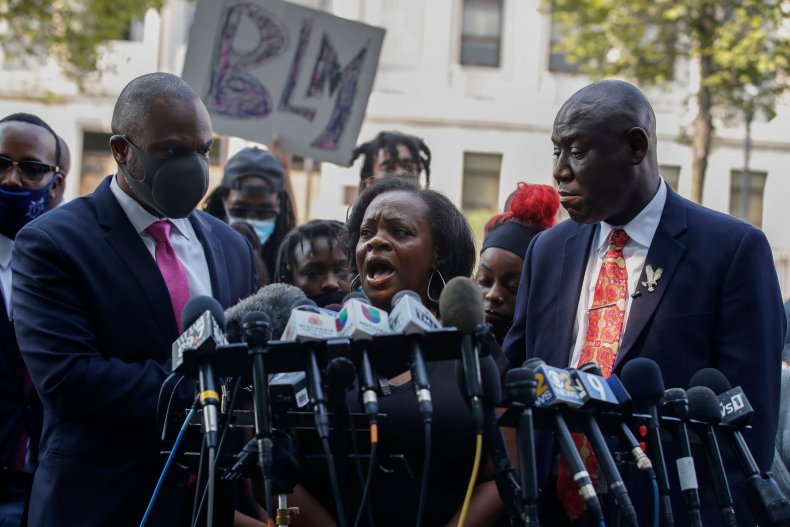 She also said that Blake is unaware of what has been happening in Kenosha.
The first thing he did when she saw him in hospital was cry and apologize, Jackson said.
"I don't really think he knows what happened at this point. He's not there yet. I asked him, 'Jacob, did you shoot yourself in the back?' He looked at me and he said, "No."
"I said, 'Then why are you sorry?' He says, 'Because I don't want a burden on anybody. I want to be with my children. And I don't think I'm going to walk again, mom.'"
Three of Blake's children—boys aged 2, 5 and 8—were in the back of the SUV when he was shot. It was the 8-year-old's birthday.
"These little boys, these three little boys are going to have psychological problems for the rest of their life," Crump said. "Can you imagine what his 8-year-old son who was celebrating his birthday is going to think about every time he has his birthday?"
Blake's father, who is also called Jacob Blake, also spoke at the news conference.
"Our family is very diverse and we don't represent just one thing... This is for my son, Jacob Blake," he said before reciting Surah Al-Fatiha, the opening chapter of the Quran which plays a crucial role in Islamic prayer.
Jacob Blake Sr. became emotional as he added: "They shot my son seven times. Seven times. Like he didn't matter. But my son matters. He's a human being and he matters."
The family is planning to file a civil lawsuit against the Kenosha Police Department over the shooting.
"We're demanding that the prosecutor arrest the officer who shot Jacob Blake," Crump added. "And we also are asking that these officers who violated the policies in their training be terminated immediately."
Blake Sr. said he has little confidence in the investigation.
"Anybody that is white, that is doing an investigation about a Black young man that was shot seven times in his back, and haven't come up with an answer or a comment at this point, is not, is not welcome," he said.
Police have said little about what happened on Sunday, except that the officers involved had been responding to a "domestic incident" at the time.
The officers have not been identified, but they have been placed on administrative leave, as is standard protocol. The Wisconsin Department of Justice (DOJ) is investigating.
The Kenosha Police Department and the DOJ have been contacted for additional comment.