Biden Blasted After Opening State of the Union With 'Minority Leader' Gaffe
President Joe Biden began his 2023 State of the Union address by stumbling over his praise of Senate Majority Leader Chuck Schumer and briefly referring to him as the "minority leader."
Biden made the gaffe while he was opening his speech by congratulating House and Senate leaders. Just after praising Senate Minority Leader Mitch McConnell for his long service, the president apparently became confused about Schumer's current role.
"And congratulations to Chuck Schumer," Biden said. "Another, uh you know, another term as Senate minority leader. You know, I think you uh... only this time you have a slightly bigger majority, Mr. Leader. You're a majority leader, about that much bigger?"
Schumer replied by holding up his finger to indicate that Democrats had gained one seat in the Senate, bringing their slim majority to 51 seats.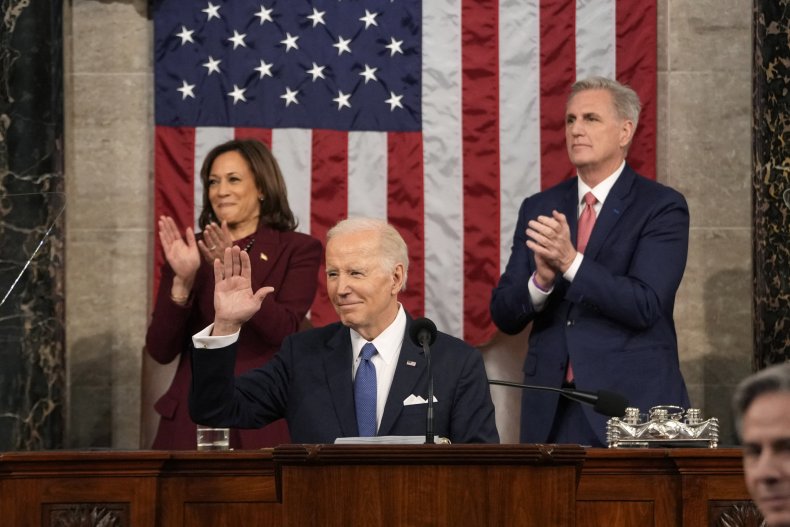 Biden's mistake was almost immediately pounced on by his political opponents. Former President Donald Trump, who was offering a play-by-play of the speech on his Truth Social platform, led the charge by referring to the moment as a "big stumble."
"Big stumble on Schumer," Trump wrote. "He called him Minority Leader. Can't do that! Each time he's going off script, he's making a mistake. Hopefully he will improve!"
The gaffe was also heavily referenced by Biden critics on Twitter.
"Biden congratulates Chuck Schumer on being Senate minority leader, which was news to Chuck Schumer," tweeted talk radio host Buck Sexton.
"Biden struggling out of the gate -- tries to say something about Schumer but can't get it out," conservative author and journalist Mollie Hemingway tweeted. "Moves on to praising Nancy Pelosi, who destroyed House decorum by tearing up the previous president's speech during the 2020 SOTU."
"For the first time I wish Joe Biden was correct...," tweeted former Newsmax host Grant Stinchfield. "'Chuck Schumer is the minority leader' first gaffe of many more to come... you watch. #StateOfTheUnionAddress"
"Well this #StateOfTheUnion is going to be a disaster," Republican Oklahoma state Senator Nathan Dahm tweeted as the speech began. "But what do you expect from a rogue regime that's trying to destroy our country."
"And in those two minutes he called Chuck Schumer the Minority Leader of the Senate," Dahm added while replying to a person who noted that the address had only been happening for about two minutes. "He can't even read a teleprompter correctly."
Despite Biden seemingly suggesting that Schumer had recently become the majority leader, the New York Democrat has actually held the role since January 2021.
Schumer avoided becoming the Senate's minority leader when Democrats narrowly retained control of the chamber with a better-than-expected performance in the 2022 midterms.
The president's party expanded its control of the Senate by winning one additional seat in last year's elections, with Senator Kyrsten Sinema continuing to caucus with Democrats despite declaring herself an independent.
Newsweek has reached out to the White House for comment.
Update 2/7/2023, 10:33 p.m. ET: This article was updated with additional information.