Biden Doesn't Want A War with Russia Over Ukraine
As President Joe Biden prepares to speak with his Russian counterpart Vladimir Putin against the backdrop of what may be their most serious standoff yet, the U.S. leader's administration has signaled that it is looking to avoid any situation in which the U.S. military takes on Russia directly in response to an attack on Ukraine.
Speaking during a press call Monday, a senior Biden administration official declined "to talk about the particular challenges that President Biden will lay out for President Putin" during their virtual meeting scheduled for Tuesday. He did, however, indicate a preference for providing military assistance to Ukraine and members of the NATO Western military alliance along with economic measures targeted at Russia in the event that hostilities break out.
"I would say that the United States is not seeking to end up in a circumstance in which the focus of our countermeasures is the direct use of military force as opposed to a combination of support for the Ukrainian military, strong economic countermeasures and the substantial increase in support and capability to our NATO allies to ensure that they remain safe," the official said.
White House Press Secretary Jen Psaki also stated told reporters later that day that direct U.S. military involvement "is not our first objective."
"I would note that, in the past, if you look back at 2014, that one of the outcomes here, if they were to decide to move forward, is that the other countries in the eastern flank— many of them NATO partners—will be looking for reassurance from the United States," Psaki said. "That's something that was a follow-up to 2014. I'm not sure that is what Russia wants to see. But that would be a natural consequence if they were to move forward as well."
Ukraine is not a NATO member state, but has prioritized a process to join the coalition in recent years. The country underwent a political shift following a 2014 uprising that brought to power a pro-Western government.
The change in government was followed by Russia's annexation of the Crimean Peninsula in an internationally disputed referendum and the self-declared secession of two eastern regions controlled by rebels aligned with Moscow. NATO responded to the events by shoring up its eastern flank with additional troops and equipment, including advanced missile defense systems.
Putin has called for a halt to NATO's expansion, including into Ukraine, and the prevention of weapons systems being deployed near Russia's borders. But Biden said Friday that he would "not accept anyone's red lines," a point reiterated by the senior administration official on Monday.
"The United States has consistently expressed support for the principle that every country has the sovereign right to make its own decisions with respect to its security," the senior administration official said during Monday's call. "That is written into the founding documents to the alliance, and that remains U.S. policy today and will remain U.S. policy in the future."
But the official noted that the administration did "support discussions between NATO and Russia to address larger issues of concern on both sides Russian concerns, NATO activities and NATO and American concerns with Russian activities," contacts that have taken place since the Cold War that led to the creation of NATO and the rival Warsaw Pact that collapsed with the Soviet Union in the early 1990s.
Many former Warsaw Pact states have since joined NATO, as have the former Soviet republics of Estonia, Latvia and Lithuania, raising concerns for Russia, which has long sought to keep Ukraine within its sphere of influence.
Amid reports from Washington and Kyiv of a Russian military buildup involving up to 175,000 troops along the Russian-Ukrainian border, the senior administration official emphasized that the U.S. does "not have a clear indication that President Putin has actually given an affirmative order" regarding an incursion into Ukraine.
"It is is more about planning, intention and then the kinds of movements that we have seen," the official said, noting that such movements appeared to be "consistent" with the planning of "a foreign military escalation in Ukraine."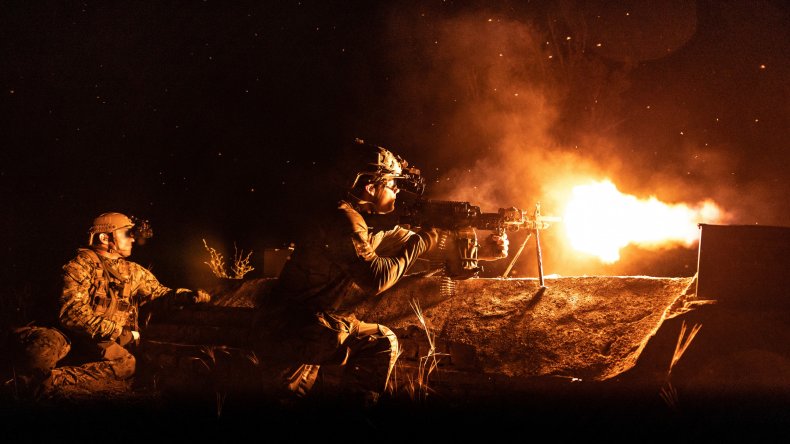 Putin and his top officials have denied plans to attack neighboring Ukraine, but have instead pointed to what they argue to be provocative moves coming from the other side of the border, including a series of NATO exercises involving the U.S.
"Regarding U.S. military activity in Eastern Europe, as President Putin stressed earlier this is a matter of great concern for us, especially in terms of the eastward expansion of NATO and deployment of the military infrastructure and troops of its member states in Ukraine," Alexander Kim, press secretary of the Russian embassy in Washington told Newsweek on Friday.
"Such actions tremendously deteriorate the situation in this country, given the unresolved conflict in Donbass," he added. "Speaking of the situation on our border with Ukraine and accusations of the U.S. and its allies I can only say: Russia moves troops across its territory and I don't think we need to consult with anyone on this issue."
Putin's spokesperson, Dmitry Peskov weighed in directly on the Russian leader's upcoming talk with Biden during a press conference Monday, arguing that "it is very important not to indulge in some over-excited, emotional expectations, after all, it's two heads of state that are speaking," according to the state-run Tass Russian News Agency.
He said the two would be discussing a range of issues, including agreements brought up during their June bilateral summit in Geneva. And while he lamented how bilateral relations were "still in a very sad state," he noted that dialogue and communication are "always better" than the alternative.
When it comes to Ukraine specifically, Peskov said he expected Putin "will listen with great attention" to proposals put forth by Biden during the upcoming call. Peskov asserted that "there is only one way to defuse tensions — to understand how to ensure against the possible intentions of Kyiv to solve the Donbass problem through force," and that Putin had "an absolutely clearly formulated position" on how to do so via multilateral talks.
"This is a two-way road, clear, but at least this is a concrete initiative," Peskov said.
He also warned against "aggressive rhetoric" coming from the West regarding allegations of Russia's intentions in Ukraine, as well as a "media hysteria" regarding the severity of sanctions being planned against Moscow should hostilities break out.
However, State Department spokesperson Ned Price warned once again in a press briefing on Monday that the U.S. would roll out against Russia "high-impact economic measures that we have refrained from using in the past."
Asked about a 1990s assurance by former U.S. Secretary of State James Baker III that NATO would move "not one inch eastward," Price said today that "NATO has an open door, and we are committed to the open door policy put forth in Bucharest that NATO should remain an option to aspirants when they are ready and able to meet the commitments that are spelled out, as well as obligations of membership that are spelled out, specifically that they are able and willing to contribute to security in the Euro-Atlantic area."
He said that "no one should have a veto over what NATO decides, what a country like Ukraine seeks to do," and painted NATO out to be "a defensive alliance" that posed no threat to Russian national security.
Pressed by journalists on NATO's 2011 intervention in Libya, an incursion that helped rebels to overthrow and kill longtime leader Muammar el-Qaddafi, Price stated that NATO has "never been offensive towards Russia," which deeply opposed the alliance's actions in the North African nation a decade ago.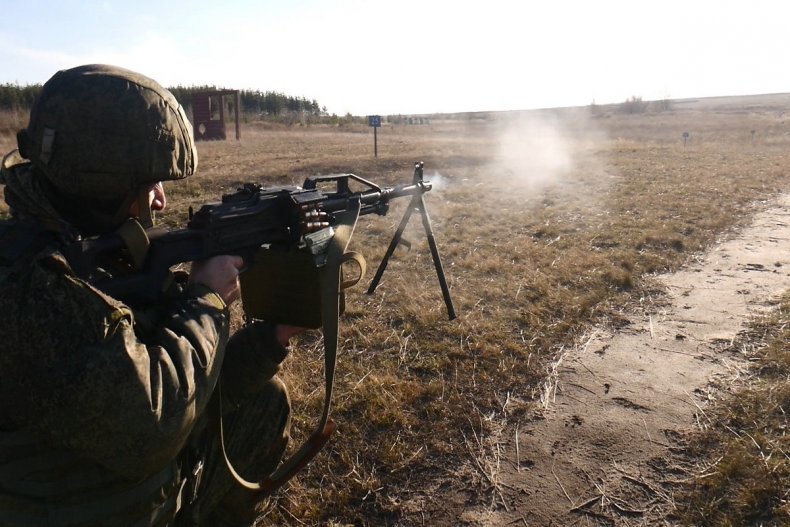 Biden is set to also hold talks with Ukrainian President Volodymyr Zelensky in the days following the scheduled call with Putin, and the Ukrainian leader spoke Monday with his U.S. counterpart Antony Blinken.
He said via Twitter that the two men had agreed "to continue joint & concerted action," and expressed his own gratitude to U.S. "strategic partners & allies for the continued support of our sovereignty & territorial integrity."
A readout later released by the State Department said Blinken "reiterated the United States' unwavering support for Ukraine's sovereignty, independence, and territorial integrity in the face of Russian aggression, ahead of President Biden's discussion with President Putin."
"The two agreed on the need for a peaceful, diplomatic resolution to the conflict in the Donbas and the full restoration of Ukrainian sovereignty over its internationally recognized borders, including Crimea," it added.
Zelensky also traveled Monday to the front line of his military's war in the Donbas region, where separatists have declared the internationally unrecognized republics of Donetsk and Luhansk.
"I am convinced that with people like you, we will definitely win," Zelensky said, according to his office.
The conflict, which will mark its eighth year in February, has claimed the lives of more than 10,000 people, and continues to witness regular hostilities in spite of repeated ceasefire attempts. Moscow has denied providing direct support for the rebels, but has called on Kyiv to enter into talks directly with their leadership, which seeks autonomy from the central government.
Tensions over the conflict have also extended into the nearby Black Sea, where U.S. and Russian have conducted simultaneous military maneuvers.
Late last month, U.S. Sixth Fleet missile destroyer USS Arleigh Burke deployed to the strategic body of water and, on Monday, the Russian Black Sea Fleet's naval aviation kicked off a series of exercises involving 20 aircraft and the targeting of mock surface targets at sea.
Russian Foreign Ministry spokesperson Maria Zakharova also alleged on Sunday that U.S. Air Force activity had created a threat to a civilian airliner, an accusation dismissed the following day by Pentagon Press Secretary John Kirby.
"There was no such risk, there was no such unsafe or unprofessional interaction certainly not by the United States military," Kirby said. "It was a matter simply resolved by common sense and routine air traffic control procedures, getting two aircraft that were at the same altitude to not fly at the same altitude. and this happens thousands of times all over the world in all manner of circumstances."
"Our Russian friends were speaking a bit hyperbolically about an incident that actually didn't occur," he added.
And Kirby too declined to discuss specifics such as potential U.S. plans or even whether or not U.S. advisers were currently in Ukraine. He emphasized, however, that "there's still space and time for diplomacy and leadership" as the world awaited the results of Biden and Putin's online meeting.
"There's no reason for this to devolve into armed conflict," Kirby said, "and what we will continue to do and what we have done in Ukraine is help Ukraine defend itself."