Ten years ago today, a coalition uniting the world's leading Western powers and select allies launched a bombing campaign against Libya as the North African nation descended into civil war, one of several conflicts to befall the region during the Arab Spring era.
Within months, longtime leader Muammar el-Qaddafi would be dead, his convoy struck by a NATO raid, forcing the infamously lavish colonel into a drainage pipe, where he would be executed by insurgents looking to open a new chapter in their national history.
The United States, under former President Barack Obama at the time, celebrated along with its international partners.
"We came, we saw, he died," then-Secretary of State Hillary Clinton, who would lose to Donald Trump five years later in a campaign to succeed Obama, famously quipped to CBS News.
Then-Vice President Joe Biden, who would go on to defeat Trump in his bid for reelection, echoed Clinton's sentiments at the time.
"Whether he's alive or dead, he's gone," Biden told a rally. "The people of Libya have gotten rid of a dictator."
He credited the Western coalition for its success.
"NATO got it right," Biden said.
But Libya descended steadily into chaos, and another top power shifted its calculus toward the broader Middle East and North Africa region. To this day, Russia regards the events that toppled Qaddafi as a disaster with far-reaching ramifications.
"We firmly believe that NATO intervention in Libya led to the most devastating consequences," the Russian embassy in Washington told Newsweek. "It destroyed the Libyan statehood, provoked the growth of terrorism and migration crisis. This should serve as a stark reminder of the real cost of 'regime-change' policies."
The Kremlin—led by President Vladimir Putin—has stood steadfast ever since in thwarting efforts by Western powers, especially Washington, to intervene across the Arab World, where Russia is today more influential than at any time in its post-Soviet history.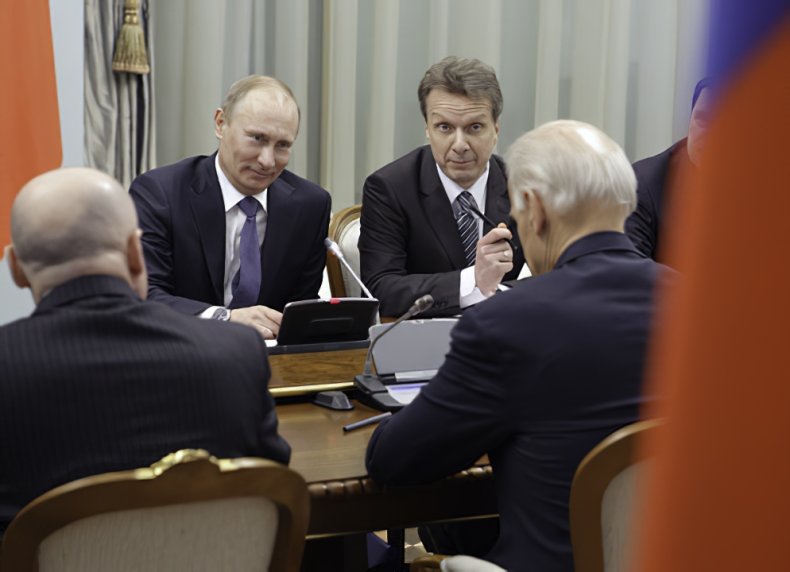 At home, Putin also consolidated control among his own institutions in an effort to never again allow domestic division to hinder his country's ability to act.
Putin has led Russia in one form or another since the eve of the 21st century, but at the time of the bombing, he served as prime minister to his protege President Dmitry Medvedev. Putin had long been skeptical of U.S. designs in the Middle East, especially after the invasion of Iraq eight years earlier, but a fragile rapprochement between the former Cold War foes was still in place in 2011, and Biden had just visited Moscow to reinforce the relationship nine days before U.S. bombs would rain on Libya.
Unlike the assault that ousted then-Iraqi President Saddam Hussein, the attack on Libya was greenlit on the highest international stage.
On March 17, 2011, the United Nations Security Council voted in favor of enforcing a no-fly zone in Libya and instituting sanctions against its government on the basis of human rights concerns, as the armed forces of Qaddafi's Libyan Arab Jamahiriya turned its guns on the burgeoning insurrection. Rather than use its veto power as a permanent member of the U.N. Security Council, Medvedev's Russia—together with China under former President Hu Jintao—abstained.
The motion, U.N. Security Council resolution 1973, approved "all necessary measures" to protect civilians, but the systematic dismantling of Libya's military by the attacking forces drew widespread criticism. Putin likened the resolution at the time to "medieval calls for crusades," and even Medvedev would come to condemn the Western blitz against the oil-rich nation.
Experts continue to debate the intentions of the intervention, as well as its consequences. What's clear, however, is the effect it had in Moscow.
"The death of Muammar el-Qaddafi had a transformative impact on Russia's strategy towards the Middle East," Samuel Ramani, an academic and researcher at Oxford University told Newsweek. "While it is debatable whether or not Russia knew that U.N. Resolution 1973 would lead to Qaddafi's overthrow, Vladimir Putin saw the NATO military intervention as an act of betrayal."
Ramani saw it as a turning point in the relationship between the two powers.
"As a result, the already fading reset in U.S.-Russia relations broke down," he said, "and Russia began to more aggressively confront U.S. interests in the Middle East."
The shockwave from NATO's bombing of Libya extended to Medvedev's administration. Ramani said Medvedev "was marginalized as a foreign policy decision-maker" because of his abstention of U.N. Security Council resolution 1973, while "the anti-Western Russian Ministry of Defense expanded its influence in Middle East diplomacy."
Later that year, opposing coalitions would clash at the U.N. Security Council over the fate of another Arab leader facing a growing rebellion. When Western powers sought to condemn Syrian President Bashar al-Assad's attempts to quash his country's own nascent uprising, Russia and China weaponized their veto to block it.
Moscow would do so 15 more times throughout the Syrian conflict, mostly with Beijing's support, and, in Russia's largest foreign intervention in decades, Putin channeled his country's resurgent military might to back Damascus directly in 2015.
This operation is widely credited—along with support from Iran and its partners—with salvaging Assad's beleaguered forces and allowing them to beat back an insurgency that included factions aided by the U.S. and regional partners. It also aided in breaking the control of large parts of the country by the Islamic State militant group (ISIS). A U.S.-led coalition also took on ISIS with the support of another non-state actor, the mostly Kurdish Syrian Democratic Forces.
Now, 10 years after the uprising against Assad began in near parallel to the conflict in Libya, the Syrian leader remains in power, even as the country faces financial crisis, COVID-19 and crippling international sanctions mounted largely by the West in response to alleged human rights abuses. Russian and U.S. forces both still operate in Syria, though the former stands at a significant advantage militarily and politically with two fortified bases on the strategic Mediterranean and robust contacts with nearly all sides of the war.
In Libya, conflict involving international intrigue also persisted as the country struggled to establish a central governance among rival factions, including ISIS, in the wake of the NATO bombing.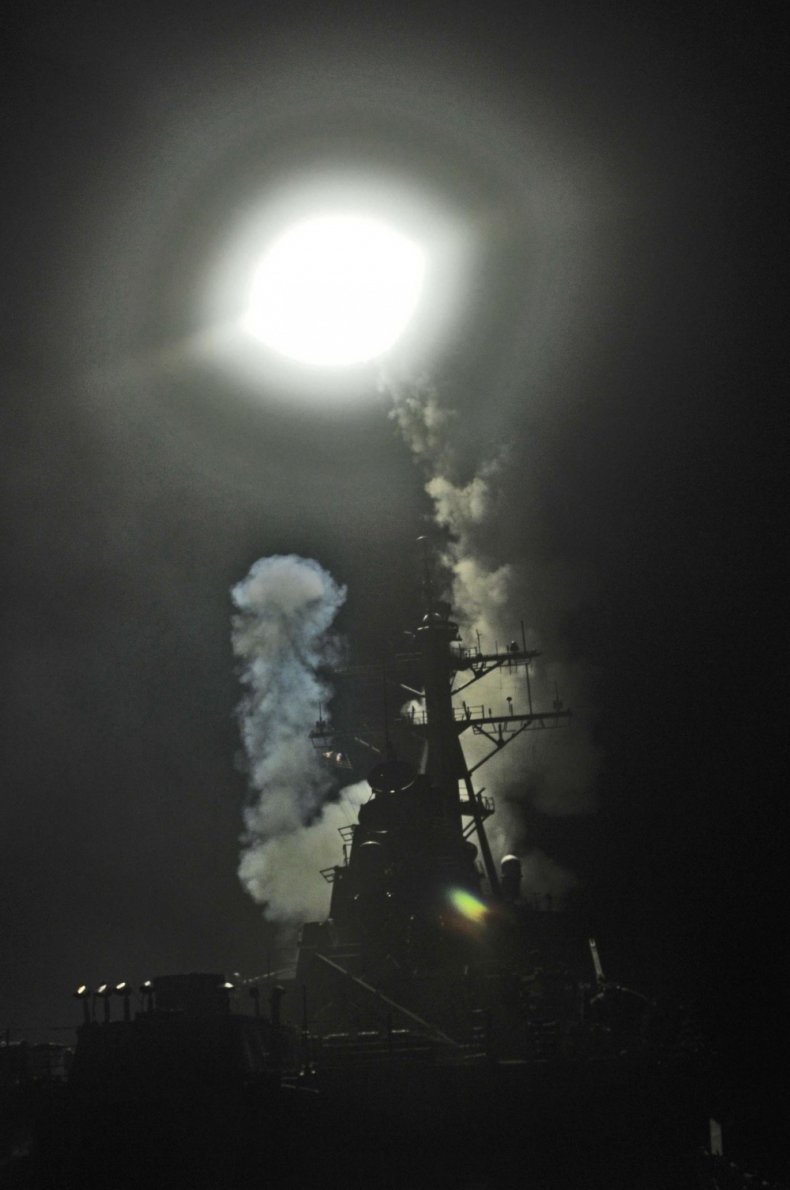 Today, the alliance defends its role in the operation, and is careful to demarcate its official lead on military operations in Libya as having started on March 31, nearly two weeks after the U.S. and other NATO members including Canada, France and the United Kingdom had already begun their bombardment of the country.
"In February 2011, anti-Qaddafi demonstrations spread across the country," a NATO official told Newsweek. "The regime responded to the protests with lethal force, killing hundreds of civilians in a matter of days. NATO responded rapidly to the deteriorating situation that threatened thousands."
Operation Unified Protector, the official title for the unified intervention, "had the clear U.N. mandate 'to protect civilians and civilian populated areas under attack or the threat of attack,'" the NATO official said. "The operation was necessary and legitimate. By taking fast and effective action countless lives were saved."
The NATO official also shifted the blame for the calamities that later emerged on an international failure to disband the rebel forces that rushed to fill the vacuum left by the fall of Qaddafi.
"It is important to distinguish between Operation Unified Protector and the international community's reluctance after the conflict to help disarm armed groups, develop Libya's institutions and enable reconstruction," the NATO official said. "The NATO operation ended in 2011. The current crisis in Libya began in 2014. The violence in recent years was not inevitable."
This crisis left Libya divided for years, primarily between an internationally recognized Tripoli-based administration, which came to be known as the Government of National Accord, and the House of Representatives, based in the eastern city of Tobruk and headed in effect by influential military leader Field Marshall Khalifa Haftar.
Turkey backed the administration in Tripoli, while Egypt, the United Arab Emirates, France and even Russia provided varying degrees of support to Haftar and the House of Representatives.
The U.S. stepped in to target ISIS, but largely sat on the sidelines as Libya's crisis deepened and other foreign powers entrenched their interests.
Asked by Fox News in 2016 to name the worst mistake of his time in office, then-president Barack Obama candidly replied, "Probably failing to plan for the day after, what I think was the right thing to do, in intervening in Libya."
He had defended the intervention in previous remarks, while also faulting the follow-through.
"So we actually executed this plan as well as I could have expected: We got a U.N. mandate, we built a coalition, it cost us $1 billion—which, when it comes to military operations, is very cheap," Obama told The Atlantic in an interview a month earlier. "We averted large-scale civilian casualties. We prevented what almost surely would have been a prolonged and bloody civil conflict."
Ultimately, however, he conceded that "despite all that, Libya is a mess."
And Biden too sang a different tune that year than in 2011, telling PBS that he, unlike Clinton, "argued strongly" against intervention in Libya.
"My question was, 'OK, tell me what happens,'" he recalled in the 2016 interview. "'He's gone. What happens? Doesn't the country disintegrate? What happens then? Doesn't it become a place where it becomes a Petri dish for the growth of extremism?"
He then answered his own question.
"And it has," he said.
But after another period of death and destruction in Libya's history, the formation of a new interim Government of National Unity with an ambitious roadmap for elections signals a new hope.
The Biden administration prefers to look ahead.
"There is no question that the Libyan people deserve a more stable and prosperous future, free from the civil conflict and foreign interventions of the past years," a senior administration official told Newsweek. "As Libyans look ahead to elections in December, the United States is fully engaged diplomatically to support these elections, reinforce UN-facilitated political progress, and urge foreign countries to begin withdrawing foreign mercenaries, forces, and weapons."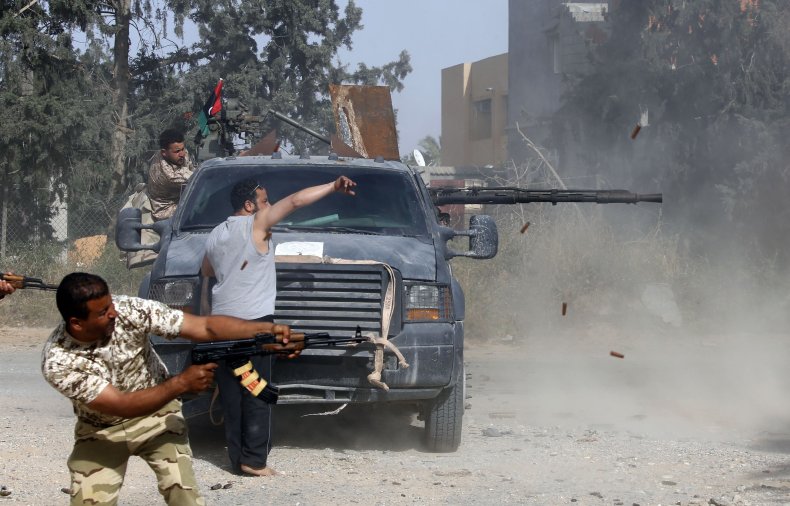 The remarks echo those made earlier this week by Secretary of State Antony Blinken, who called "on all sides to maintain this positive momentum and to support the full implementation of the Libyan ceasefire agreement, restore full respect for the U.N. arms embargo, and end foreign interference."
According to a recent U.N. estimate, there are about 20,000 foreign fighters in the country, believed to be comprised of Syrian, Turkish, Sudanese, Russian and other nationals at war for profit. A joint January statement supported by the entire U.N. Security Council called for their departure.
"All Libyan and international actors should support these steps, including the immediate removal of all foreign forces and mercenaries," Blinken said. "The United States stands with the Libyan people as they work to establish lasting peace and security throughout their country."
NATO has also embraced the new interim government, headed by Prime Minister Abdul Hamid Dbeibah.
"We welcome recent political developments, including the formation of a new unity government and the agreement to hold national elections," the NATO official said. "We urge all parties in Libya, and all members of the international community, to support the U.N.-led process."
But reservations remain, especially among Western powers.
The State Department confirmed Thursday that it had no plans as of yet to resume its diplomatic presence in the country. Washington's Tripoli-based embassy was closed amid renewed violence in 2014, two years after the U.S. mission in Benghazi was shuttered when militias descended on the compound, killing then-U.S. Ambassador to Libya, J. Christopher Stevens, and three other U.S. officials.
Russia, on the other hand, decided last year to reopen its embassy in Tripoli, although, like the U.S., the country's charge d'affaires will be based in neighboring Tunisia. In light of recent events, Moscow also had a message of hope for Libya.
"Now we are witnessing positive dynamics in intra-Libyan dialogue: the election of the Prime-minister and members of the new President's Council (February 5, 2021), as well as the parliamentary vote of confidence in support of the Interim Government of National Unity (March 10, 2021)," the Russian embassy in Washington told Newsweek.
While Moscow's military contribution to the country remains murky, its diplomatic role is unmistakable. As was the case with Syria, Putin consistently met with Turkish counterpart Recep Tayyip Erdogan to discuss Libya in spite of their opposing views.
Russian Foreign Minister Sergey Lavrov's recent Middle East tour also flaunted the country's expansive ties across the region, touching on Libya among many other subjects. Now, Moscow says "Russia's goal in Libya is clear," and invites Washington to work together as the two face a major crisis in bilateral relations.
"We promote international cooperation in order to restore Libyan unity and economy," the embassy said. "We are open to engagement with all stakeholders, including the United States, bilaterally and within the U.N.-led process."
And the latest events in Libya were seen as an opportunity for this engagement.
"At this stage," the embassy said, "both Russia and the U.S. need to encourage all the Libyan political forces to build on this progress."