Joe Biden's First Executive Actions Undo Many of Donald Trump's
President-elect Joe Biden has unveiled the first executive actions he intends to take as his White House tenure begins, many of which will reverse those taken by his soon-to-be predecessor Donald Trump.
Biden, who is to be inaugurated on Wednesday, will take executive actions on policy areas that include the COVID-19 pandemic, the climate, immigration, and racial equity, among other areas.
A statement from his transition team said: "Today, hours after taking the oath of office, President-elect Biden will take a historic number of actions to deliver immediate relief for families across America that are struggling in the face of converging crises.
"He will sign a combination of executive orders, memoranda, directives, and letters to take initial steps to address these crises, including by changing the course of the COVID-19 pandemic, providing economic relief, tackling climate change, and advancing racial equity."
It added: "President-elect Biden will take action—not just to reverse the gravest damages of the Trump administration—but also to start moving our country forward."
These include asking Americans to wear face masks to help fight the pandemic for 100 days, re-engaging with the World Health Organization (WHO), and rejoining the Paris Climate Agreement.
Trump's actions are mentioned at several points throughout the fact sheet detailing Biden's plans.
A major point Biden will tackle is the construction of the wall along the southern border, a key promise Trump made when campaigning for the presidency and during his time in office.
"President-elect Biden will today declare an immediate termination of the national emergency declaration that was used as a pretext to justify some of the funding diversions for the wall," the fact sheet states.
"The proclamation directs an immediate pause in wall construction projects to allow a close review of the legality of the funding and contracting methods used, and to determine the best way to redirect funds that were diverted by the prior Administration to fund wall construction."
There will also be the revocation of a "Trump Executive Order that directed harsh and extreme immigration enforcement...[that] will allow the Department of Homeland Security and other agencies to set civil immigration enforcement policies that best protect the American people and are in line with our values and priorities."
Another action overriding the Trump era will be to rescind the 1776 Commission, which the Biden team describes as having "sought to erase America's history of racial injustice." Trump had set this to promote what he dubbed "patriotic education."
Biden will launch a whole government initiative to advance racial equality.
He intends to "sign an Executive Order beginning the work of embedding equity across federal policymaking and rooting out systemic racism and other barriers to opportunity from federal programs and institutions."
"The Executive Order will define equity as the consistent and systematic fair, just, and impartial treatment of all individuals," the fact sheet adds.
The incoming president will also "revoke the prior Administration's orders setting out an unlawful plan to exclude noncitizens from the census and apportionment of Congressional representatives."
The actions will also include ending a Trump policy to restrict travel to and from several Muslim-majority countries ostensibly for security reasons.
"The president-elect will sign an Executive Action putting an end to the Muslim Ban, a policy rooted in religious animus and xenophobia," the statement detailed.
"It repeals Proclamations 9645 and 9983, which restrict entry into the United States from primarily Muslim and African countries, and instructs the State Department to restart visa processing for affected countries and to swiftly develop a proposal to restore fairness and remedy the harms caused by the bans, especially for individuals stuck in the waiver process and those who had immigrant visas denied."
On climate change, Biden will "roll back President Trump's environmental actions in order to protect public health and restore science."
"President-elect Biden will sign an Executive Order that takes critical first steps to address the climate crisis, create good union jobs, and advance environmental justice, while reversing the previous administration's harmful policies," the Biden camp said.
Biden is directing all executive departments to review actions taken over the last four years and to "revise those policies that run counter to his commitment to environmental justice, including undoing the harmful rollbacks of clean air and clean water protection that disproportionately impact low-income communities and communities of color."
Newsweek has contacted the Biden transition team and the White House for comment.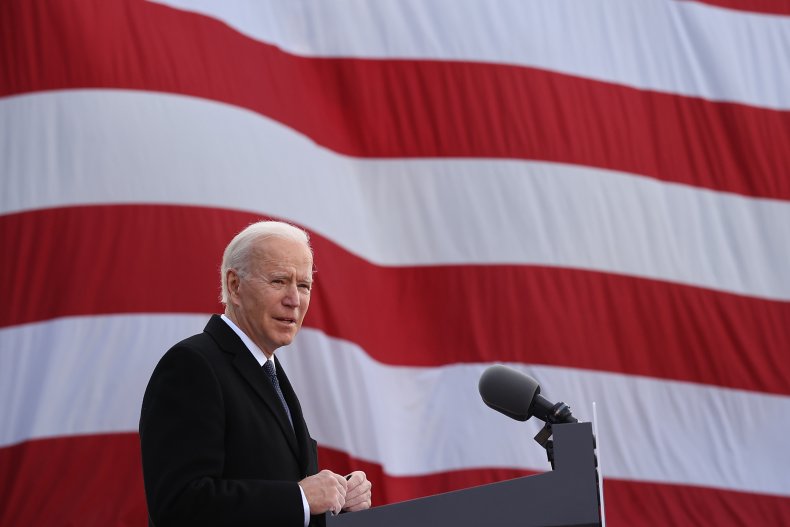 This article was updated with more information about Biden's plan on executive actions.