As Biden Faces New Iran Crisis in Iraq, Syria Warns of 'Consequences' to U.S. Attacks
Syria's permanent mission to the United Nations has expressed to Newsweek a warning against U.S. strikes in the country in the wake of a new rocket attack against U.S. forces in neighboring Iraq.
The latest attack, which remains unclaimed, struck Iraq's Ain Al Asad Airbase in Al-Anbar province on Wednesday. It follows a similar rocket attack claimed last month by a pro-Iran "Axis of Resistance"-style militia against an airport in the northern city of Erbil.
A contractor was killed and another injured in Wednesday's attack, with a U.S. soldier wounded as well. President Joe Biden responded with a series of airstrikes last week against sites identified by the Pentagon as belonging to two Iran-backed militias in eastern Syria, reportedly killing one militia member and injuring two more.
Another contractor died during Wednesday's Ain Al Asad Airbase attack — reportedly of a heart attack — and, amid suspense over the potential U.S. response, Damascus' U.N. mission warned that U.S. strikes in Syria represent "an utter disregard for the principles and norms of international law."
The Syrian mission compared Biden's approach to the Middle East to that of his predecessor, President Donald Trump, who also struck Syria in response to militia attacks in Iraq.
"It sends a negative signal of the new administration's policies and its persistent endeavor to implement the law of force instead of the force of law," the mission said, "in continuation of the previous US administrations' approach in dealing with the regional and international crises in the world."
In addition to legal ramifications, the Syrian mission said destabilizing consequences to such U.S. actions would reverberate across the region.
"The Syrian Arab Republic has strongly condemned the American aggression against its sovereignty, independence, unity, and territorial integrity as it gravely violates the principles of international law and provisions of the UN Charter," the mission said. "Syria has warned that this aggression will lead to consequences that will escalate the situation in the region and threaten peace and security."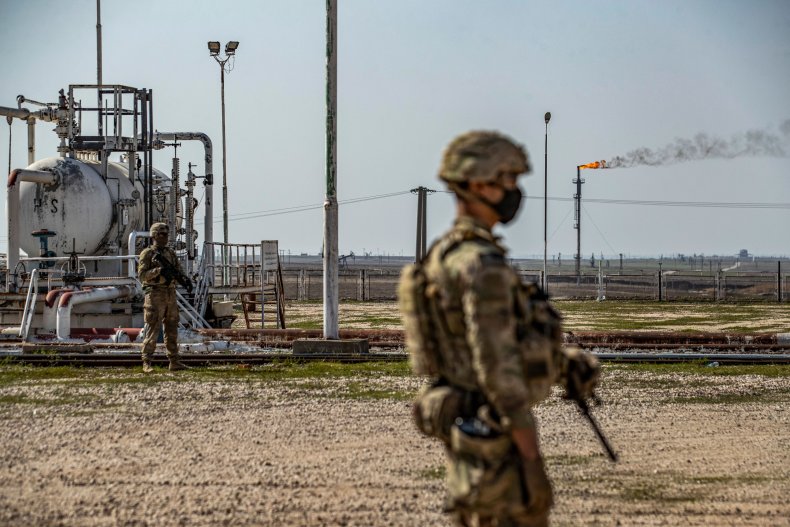 The U.S. maintains up to 2,500 troops in Iraq and an estimated 900 in Syria, both of which have been tasked with the official mission of supporting local forces battling ISIS. The troops in Syria are deployed alongside a mostly Kurdish militia called the Syrian Democratic Forces, which operates outside the permission of the central government.
Increasing tensions between the U.S. and Iran have translated into hostility against U.S. forces in Iraq as well.
Rocket attacks targeting U.S. and international forces have become somewhat of a recurring trend, often claimed by forces aligned with or directly supported by Iran. Such operations have targeted U.S. military and diplomatic sites, the latest being Ain Al Asad.
U.S. Army Colonel Wayne Marotto, spokesperson for the U.S.-led coalition operating against the Islamic State militant group (ISIS) in both Iraq and Syria, said Wednesday that 10 rockets hit the airbase.
Pentagon spokesperson John Kirby later released a follow-up statement confirming the initial assessment and providing more details, including the fatality.
"Preliminary indications are that approximately ten rockets were fired from points of origin east of the base," Kirby said. "There are no current reports of U.S. servicemember injuries and all are accounted for. A U.S. civilian contractor suffered a cardiac episode while sheltering and sadly passed away shortly after."
Kirby did not identify a culprit, pending a probe being conducted by local authorities.
"Iraqi security forces are on scene and investigating," Kirby said. "We cannot attribute responsibility at this time, and we do not have a complete picture of the extent of the damage. We stand by as needed to assist our Iraqi partners as they investigate."
White House Press Secretary Jen Psaki also said later that details, such as responsibility were still being assessed, but also confirmed that another Syria-style strike may be in the cards.
"We responded to recent Iranian-backed attacks on coalition and U.S. forces in a manner that was calculated, proportionate and fully covered by legal authorities. That will be our model moving forward," she said. "If we assess a further response is warranted, we will take action again in a manner and time of our choosing."
But she emphasized that the Biden administration will not "make a hasty or ill-informed decision that further escalates the decision," Psaki said, "or plays into the hands of our adversaries."
Ain Al Asad Airbase is the same site that suffered a massive Iranian missile barrage over a year ago in the wake of the U.S. killing of Iran's Revolutionary Guard Quds Force commander Major General Qassem Soleimani at Baghdad International Airport.
His death, along with that of Iraqi Popular Mobilization Forces deputy chief Abu Mahdi al-Muhandis, cast a shadow over U.S. military presence in Iraq, which considers both the U.S. and Iran as partners.
A State Department spokesperson recently told Newsweek that the Biden administration would support Baghdad's endeavor to foster ties with Tehran and other nearby countries, while seeking to incentivize Iran not to support militia actions outside of Iraq law.
"While we encourage Iraq to maintain friendly, productive relations with all its neighbors, we remain concerned about Iranian influence that undermines Iraqi stability and the integrity of state institutions," the spokesperson said. "Our diplomatic approach seeks to dissuade Iran from funding and arming groups outside the control of governments around the region, including Iraq."
Both countries played frontline roles in the fight against ISIS, and Iran continues to maintain an array of partnered militias in both Iraq and Syria. They operate in support of President Bashar al-Assad's Syrian government in a campaign often targeted by Israel, which accuses the groups of setting up forward operating bases and transferring precision-guided munitions as far as Lebanon, home to the powerful Iran-backed Hezbollah paramilitary and political organization.
The uptick in U.S.-Iran tensions coincided with Trump's abandonment of a 2015 nuclear deal signed by former President Barack Obama and the subsequent implementation of tough sanctions against Tehran. The Trump administration felt the treaty did not adequately curb Iran's ballistic missile development, support for foreign militias or its alleged quest for a nuclear weapon — something Iranian officials continue to deny seeking.
State Department spokesperson Ned Price called Trump's so-called "maximum pressure" campaign a failure in a press conference later Wednesday.
"Iran has advanced key elements of its nuclear program," Price said. "Of course, it was the United States, not Iran, that became isolated under the previous policy. And of course, as we've been talking about now, these escalations and these provocations by Iran and its proxies started in the aftermath of this maximum pressure policy that did not have any sort of diplomatic offramp."
Biden, who served as Obama's vice president at the time of the nuclear deal's signing, has come out in support of a U.S. reentry into the accord. So far, however, his administration has refused to remove "maximum pressure" sanctions instituted by his predecessor, and said Tehran must first reinstitute limits that were suspended in the wake of Washington's exit and the non-compliance of European signatories fearing U.S. sanctions.
Iranian officials have so far declined to meet with the U.S. until such economic restrictions were lifted.
Meanwhile, violence continues to erupt across the Middle East. A ship belonging to Iran's archfoe Israel was hit by an explosion off the Gulf of Oman last week and the Islamic Republic's rival Saudi Arabia has been subject to a series of missile and drone attacks by Yemen's Ansar Allah, or Houthi, movement, a rebel group that the kingdom's at war with and stands accused of receiving direct support from Iran.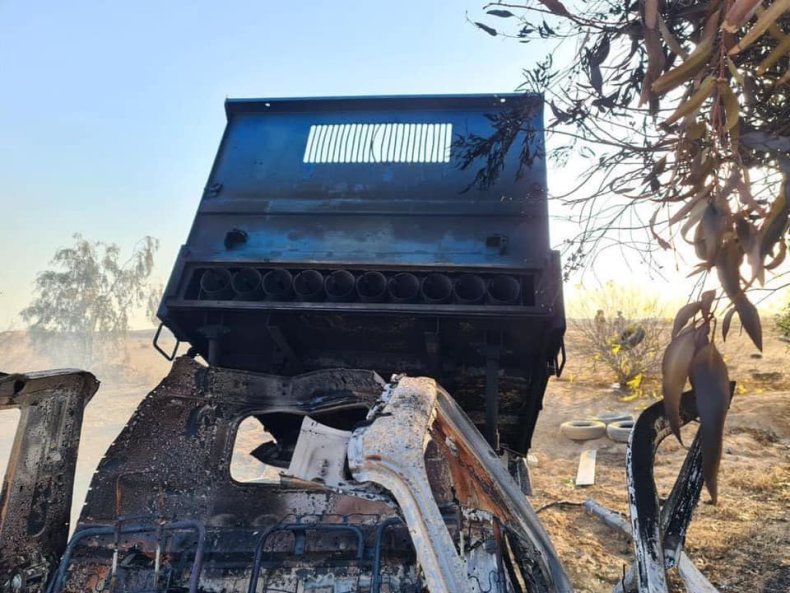 And in Syria, the U.S. continues to face criticism not only from the country's government, but from Iran and Russia as well. The two powers have backed Assad in a decade-long civil war against jihadis and rebels, some of which once received U.S. assistance before support was shifted to the Syrian Democratic Forces fight against ISIS.
In addition to halting U.S. airstrikes, Damascus called on the Biden administration to cease other policies deemed harmful.
"The Syrian Arab Republic has called upon the American administration to stop this recurring aggressive approach and adhere to UN resolutions that call for respecting the Syrian sovereignty, independence, unity, and territorial integrity," the Syrian mission told Newsweek. "The American administration should also depart from the policies of the previous administrations that aimed at destabilizing the security and stability of Syria through acts of aggression, occupation, utilizing terrorism, sponsoring separatist proxy militias in northeastern Syria, looting cultural property, oil, and gas, in addition to imposing unilateral coercive measures that have catastrophic impacts on the daily life of millions of Syrians."
While Russia, Iran and pro-opposition Turkey have secured their positions as guarantors to an oft-stalled peace process in Syria, the U.S. continues to call for Assad to be held accountable for alleged war crimes.
Last month, a State Department spokesperson told broke down the Biden administration's Syria strategy to Newsweek in three parts:
"The United States is committed to a political settlement in line with UNSCR 2254 to end the conflict in Syria, in close consultation with our allies, partners, and the UN," the spokesperson said. "We will use the tools at our disposal, including economic pressure, to push for meaningful reform and accountability for the Assad regime. The United States and the Global Coalition to Defeat ISIS continue to work with our increasingly capable local partners to maintain constant pressure on ISIS remnants in Syria to ensure ISIS's lasting defeat."