Biden, Former U.S. Presidents Honor America's Heroes on 20th Anniversary of 9/11
President Joe Biden and former U.S. presidents reflected on the 20th anniversary of the September 11 terrorist attacks on Saturday, honoring the thousands of civilians and first responders who died that day.
"Twenty years ago, nearly 3,000 lives were cut short by an unspeakable act of cowardice and hatred on 9/11. As a nation, we must never forget those we lost during one of the darkest moments in our history and the enduring pain of their families and loved ones," Biden said in a statement on Twitter.
Biden on Saturday will visit New York City, Shanksville, Pennyslvania, and Arlington, Virginia – all three locations that were targeted during the 2001 attacks.
The president will begin the day at a memorial event at Ground Zero in New York alongside with first lady Jill Biden and former President Barack Obama, before traveling to Pennsylvania where former President George W. Bush is also scheduled to deliver remarks.
Biden's final stop will be the Pentagon, where he will participate in a wreath-laying ceremony.
Former President Donald Trump said he will also visit Ground Zero Saturday, according to the New York Post.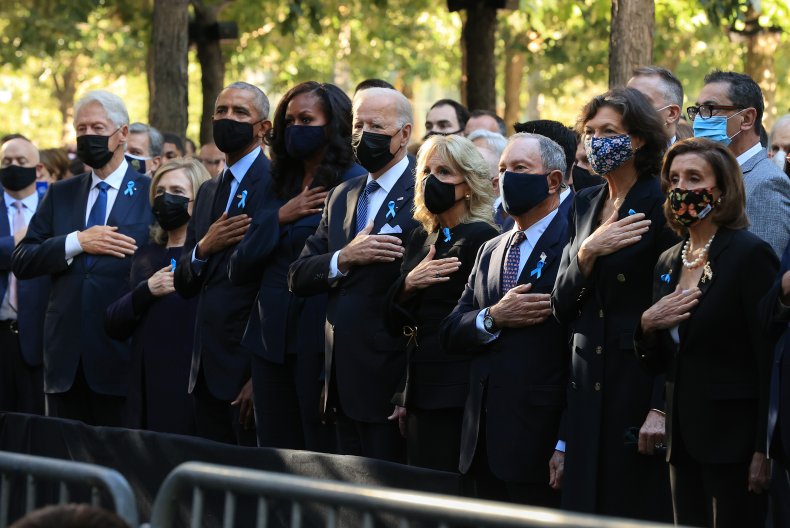 Obama on Saturday also payed tribute to the "extraordinary" bravery of Americans, stating that the U.S. "has always been home to heroes who run towards danger in order to do what is right."
"For Michelle and me, the enduring image of that day is not simply falling towers or smoldering wreckage. It's the firefighters running up the stairs as others were running down. The passengers deciding to storm a cockpit, knowing it could be their final act. The volunteers showing up at recruiters' offices across the country in the days that followed, willing to put their lives on the line," Obama said.
In May 2011, the Obama administration conducted a covert operation to kill Osama bin Laden, the Saudi Arabian founder of the terrorist organization al-Qaeda that carried out the attacks 10 years earlier.
"Over the last 20 years, we've seen the same courage and selflessness on display again and again," the former president added. "9/11 reminded us how so many Americans give of themselves in extraordinary ways – not just in moments of great crisis, but every single day. Let's never forget that, and let's never take them for granted."
Former President Bill Clinton also reflected on the terrorist attacks.
"America will never forget those who lost their lives, those who risked or gave their own lives to save others, and those whose lives were forever changed 20 years ago. We owe it to all of them to come together again with unity, hope, compassion, and resolve," the former president wrote.
Trump also commemorated the anniversary by calling it a "great sorrow" for the country.
"Many things were displayed that day, including most importantly the bravery of our police, fire, and first responders of every kind. The job they did was truly unbelievable. We love them, we thank them," Trump wrote in a statement shared on Saturday.
However, the former president also used his statement as an opportunity to criticize Biden's handling of Afghanistan.
"This is the 20th year of this war and should have been a year of victory, honor, and strength. Instead, Joe Biden and his inept administration surrendered in defeat," he added.
The terrorist attacks at the World Trade Center, the Pentagon, and the crashing of Flight 93 killed 2,977 people and injured thousands more.
"It's so hard, whether it's the first year or the 20th," Biden added in a statement on Friday. "No matter how much time has passed, these commemorations bring everything painfully back as if you just got the news a few seconds ago."
The president will commemorate the milestone anniversary just weeks after the Taliban's takeover of Afghanistan, and following the full withdrawal of U.S. troops from the country.
Newsweek contacted the White House for additional comment, but did not hear back in time for publication.
Updated 12:32 PM ET, to include Trump's statement on 9/11.