For the first time since taking the White House after a dramatic succession of power earlier this year, the media turned on President Joe Biden this week.
Support for ending the war in Afghanistan was steady among the U.S. population, but rather than watching a solemn end to a two-decade conflict, viewers were met with harrowing scenes as the Afghan government collapsed overnight and the Taliban strolled peacefully into Kabul, prompting hundreds of panicked Afghans to storm Hamid Karzai International Airport.
Televisions, computers and phone screens across the country were inundated with rerunning clips of crowds chasing and clinging to a U.S. military transport plane, some dying in the stampeded and others falling to their deaths after the aircraft departed. Other clips showed crying women pleading with U.S. soldiers and a baby being hoisted over the airport's security fence in hopes of landing in safe haven.
Biden, for his part, has taken to the podium twice to defend his actions, most recently on Friday. Both times he's emphasized that he's taking responsibility for the debacle and was focusing on stabilizing the situation.
And that's exactly what he should do, at least according to crisis management experts.
"Number one, do not change your message, because the message, I thought, was effective, showed strength and followed the first rule of crisis management, which is: take responsibility and don't deflect," Lanny Davis, who once helped to manage presidential crises while serving as special counsel to former President Bill Clinton, told Newsweek.
Davis has a years-long personal relationship with Biden and is co-founder of the Trident DMG public relations firm. He channeled his experience to discuss the current catastrophe and how Biden could best navigate it.
Speaking to Newsweek prior to Biden's remarks on Friday, Davis crafted the kind of words he imagined the nation would want to hear from its commander-in-chief, who he said needed to take the stand at a time like this when "everyone is suffering in watching what's going on, especially the people that we need to bring back home here, and protect."
"This requires more Biden, but not only Biden," Davis said. "Usually, you don't do a lot of presidential speaking, you rely on your cabinet and your secretary, but this requires more Biden, because of the tragic, painful television that we're watching."
And he recommended emphasizing the mutual woe among the audience.
"That level of pain, that's bipartisan across all walks of life, we're going through pain, he doesn't need to fake it because I know that's him," Davis said. "He needs to share that empathy with everyone."
Biden followed the formula nearly to a tee.
"The past week has been heartbreaking," Biden said Friday. "We've seen gut-wrenching images of panicked people acting out of sheer desperation, you know, it's completely understandable, they're frightened, they're sad, uncertain what happens next. I don't think anyone, I don't think any one of us can see these pictures and not feel this pain on a human level."
Then Biden shifted to what Davis had said would be the next step for curbing the fallout of a media storm in the face a concerned country.
"Now, he's got to address by visible concern and action, concern and action," Davis said. "The issue of the people we left behind, that is what's on the minds of most Americans. And I would advise him to do more television, and more transparency to show his concern about the tragedy. And what he's already done, send in more troops, and do his best using those additional troops to get people out."
On cue, Biden turned to his plan.
"Now we have a mission, a mission to complete in Afghanistan," Biden continued. "It's an incredibly difficult and dangerous operation for our military. We have almost 6,000 of America's finest fighting men and women at the Kabul airport and they're putting their lives on the lines and they're doing it in a dangerous place to save other Americans, our Afghan allies and citizens of our allies that went in with us."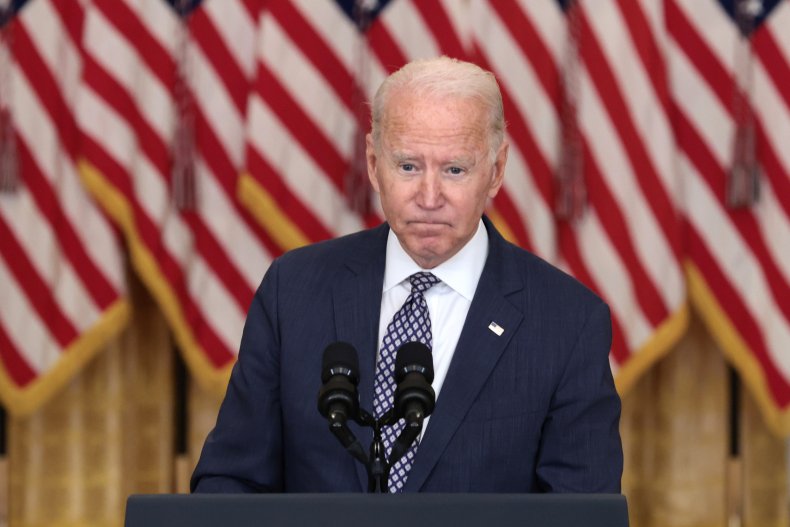 As the situation in Kabul stabilizes, it may be tempting to change the story from the next steps in Afghanistan to seemingly more pressing domestic issues such as creating jobs or the latest efforts to take on the more infectious COVID-19 variant now ravaging the nation.
But Chapin Fay, another crisis management expert who serves as founder and CEO of Lighthouse Public Affairs, echoed Davis' point about sticking to the story.
"If I were advising President Biden, I would be candid and tell him the fallout from his withdrawal from Afghanistan is no longer a PR problem to solve," Fay told Newsweek. "The images and stories coming out of Afghanistan make spinning his way out of this crisis by changing the narrative impossible. Pointing fingers or talking about jobs and COVID is not enough. He can no longer message his way out."
And he cited an old adage, saying, "Good government makes for good politics: he needs to address this crisis substantively."
Fay outlined what he said this plan of action should look like.
"The first step is good policy: his military and foreign affairs teams need to come up with an immediate plan to manage the crisis on the ground moving forward," Fay said. "The next steps would be public relations. His communications team needs to tell the stories of the policy plan's execution. Biden needs to manage expectations moving forward, redefine what withdrawal success looks like and take credit for the small victories along the way."
And all throughout the process, Fay explained, Biden "needs to communicate with various audiences in real-time and ensure allies and surrogates in America and internationally are kept fully briefed and helping the President communicate his message."
"Unlike heading into the crisis," Fay added, "heading out of the crisis President Biden now needs a very clear plan that is well communicated."
And though his prospects are positive for getting past a tough week, Biden's not completely out yet.
In data shared with Newsweek, Zignal Labs quantified the immediate backlash to what was widely perceived as a misstep for Biden. Using its Narrative Intelligence platform, media intelligence software service company demonstrated how social media reacted.
Key insights from August 11-18 showed a 7,645 percent increase in mentions of Afghanistan or the Taliban increased this week on Twitter. The top authors for such mentions not just on Twitter but also news outlets, blogs, LexisNexis, Broadcast, Instagram, forums (including Gab, Futaba Channel, 2chan and 4chan), Q&A, reviews and Reddit were identified as Donald Trump Jr., Jack Posobiec and the account for the podcast No Lie with Brian Tyler Cohen, and the most shared sites included Fox News, YouTube and Breitbart.
Of the massive uptick in mentions, 64.7 percent—nearly two-thirds—mentioned Biden, establishing an obvious link to his presidency and handling of the situation.
"As expected, we saw a significant increase in narratives about the Biden administration and Afghanistan this week," said Jennifer Granston, Chief Customer Officer and Head of Insights at Zignal Labs, told Newsweek. "In fact, there were more than 95,000 mentions of 'Impeach Biden' on Twitter this week, although the number pales in comparison to the more than 2.4 million mentions of 'Impeach Trump' on Twitter the week of January 6th."
"As these events continue to rapidly evolve," she added, "it's clear that there is incredible value in being able to analyze, assess, and act on these conversations and narratives as they emerge."
The events and the conversations around them also likely had an influence on a sharp decline in Biden's approval rating. A survey published Friday by Gallup placed Biden's approval at 49 percent, the lowest of his career and below the historical average of 53 percent.
But there's hope for the president. In contrast to the chaos that erupted earlier this week, a semblance of order appears to have returned to Kabul as all eyes are on the triumphant Taliban and its next steps.
Democratic Representative John Garamendi of California, who serves as chair of the House Armed Services Readiness Subcommittee, acknowledged the initial impact of the tumultuous first days of the airlift out of Afghanistan. At the same time, he said the fiasco was "significant, but it is short-term."
"The story is already shifting," Garamendi told Newsweek. "The clips are showing an airport with planes taking off, the crowds are diminishing."
While the legislator predicted "there's going to be a lot of individual pain and serious consequences for individuals" and that "this will be seen, some ways as messy," he said, "the bigger story going forward is what rather than the Taliban government will be."
And already, he added, prominent U.S. media outlets were "having trouble finding trouble" in Kabul.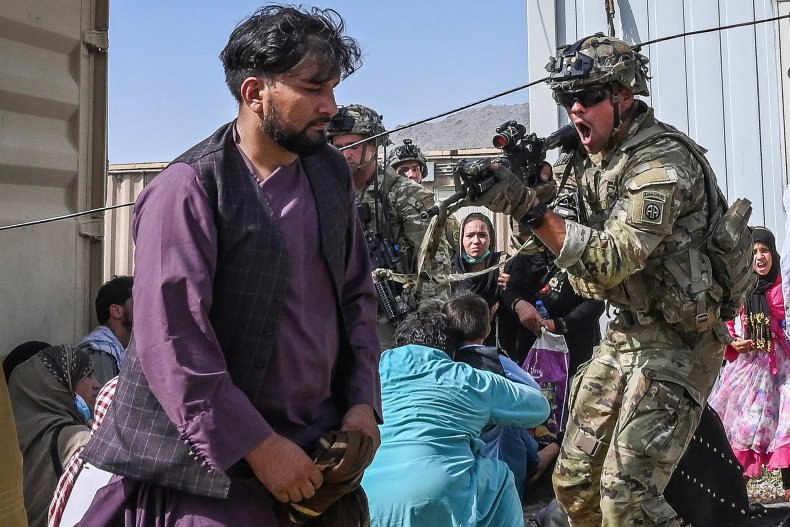 As the focus gravitates toward broader questions about Afghanistan's future, the heat surrounding Biden's first steps is likely to dissipate.
But some who support Biden's decision hope that doesn't mean ignoring the plight of those who still seeking to get out of the country and escape Taliban rule. Sarah Streyder, executive director of the Secure Families Initiative, a nonpartisan group of advocate military spouses, said the reality of a news cycle moving at breakneck speed was bittersweet.
"I am one of those everyday Americans who agreed this 20-year war had to end and support the decision to withdraw," Streyder, who has also worked at the United Nations and the White House, told Newsweek. "I am also heartsick right now over whether we will manage to evacuate every vulnerable Afghan and ally who wants to leave. Both can be true at the same time. That's why we have seen (and will continue to see) such complexity in our military family community's response to these developments."
And she appeared to largely agree with the president's take that blunders were inevitable in pulling out of Afghanistan, and that the larger catastrophe would have been staying, a decision that would have defied the peace deal signed under Trump in February of last year and sparked a violent Taliban response, opening yet another bloody chapter in the war.
"The takeaway from this last week's developments in Afghanistan should not point toward a future in which the U.S. retains indefinite military presences abroad," Streyer said. Quite the opposite.
"In fact," she added, "the quickness with which the Afghan defenses fell to Taliban control demonstrates that time was not our missing currency. Another one or five or twenty years would not have likely changed that outcome—the Afghan defenses needed motivation and a functional government to back them, neither of which were things the U.S. military could possibly export."
And, in the broader picture, the U.S. public appears to agree with leaving Afghanistan. A YouGov survey published Friday by Concerned Veterans for America showed six out of 10 in the U.S. support the decision to withdraw troops from Afghanistan, as opposite to only 22% who felt they should stay.
Over half, 51%, believe the U.S. should be less involved in conflicts across the globe, whilewhile just over a quarter preferred the status quo and only 7% thought the U.S. should be more involved.
All of this fuels the suspicion that Biden's folly, significant as it may seem now, would likely be overshadowed by the weight of 20 years of a failed war effort.
"The images from Afghanistan this past week were disheartening and rightly aroused our sympathies," Will Ruger, vice president at the Charles Koch Institute and Trump's choice for U.S. ambassador to Afghanistan, told Newsweek. "And like with the iconic images of Saigon, we will not soon forget some of those pictures from the Kabul airport."
"But just like with the Vietnam War," he added, "Americans' sense of relief at the end of a long, failing conflict will grow and overwhelm any doubt for the withdrawal that its messy implementation may have engendered."
For the first time in three administrations, Biden has ended a war and that may very well be the legacy that lasts for him.
"Eventually, like with Vietnam, future generations will wonder why we kept fighting this war for so many years when it was long apparent that we were not going to be able to meet our idealistic war aims," Ruger said. "Americans will appreciate that withdrawal was in our national interests and that prosecuting this war was no longer necessary for our security."