As a candidate, President Biden pledged to stop using private detention centers. "The federal government should not use private facilities for any detention, including detention of undocumented immigrants," then-candidate Biden said, and in April of this year, President Biden again announced that there should be "no private prisons, period" when addressing protesters who demanded the end to immigrant detention.
"I agree with you, I'm working on it, man," he said. "Give me another five days."
Those five days have long since passed. But little has changed when it comes to private prisons for immigration detention. Although the Biden Administration has touted the recent closure of two notoriously abusive immigration detention facilities, almost 200 other immigration detention facilities remain open nationwide, many with equally abusive conditions.
It's true that in January 2021, President Biden signed an executive order directing the Department of Justice (DOJ) to end the use of privately operated federal prisons and jails, a move hailed by advocates as an important first step. But the Biden administration failed to do the same for Immigration and Customs Enforcement (ICE) facilities. As a result, ICE's use of private detention facilities has remained virtually unchanged.
Under President Trump, 81 percent of people detained in ICE custody were held in facilities owned or managed by private prison corporations in January 2020—a number that hardly budged under the Biden Administration. The ACLU's updated analysis of ICE's data shows that as of September 2021, 79 percent of people detained in ICE custody are held in private detention facilities.
In fact, the end of DOJ contracts for these facilities has merely turned into a shell game for private corporations, who are now working with the Biden administration to turn former federal prisons into new ICE detention centers. In the last two weeks, the Biden Administration awarded a new ICE detention contract to the GEO Group's Moshannon Valley Correctional Center, whose contract with the Bureau of Prisons had expired under the Executive Order. Another federal contract with the Leavenworth Detention Center in Kansas, run by CoreCivic, Inc., is set to expire in December, and may be in line to become another ICE detention facility. Private prison companies have announced that they intend to try the same with the many other facilities whose DOJ contracts are also set to expire.
In other words, the Biden Administration is filling empty prison and jail beds with immigrant detainees.
It's just the latest ugly chapter in the history of mass incarceration. Nearly half of all ICE detainees—42 percent—are held in Texas and Louisiana. This is no coincidence: Both states have held the dubious distinction of having among the highest incarceration rates in the nation.
As sentencing reform and other criminal justice efforts to reduce incarceration have emptied prison beds, private prison corporations set their sights on a new source of revenue: immigrant detainees. And the Trump administration was happy to oblige: During the last four years, ICE made sweetheart deals with private prison companies, expanding ICE detention capacity in Texas, Louisiana, and other southern states by the thousands. (Several of those facilities had previously lost contracts with the DOJ because of abusive conditions of confinement.)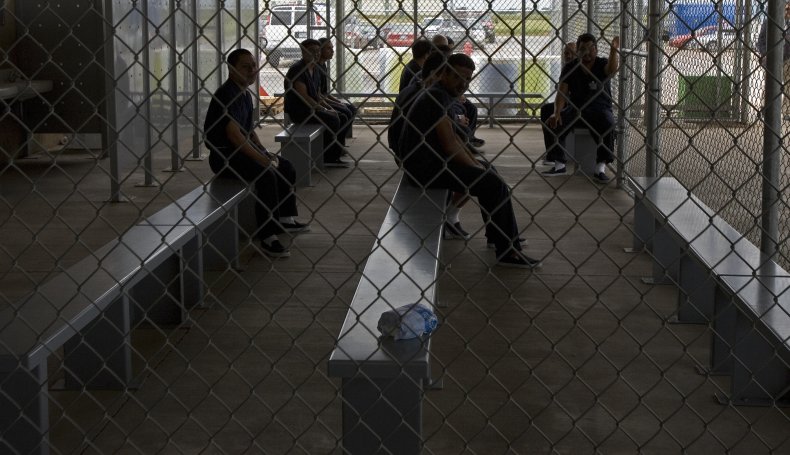 ICE detention remains a dangerous, unsafe place for people who are held for months, even years, as they await adjudication of their civil immigration cases. According to the ACLU's analysis, as of this date, at least 43 immigrants have died after being detained in ICE facilities owned or operated by private prison corporations since 2018. COVID-19 continues to rampage through detention facilities, in large part because ICE has failed to conduct adequate testing and provide vaccines to detained people. Detained people, particularly Black immigrants, face violent retaliation and abuse for attempting to exercise basic constitutional rights.
This must change. The Biden administration must truly reverse course on immigration detention. It must begin by dramatically reducing detention rates, and invest in proven alternatives to detention, instead of wasting billions of dollars to support the coffers of private prison companies.
ICE should immediately begin to shut down immigration detention facilities run by private prison companies, as well as county and state prisons, plagued by dangerous conditions and records of abuse. Congress should also resist the Biden administration's requests to increase funding for ICE detention. The time is past due.
Eunice Cho is a Senior Staff Attorney at the ACLU National Prison Project.
The views in this article are the writer's own.