President Joe Biden's administration is looking to foster renewed diplomacy with China with a close eye on the nuclear threat looming over the Korean Peninsula, a subject of the latest talks between top officials from Washington and Beijing.
White House national security adviser Jake Sullivan and Chinese Central Foreign Affairs Commission Director Yang Jiechi met Monday in Luxembourg for a four-and-half-hour session of discussion that a senior Biden administration official described as "candid, in-depth, substantive and productive" during a press call later that same day.
A readout issued by the White House offered few details of the meeting, simply saying that the two men discussed "a number of regional and global security issues, as well as key issues in U.S.-China relations," and Sullivan "underscored the importance of maintaining open lines of communication to manage competition between our two countries."
The senior administration official, however, noted that among the areas of international affairs discussed by Sullivan and Yang were Russia's war in Ukraine and Washington's "Indo-Pacific" strategy, including the recent uptick in engagement with allies, partners and other countries in the region.
Specifically, the official said that Sullivan "raised concerns about Beijing's recent decision to veto a resolution at the U.N. Security Council amid North Korea's exploratory tests and indications that Pyongyang is preparing its nuclear test site for a possible weapons test."
North Korea has been under intensive international sanctions since conducting its first nuclear weapons test in 2006, but the ruling Kim dynasty has pressed on with five more tests over the years, including the latest and most powerful demonstration yet, carried out in September 2017 under Supreme Leader Kim Jong Un.
North Korea has yet to resume nuclear testing, but it carried out its first intercontinental ballistic missile (ICBM) launch in nearly five years in March, marking the furthest departure to date from a failed peace process launched by the U.S. and the two rival Koreas in early 2018.
China, an ally of North Korea, has traditionally supported sanctions against North Korea, but the issue has become overshadowed in recent years by a growing geopolitical rivalry between Beijing and Washington.
"I think that this scenario is one where the United States and China have had a history of cooperation, a history of [having the] ability to work together with aligned interests," the senior Biden administration official said. "I think what I would say is that each side laid out their positions and the way we see the situation."
"And certainly," the official added, "Jake made very clear that we believe this is an area where the United States and China should be able to work together."
Newsweek has reached out to the Chinese embassy in Washington for comment.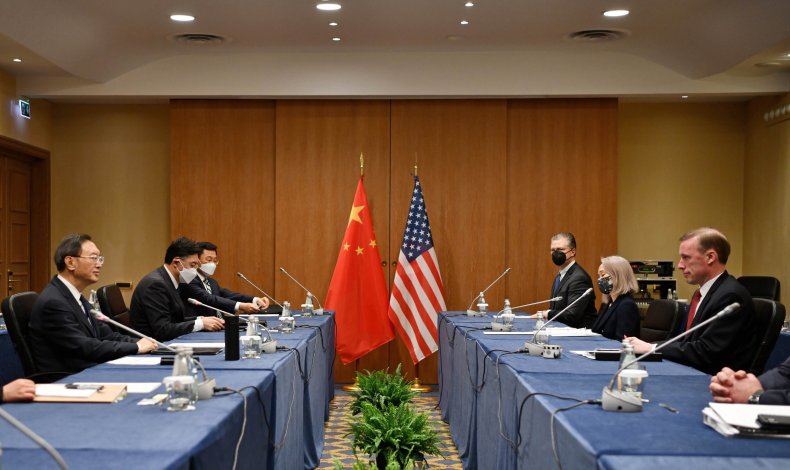 The latest high-level interaction between U.S. and Chinese officials came just a day after the South Korean military's Joint Chiefs of Staff reported traces of North Korean multiple-launch rocket system fire. If confirmed, the test would mark the most recent in a series of demonstrations including a series of eight ballistic missile launches last week.
North Korea's state-run media has been largely silent on the launches, however, largely focusing on the country's attempts to rein in its first publicly acknowledged COVID-19 outbreak and anti-corruption efforts led by Kim.
Washington and Seoul, for their part, have taken the opportunity to reemphasize their alliance. As Sullivan sat down with Yang on Monday, U.S. Secretary of State Antony Blinken met with his South Korean counterpart Park Jin in Washington.
"We are coordinating closely with each other on the threat posed by the DPRK's unlawful nuclear and ballistic missile programs," Blinken told a press conference alongside Park. "The recent increase in Pyongyang's ballistic missile testing has raised tension throughout the Indo-Pacific region and beyond."
And he reiterated the Biden administration's position on pursuing both deterrence and diplomacy with North Korea, officially known as the Democratic People's Republic of Korea.
"We continue to pursue the denuclearization of the Korean Peninsula and let me emphasize that the United States has absolutely no hostile intent for the DPRK," Blinken said. "We're open to dialogue without preconditions. We want to support the people of North Korea, including with COVID-19 vaccines. Indeed, we have offered our help consistently throughout the pandemic and again during the awful surge that they are now enduring, which comes on top of severe economic and humanitarian crisis."
Park said the U.S. and South Korea shared a common assessment of North Korea's recent moves and declared that "any North Korean provocations, including a nuclear test, will be met with a united and firm response from our alliance and the international community."
"We expressed special concern over North Korea's increasingly aggressive rhetoric regarding the use of tactical nuclear weapons," Park said. "And we agreed that the North Korea issue is one of the top policy priorities for the United States and the Republic of Korea. Continuous provocations will only lead to strengthen deterrence of the alliance and stronger international sanctions measures with a shared understanding of the importance of extended deterrence."
At the same time, the top South Korean diplomat also echoed Blinken's commitment to unconditional dialogue with North Korea, saying Seoul was prepared "to take a more flexible and open-minded approach to diplomacy" with Pyongyang.
Park appealed to North Korea not to further isolate itself through another nuclear test and to China to play a constructive role in de-escalating tension in the region.
"China should play a very positive role to persuade North Korea that maintaining peace and stability of the Korean Peninsula requires their new thinking and also making a right decision at this important critical juncture," Park said. "So I really hope that North Korea can look to the future and make the right decision."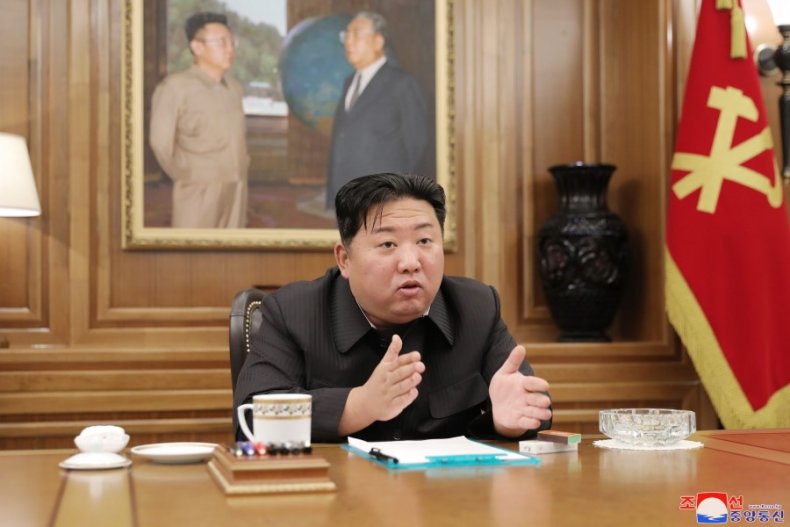 The meeting came just two days after U.S. Defense Secretary Lloyd Austin met with South Korean Defense Minister Lee Jong-sup on the sidelines of the Shangri-La Dialogue in Singapore.
A Pentagon readout said the two men also discussed North Korea's recent missile launches as they "decided to coordinate closely on responses to future DPRK provocations and re-affirmed that trilateral cooperation with Japan sends a strong deterrent signal to the region."
Biden visited South Korea and met with newly sworn-in President Yoon Suk-yeol last month as the first stop in the U.S. leader's debut trip to Asia since taking office last year. He then went on to travel to Japan, where he met with Prime Minister Kishida Fumio and participated in a meeting of the Quadrilateral Security Dialogue, a coalition consisting of the U.S., Australia, India and Japan.
The Quad has been criticized by Beijing as an attempt by Washington to establish a geopolitical bloc dedicated to countering and containing China's influence in Asia.
The senior Biden administration official on Monday's press call declined to discuss the possibility of a new call or meeting between the U.S. leader and Chinese President Xi Jinping but said that it was expected there would be "additional potential meetings in the months ahead" among representatives of the two top powers.
Speaking at a press briefing Tuesday, Beijing time, Chinese Foreign Ministry spokesperson Wang Wenbin told reporters that "both sides agreed that it is necessary and useful to maintain open lines of communication," but said he had no more information to provide on the matter.
This article has been updated to include remarks from Chinese Foreign Ministry spokesperson Wang Wenbin.