Biden Interrupted by Macron at G7, Told Saudis Are Near Oil Capacity Limit
A video captured the moment French President Emmanuel Macron interrupted President Joe Biden on Monday to express doubts that Saudi Arabia could increase its oil capacity.
The incident took place as the leaders of the world's richest nations gathered for the G7 summit in the German Alps, where Russia's ongoing war in Ukraine was at the top of the agenda.
"Excuse me, sorry to interrupt," Macron said as he approached Biden on the sidelines of the summit, according to a clip posted on Twitter.
Macron appeared to tell Biden that Sheikh Mohammed bin Zayed Al Nahyan, the leader of the United Arab Emirates (UAE), had told him that both the UAE and Saudi Arabia could not substantially increase oil production.
"He told me two things," Macron told Biden. "One, I'm at a maximum, maximum... what he claims."
"Second, the Saudis can increase a little bit, by 150 [thousands barrels per day] or a little bit more, but they don't have huge capacities at least before six months' time."
The countries had been viewed as the only two in the Organization of the Petroleum Exporting Countries (OPEC) with spare capacity to boost global deliveries that could bring down prices.
UAE Energy Minister Suhail Al Mazrouei has said the UAE's oil production is near to maximum capacity based on its current OPEC+ production baseline, which is 3.168 million barrels per day.
"In light of recent media reports, I would like to clarify that the UAE is producing near to our maximum production capacity based on its current OPEC+ production baseline (3,168 mbopd [thousand barrels of oil per day]) which UAE is committed by until the end of the agreement," Al Mazrouei told state news agency WAM on Monday.
The White House has been contacted for comment. French and Saudi officials have also been contacted for comment.
The cost of oil started rising due to supply shortages and recovering demand from the COVID-19 pandemic.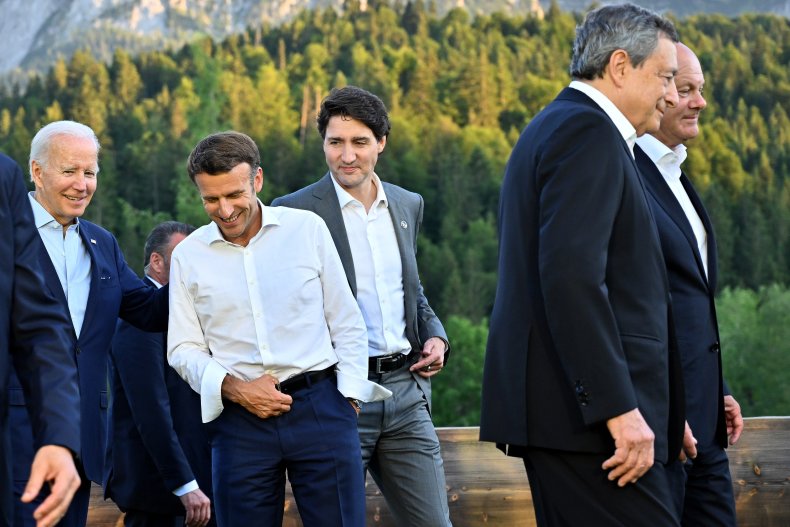 Russia's invasion of Ukraine in late February prompted the price of oil to rise, and gasoline prices have increased in tandem and hit record highs in the U.S. in June.
The alliance of oil-producing nations has increased output but not fast enough to lower prices.
The White House has said Biden will travel to Saudi Arabia in mid-July.
Oil is "absolutely" going to be part of talks Biden has with Saudi officials, the National Security Council's John Kirby said earlier in June.
But news of the trip has also drawn criticism from some who say it indicates the Biden administration is letting the Saudis off the hook for the killing of journalist Jamal Khashoggi.
When running for president, Biden had pledged that his administration would seek to make Saudi Arabia "the pariah that they are."
The CIA had concluded that Saudi Arabia's Crown Prince Mohammed bin Salman had ordered the murder of Khashoggi inside the Saudi consulate in Istanbul, Turkey, in October 2018. Saudi authorities have always denied the crown prince, known by his initials MBS, had any role in the journalist's death.
Update 6/28/30, 6:00 a.m. ET: This article has been updated with additional information.