Biden Leads Trump by Double Digits in Battleground States Michigan and Wisconsin: Poll
Presumptive Democratic nominee Joe Biden is leading President Donald Trump by double digits in two key battleground states, according to new polls.
Restoration PAC conducted a poll of 600 likely voters from July 13 to 27 in Wisconsin and Michigan, two crucial swing states that Trump unexpectedly won in 2016.
The polls show Biden ahead of Trump by 11 percentage points in Michigan, as 51.3 percent of likely voters said they would vote for the former vice president, compared with 40.3 percent who said they'd vote for Trump. In Wisconsin, Biden is leading the president by 12.4 points, with 50.3 percent saying they would vote for Biden and 37.9 percent answering they'd prefer Trump.
The majority of voters polled in Pennsylvania, another important election state that Trump won in 2016, also chose Biden over the president, with 49.7 percent saying they'd vote for Biden, compared with 44.3 percent who said Trump.
Biden's lead over Trump in all three states decreased slightly from June's polling data, according to Restoration PAC. In both Michigan and Wisconsin, 54.3 percent of voters had selected Biden over Trump in June. In Pennsylvania, Biden's nearly 12-point lead in June dropped to around 5 percentage points in July.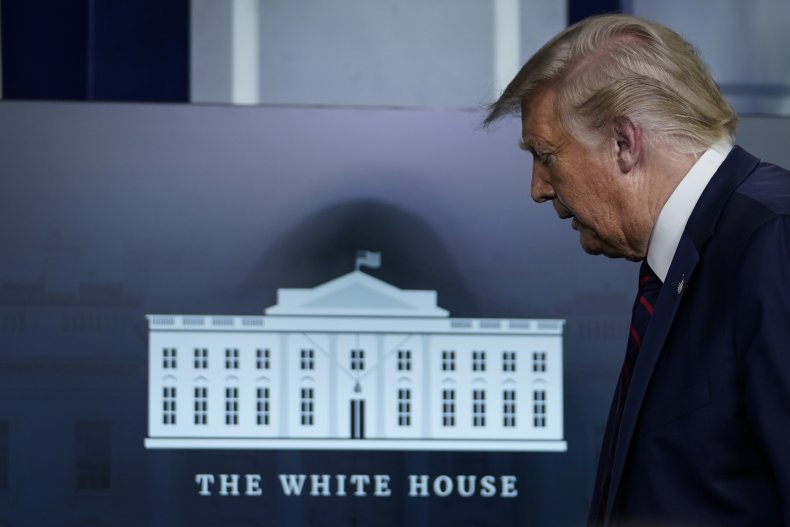 But last month's numbers still put the president's re-election bid in jeopardy. In addition to these three states, Florida, North Carolina and Arizona round out the list of 2020's battleground states. Under the Electoral College system, Biden needs to win only three of these six key states to gain more electoral votes than Trump, which would give him the presidency no matter how many popular votes each candidate receives.
If Biden flips Wisconsin, Michigan and Pennsylvania and also maintains the blue states won by Hillary Clinton in 2016, he would secure 278 electoral votes, compared with the 260 won by Trump. Based on the recent polling data from Restoration PAC, this scenario seems very plausible.
National polls also show Trump trailing Biden by several percentage points. A Morning Consult poll conducted from July 31 to August 2 with 11,568 likely voters showed 51 percent saying they'd vote for Biden, compared with 42 percent who said they'd vote for Trump.
Trump's sinking poll numbers continue as his administration attempts to deal with fallout from the coronavirus pandemic, a worsening economy and social unrest. And while Trump hasn't publicly acknowledged the unfavorable statistics on his chances of winning in November, he did recently float the idea of delaying the election.
"With Universal Mail-In Voting (not Absentee Voting, which is good), 2020 will be the most INACCURATE & FRAUDULENT Election in history. It will be a great embarrassment to the USA. Delay the Election until people can properly, securely and safely vote???," Trump tweeted Thursday, prompting backlash across party lines.
The president seems to have focused his efforts on criticizing the national push for universal mail-in voting, an option many Americans will use to minimize potential exposure to coronavirus.