Biden Is Likely to Be a Talking Point When Presidents of China and Russia Speak This Week
When Russian President Vladimir Putin and Chinese President Xi Jinping speak on Wednesday, their countries' relationships with the U.S. under President Joe Biden are likely to be a talking point.
The virtual summit with Putin and Xi on Wednesday will examine their Russian-Chinese relations, plan their countries' shared goals for the next year and "exchange views on major international and regional issues of common concern," Chinese Foreign Ministry spokesperson Wang Wenbin said in a Monday briefing, The Hill reported.
The call comes as both countries recently criticized Biden's early December Summit for Democracy. The summit was a meeting with 100 countries to fight corruption and defend free and fair elections in the U.S. and abroad. China and Russia weren't invited, according to the news outlet France 24.
Chinese and Russian ambassadors wrote a joint National Journal op-ed calling the summit divisive, ideologically driven and "an evident product of (the United States') Cold-War mentality."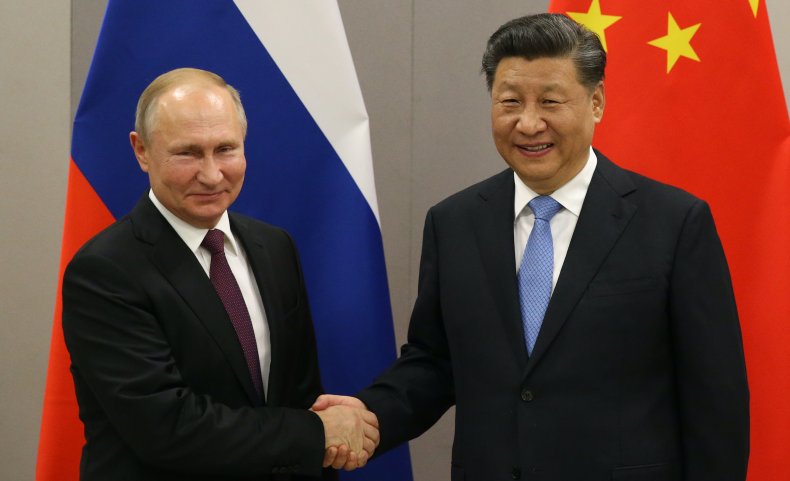 Biden spoke via video with Xi for 3 1/2 hours Nov. 15. Biden and Xi struck a warm tone, though the call concluded without any joint statement or list of "deliverables."
After the call, Biden stated that the U.S. wants "straightforward competition" with China that "does not veer into conflict." Xi said a "sound and steady" China-U.S. relationship is needed for international stability and to develop global solutions to problems like the pandemic and climate change.
However, Biden has maintained some hardline approaches to China kept from the previous administration of Republican President Donald Trump. Biden has kept tariffs from the Trump-era trade war. Both countries closed consulates over accusations of China stealing intellectual property and U.S. meddling in China's domestic affairs.
The Biden administration has also called out China over its hackers, China's aggression towards reclaiming Taiwan and China's oppression of Uyghur Muslims. In protest of Uyghur treatment, the U.S. pledged a diplomatic boycott of the Beijing 2022 Winter Olympic Games. The U.S. House also recently passed a bill examining the Uyghurs' treatment and boycotting goods made through their forced labor.
Biden spoke with Putin via video for two hours Dec. 7. The call's main focus was to threaten Russia with economic and diplomatic sanctions if Russia continues its military escalation against neighboring Ukraine. Russia has grown increasingly hostile to Ukraine as it seeks to join NATO (the North Atlantic Treaty Organization), a multinational force that seeks to limit Russia's and other countries' military influence in Europe.
But the Biden administration has many other issues with Russia. U.S. intelligence agencies have accused Russia of meddling in the 2016 and 2020 presidential elections while also oppressing any political opposition or elections that threaten Putin's power. Changes in the Russia constitution could allow Putin to remain in power until 2036.
The U.S. also remains angry about Russian hackers' December 2020 attack on SolarWinds, a U.S. technology monitoring and management company. The attack allowed hackers to access accounts of over 250 U.S. federal agencies and businesses. The National Security Agency, FBI and Cybersecurity and Infrastructure Security Agency all attributed the attack to Russia.
Russia has also maintained trading with North Korea, Venezuela and Syria, leaving Russia subject to further U.S. economic sanctions.
The U.S. and Russia remain two of the world's largest nuclear superpowers. Both agreed in January 2021 to extend the New START (Strategic Arms Reduction Treaty) program to reduce their nuclear missile launchers until 2026.
However, in late November, Russia accused the U.S. of preparing a nuclear strike against it. Contrastingly, the U.S. has accused Russia of enabling North Korea to execute a nuclear strike in the Far East with its continued trade.