House Ratchets Up Pressure on China With Bipartisan Votes on Peng Shuai and Uyghur Labor
The normally fractious House of Representatives closed ranks on Wednesday to pass resolutions designed to pile pressure on China in the weeks leading up to the Beijing Winter Olympics.
The first resolution, passed unanimously, condemned the International Olympics Committee's (IOC) kid-gloved handling of missing tennis star Peng Shuai. Shuai disappeared from public view after she publicly made a sexual harassment complaint against a Chinese political official.
The second resolution—approved 428 to 1—promises to cause China even greater aggravation by punishing companies that use forced labor from China's Uyghur Muslim minority, victims of a ferocious security crackdown that America has labeled genocide.
Both issues have prompted the United States and several allies to pull diplomats from the Beijing Games.
"Today, Congress sends a clear message: the Chinese government's genocide of the Uyghur people must end now," Democratic House Speaker Nancy Pelosi wrote in a Wednesday afternoon tweet. "If the U.S. does not speak out for human rights in China because of commercial interests, we lose all moral authority to speak out for human rights any place in the world."
The only legislator to vote against the second measure was Republican Kentucky Representative Thomas Massie. Massie has recently been criticized for sharing a Christmas photo of himself and his family holding guns days after the Oxford High School shooting.
Newsweek contacted Massie's office for comment.
The text of the first resolution, authored by Virginia Democratic Representative Jennifer Wexton, stated, "The IOC has once again failed to protect athletes from sexual abuse and harassment, and should publicly commit to hold sexual violence abusers accountable."
"The IOC's conduct undermines the efforts by the United States government, human rights organizations, the Women's Tennis Association, and other international bodies and individuals to secure Peng Shuai's safety," the resolution's text continued.
IOC president Thomas Bach reportedly spoke with Shuai during a November 21 call. However, critics have blasted the IOC for not sharing audio or video from the calls and for not being transparent about its other actions to ensure the athlete's safety.
Juan Antonio Samaranch, the IOC's lead member in final preparations for the Beijing Games, said the IOC's lack of transparency came out of a need "to be discreet."
"We have to respect [Shuai's] desire for discretion also in this very difficult moment of her life. And we will do that," Samaranch said.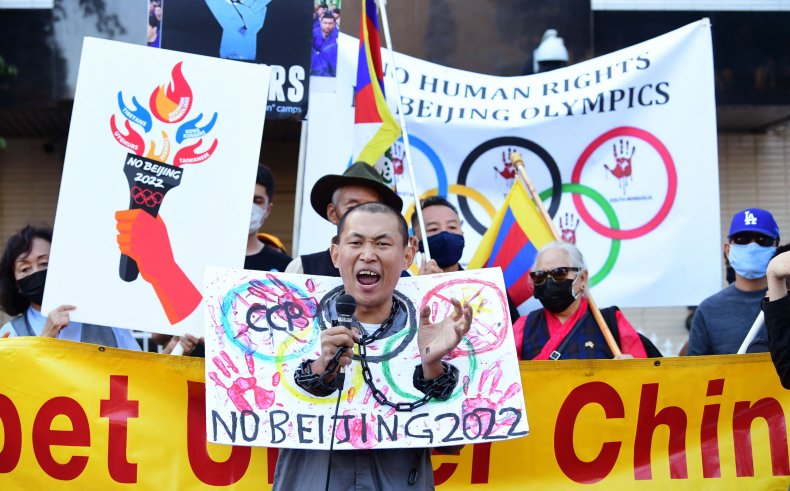 The second House resolution centered on a bill called The Uyghur Forced Labor Prevention Act, introduced by Democratic Massachusetts Representative Jim McGovern.
The bill requires corporations to provide "clear and convincing evidence" that regional imports from Xinjiang aren't manufactured through forced labor.
The bill also requires the president to impose sanctions on foreign entities and people that "knowingly" assisted in forcing labor from Uyghurs and other persecuted groups. Additionally, the bill would give the U.S. State Department 90 days to determine whether China had committed genocide or crimes against humanity through its treatment of Uyghur Muslims.
The bill will now head to the Senate where it will require at least 60 votes in support of it before heading to Democratic President Joe Biden's desk to be signed into law.
The House passed a similar bill in 2020. However, the bill was killed in the Senate. A number of American multinational companies—like Nike, Apple, Adidas, Coca-Cola and others—lobbied against the bill, Republican Florida Representative Michael Waltz said.
Waltz accused China of using its large economic power to discourage American companies from speaking out against its genocide. He also compared the Chinese government's treatment of the Uyghurs to past ethnic genocides committed in Rwanda, Sudan, Bosnia and Nazi Germany.
"When you're trying to wipe an ethnic group off the face of the earth and prevent them from having children and spoil their gene pool through a mass rape campaign, that's pretty sick stuff," Waltz told A Starting Point.
Activists and analysts estimate that the Chinese government has held anywhere from 1 million to 2 million Uyghurs and other minorities in national detention centers since 2017. The detainment of the predominantly Muslim minority group located mainly in China's Xinjiang province has coincided with widespread reports of forced sterilization, torture, sexual abuse and extrajudicial killings.
China has repeatedly dismissed international criticism and condemnation of its treatment of the Uyghurs and other minority groups.
Biden signed a bipartisan congressional call for sanctions against the Chinese for the genocide. However, Waltz said that congressional resolutions condemning China's actions are "largely symbolic."