Biden Sees Major Setback After Big Midterm Win
President Joe Biden escaped a setback right before this year's elections, but with the Democrats' midterm victory in their rearview mirror, the White House is coming face-to-face against a possible railroad strike yet again.
On Monday, the nation's largest railroad union, Sheet Metal, Air, Rail and Transportation Workers transportation division (SMART-TD), rejected the Biden-backed tentative agreement, raising the risk of a shutdown that could cause massive supply-chain disruptions before the holiday season.
"It's now back to the bargaining table for our operating craft members," SMART-TD President Jeremy Ferguson said in a statement. "This can all be settled through negotiations and without a strike. A settlement would be in the best interests of the workers, the railroads, shippers and the American people."
Rail workers are pushing for better pay and scheduling, as well as higher safety standards and the ability to take medical leave.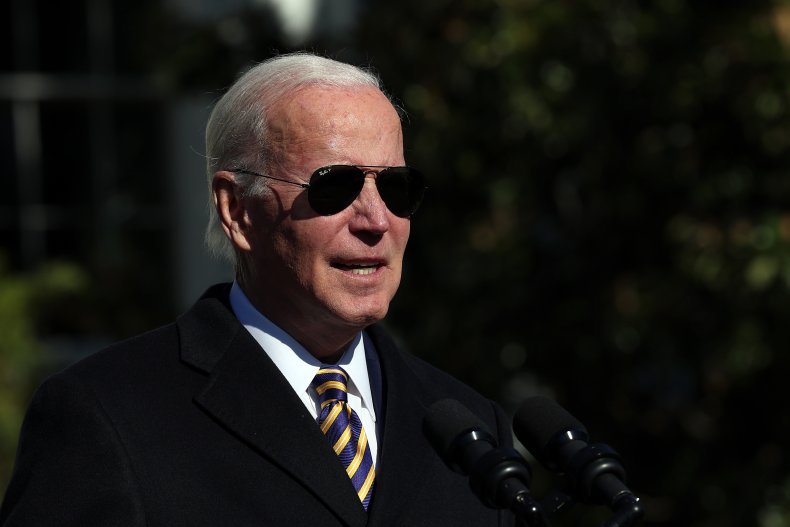 Biden had negotiated a deal following a 20-hour bargaining session back in September. The tentative agreement appeared to be a big political win, but recent disagreements between the nation's unions have complicated his administration's efforts to avoid a strike, putting Biden in a "bind," according to Andrew Busch, Claremont McKenna College's crown professor of government.
Busch told Newsweek while a strike could lead to more shortages, supply-chain disruptions and higher prices, Biden would not want to "intervene in a heavy-handed way to block a strike, either."
"The administration had a strong incentive to cater to unions before the midterm elections, reflected in the September proposal brokered by the Presidential Emergency Board," Susanne Schwarz, an assistant political science professor at Swarthmore College, told Newsweek.
However, with the midterms behind them, Schwarz said, "Democrats face less immediate pressure to appease labor unions." So, congressional or presidential action forcing a deal would appear less costly, even if it ticks off union workers. Regardless, she said both options—a forced labor agreement or a worker strike—could be costly for the Democrats.
"I don't know what he will do, but the path of least resistance may be to buy more time by extending the tentative agreement," Busch said.
Although SMART-TD is among four unions who have voted down the deal, another seven unions have voted to approve it. However, a strike as early as December 9 could come if any of them walk off the job. The industry has estimated that a strike could cost $2 billion a day.
Members of the Brotherhood of Locomotive Engineers and Trainmen (BLET) were among the groups to ratify the tentative deal, but in a Monday statement, the union said it would honor the picket line.
"We stood shoulder to shoulder with our brothers and sisters in SMART-TD and others in rail labor throughout this process and we will continue to stand in solidarity with them as we approach the finish line in this round of negotiations," BLET President Dennis Pierce said.
The BLET represents approximately 24,000 workers, while SMART-TD has 36,000 members. The two unions, plus the Brotherhood of Maintenance of Way Employes—which has also rejected the deal, represent more than 50 percent of all U.S. rail labor.
In a statement shared with Newsweek, a White House official emphasized that other unions have voted in favor of the agreement and urged other groups to continue their efforts at the negotiating table so that the administration would not have to step in like it did earlier this year.
"As the President has said from the beginning, a shutdown is unacceptable because of the harm it would inflict on jobs, families, farms, businesses and communities across the country," the White House said. "A majority of unions have voted to ratify the tentative agreement, and the best option is still for the parties to resolve this themselves."