Biden Monkeypox Adviser Accused of Being 'Satanist' by Right-Wing Critics
Right-wing critics have called Dr. Demetre Daskalakis, the White House national monkeypox response deputy coordinator, a "Satanist" for having the pentagram tattoo on his chest.
Some conservative commentators expressed their opinions about Daskalakis, who is openly gay, and criticized President Joe Biden for deciding in August to appoint him to the position.
"Meet Demetre Daskalakis. Demetre was just appointed by Joe Biden to be the official White House National Monkeypox Response Deputy Coordinator. Demetre proudly wears the official symbol of the Church of Satan: The Pentagram. Joe Biden appointed a Satanist to the White House," Newsmax host Benny Johnson tweeted on Thursday.
He added that the White House's announcement about Daskalakis had "no mention of the Satanism" in its press release. He also accused Daskalakis of "downplaying" monkeypox and calling it "just an infection" during a press briefing on Wednesday.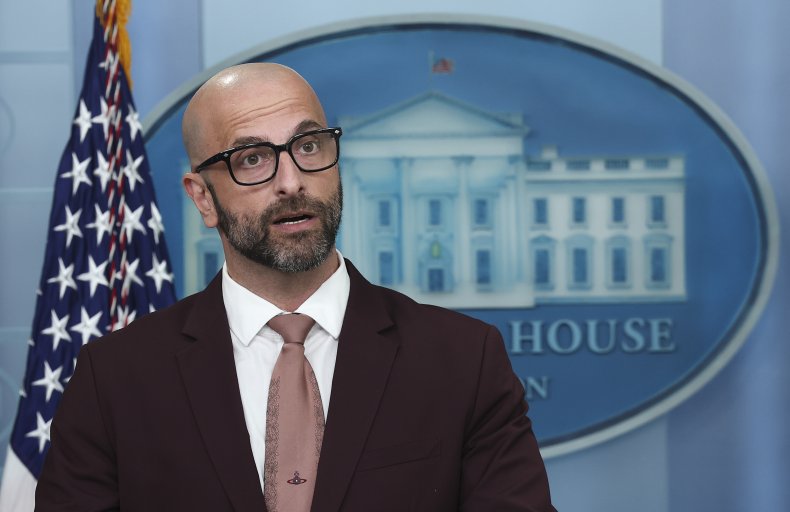 At the briefing, Daskalakis was speaking about the importance of being aware about how the disease circulates among the LGBTQI+ community without linking it to an identity.
Monkeypox, which was declared by the World Health Organization (WHO) as a "public health emergency of international concern," spreads through direct contact with the infectious rash or body fluids. It is also transmitted through face-to-face contact, touching contaminated surfaces and being in contact with infected animals.
"So, it's just an infection. It's not linked to an identity. It just happens to be in the social network," Daskalakis said.
Those infected with monkeypox experience fever, headache, body aches, swollen lymph nodes, chills, exhaustion and respiratory symptoms such as a sore throat or cough, according to the U.S. Centers for Disease Control and Prevention (CDC). As of Thursday, there were 21,504 confirmed cases in the United States, according to the CDC, and 56,609 confirmed cases globally.
Though Daskalakis is a leading public health expert who helped address issues affecting LGBTQ+ communities, including underserved individuals, and serves as the director of the CDC Division of HIV Prevention, he was still blasted online by some conservatives who shared pictures of his tattoos and his outfits outside of work.
"Not cherry picking here. The Pentagram is proudly displayed in his *promotional* photos for a CDC appointment. It's ubiquitous on his social media. Demetre has Pentagram tattoos. So it's a fair question: Did Joe Biden appoint a Satanist?" Johnson tweeted.
He also said in his Twitter thread: "I'm a First Amendment Absolutist. Demetre has the right to believe & worship anything he wants. Joe Biden did nothing illegal in appointing him. But the American public has a right to know if Joe Biden appointed a Satanist."
Comedian Tim Young shared a picture of a cartoon and tweeted: I knew I recognized Biden's monkeypox coordinator from somewhere."
In a separate Tweet on Wednesday, he wrote: "Biden's new monkeypox spokesperson may not be an Admiral like Rachel Levine yet... but he's already dressed for the role."
A Twitter account named The Conservative Read tweeted: "Meet Dr. Demetre Daskalakis, Biden's pick for White House Monkeypox response deputy coordinator. Daskalakis is a gay pentagram wearing radical leftist- looks like he has all the qualifications necessary to be part of the Biden administration."
Another conservative comment on Twitter read: "In today's world, Joe Biden's logic is to appoint, Demetre Daskalakis, a Satanist, as the official White House Ntl Monkeypox Response Deputy Coordinator. Demetre proudly wears the official symbol of the Church of Satan: The Pentagram. Build Back Better... straight to hell."
Some Twitter users pushed backm with science reporter Benjamin Ryan saying, "It was only a matter of time before conservatives began an anti-gay lampooning campaign of Demetre Daskalakis, the White House's #monkeypox deputy, who has always been an unconventional public servant."
"Disgusting. Anyone who has been following Daskalakis' work knows that one reason he's been so effective is that he's been able to — and insisted on — doing research/providing care in the spaces and with the ppl many doctors and officials don't even want to acknowledge exist," columnist Natalia Mehlman Petrzela said.
Newsweek reached out to the White House for comment.