Biden Needs to Declare a Climate Emergency Despite the Deal | Opinion
As the applause dies down from passage of the United States' first major climate legislation, the relentless consequences of global heating show the extent of our climate emergency—and how vital it is that President Biden still declare one.
In Pakistan, unprecedented flooding has left more than 1,000 people dead and more than a third of the country under water. Epic drought is drying up rivers from China to Europe to California, intensifying water and food shortages.
When it comes to climate change, the greatest threat humanity has ever faced, the Inflation Reduction Act can't be an excuse for complacency. It must be the start of a furious race to protect people and our planet. In the leadup to the COP27 U.N. climate conference in November, this is also a critical moment for Biden to show the world that the largest historical emitter is all hands on deck.
Even if every renewable incentive in the Inflation Reduction Act's $369 billion package works perfectly, the law—in tandem with existing measures—will only get us at most 80 percent of the way to meeting Biden's commitment to cut carbon pollution 50 to 52 percent below 2005 levels by 2030. Not to speak of the country's actual fair share of domestic emissions reductions, which should be 70 percent below 2005 levels by 2030.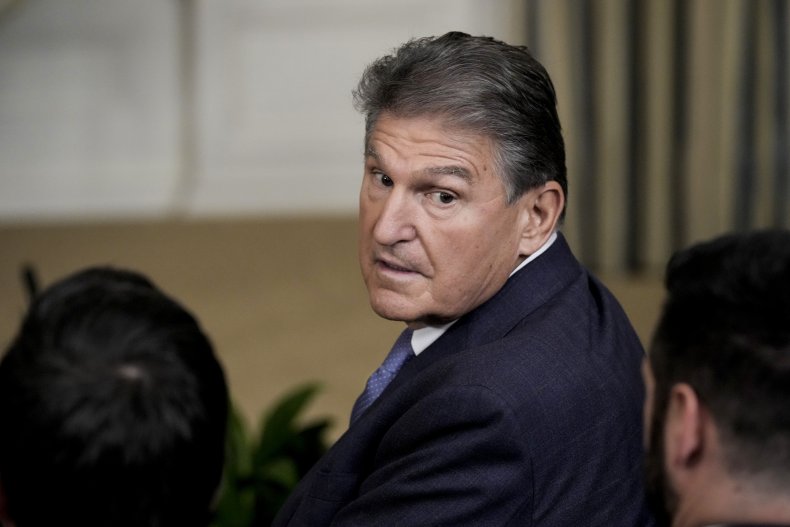 Moreover, in exchange for this renewable energy funding, lawmakers made concessions to Sen. Joe Manchin (D-WV) and the fossil fuel industry that all but greenlight the fracked gas Mountain Valley Pipeline and mandate new federal oil and gas leasing—projects that sacrifice frontline communities and lock in carbon pollution for decades.
And that's disastrous, since 85 percent of climate-heating pollution comes from oil, gas, and coal. Climate scientists have been absolutely clear: To avoid irreversible climate devastation, we must end new investment in fossil fuel projects and phase out production, keeping as much as 40 percent of the fossil fuels from already-developed fields in the ground.
The president must unleash his executive powers to do what a fossil fuel-captured Congress could not: End the production and use of fossil fuels that are poisoning communities, wiping out wildlife, and scorching our planet.
Using traditional executive powers and emergency powers, Biden can meet his goal of reducing U.S. emissions more than 52 percent by 2030 and reap enormous benefits for the environment, frontline communities, and future generations.
First, while the IRA offers plenty of renewable energy carrots — incentives to companies and consumers — President Biden needs to use some serious sticks to firmly regulate polluting industries.
With his ordinary executive powers, Biden can direct the Environmental Protection Agency to establish national limits for greenhouse gases under the Clean Air Act, requiring states to enforce them. Supreme Court Chief Justice John Roberts indicated in his majority opinion in West Virginia v. EPA that setting a national, science-based cap may be a "sensible solution" to greenhouse gas regulation. Just weeks ago, seven states and the territory of Guam asked the EPA to do exactly this.
Biden can also use his executive authority to direct the EPA to set steep reductions in climate pollution from cars and trucks, as well as airplanes, ships, and trains.
Second, Biden can directly curb fossil fuels where the Inflation Reduction Act did not. He can phase out the production of oil and gas on public lands and waters, stop issuing nationwide permits and halt approvals of new fossil fuel infrastructure projects.
Third, an emergency declaration under the National Emergencies Act would allow Biden to halt the hundreds of billions of private dollars that fund coal, oil, and gas projects abroad.
Under emergency powers, Biden could also phase out fossil fuel exports. Last year the United States exported 85 million short tons of coal , releasing the equivalent carbon emissions of 47 coal-fired power plants. Biden could also reinstate the crude oil export ban that was in place for 40 years before Congress overturned it 2015. Restoring the ban would be the climate equivalent of shuttering up to 42 coal plants.
As the climate cooks, and people and wildlife suffer, nothing matters more than how fast the United States can zero out carbon emissions and shut off the fossil-fueled broiler. The president has the opportunity of a lifetime to move us closer to that goal—simply by using his existing authorities.
The congressional climate bill marries historic achievement with gut-wrenching giveaways. But all its best ambition will burn up if Biden fails to act on fossil fuels. Only by using all his climate powers can Biden ensure that we meet humanity's greatest threat with its greatest resolve.
Maya Golden-Krasner and Jean Su are the authors of "The Climate President's Emergency Powers." Both are attorneys at the Center for Biological Diversity.
The views expressed in this article are the writer's own.