Joe Biden said Tuesday evening that he plans to announce his vice presidential pick "the first week of August."
Biden, who served as President Barack Obama's vice president, has committed to selecting a woman as his running mate, and many have urged him to select a woman of color. Although the presumptive Democratic nominee and his campaign have been relatively tight-lipped about whom he is leaning toward choosing, several prominent names have been widely circulated.
Names floated include two former primary rivals, Democratic Senators Elizabeth Warren of Massachusetts and Kamala Harris of California. Also speculated to be on Biden's short list are Congressional Black Caucus Chair Karen Bass of California, Representative Val Demings of Florida, former Georgia gubernatorial candidate Stacey Abrams, former White House national security adviser Susan Rice, Senator Tammy Duckworth of Illinois, Michigan Governor Gretchen Whitmer and New Mexico Governor Michelle Lujan Grisham.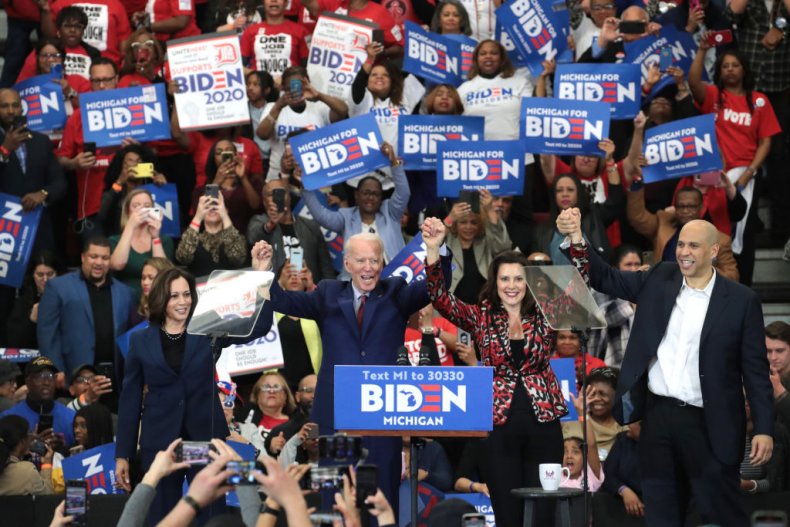 Recent polling by USA Today/Suffolk suggests that Democratic voters believe Biden should select a woman of color as his vice president. The poll found that nearly three-quarters (72 percent) of Democrats said it was "important" for the Democratic candidate to choose a woman of color.
That survey, which was conducted from June 25 to 29, also showed that 36 percent of Democratic voters said they'd be excited if Harris was selected. The senator from California, whose parents immigrated from India and Jamaica, was the first Indian American and the second African American woman to be elected to the Senate.
As for Abrams, who is black and has repeatedly expressed her interest in joining Biden's ticket, 28 percent of respondents to the survey said they'd be excited if she was chosen. Warren had a similar level of enthusiasm, with 27 percent of Democratic voters expressing excitement about the possibility of her running with Biden.
Polling from earlier in June by Morning Consult/Politico showed that Warren had the highest favorability among Democrats. While 59 percent of respondents viewed Harris favorably, 10 percent more, or 69 percent, viewed Warren favorably. Abrams was viewed favorably by 40 percent of Democrats, Demings was viewed favorably by 17 percent, Duckworth by 25 percent, Whitmer by 29 percent and Lujan Grisham by 12 percent.
Some analysts believe Biden is leaning toward choosing Harris. On Tuesday evening, a photographer with the Associated Press captured a photo of the notes Biden was holding, revealing several talking points about Harris. The notes' wording included "Do not hold grudges," "Campaigned with me & Jill," "Talented," "Great help to campaign" and "Great respect for her."
The "grudges" note was likely a reference to a high-profile clash between the former vice president and the California senator on a debate stage last year. Harris has endorsed Biden since then, as have the other potential running mates. Biden has spoken highly of Harris on the campaign trail as well.