Biden Pokes Putin Over Failures in Ukraine War, Commits to Long-Time Hurt
President Joe Biden stressed on Thursday that Western nations would "not lessen our resolve" in continuing to come to Ukraine's aid while announcing new measures being taken by the U.S. in response to Russia's invasion.
Speaking from the Roosevelt Room of the White House, Biden didn't mince words in criticizing Vladimir Putin for strategic failures in Ukraine after his forces failed to take the capital of Kyiv. Russian troops are now refocusing their efforts on seizing territory in Eastern Ukraine's Donbas region as the conflict enters its eighth week.
"We don't know how long this war will last. But as we approach the two-month mark, here's what we do know: Putin has failed to achieve his grand ambitions on the battlefield," Biden said.
The U.S. will provide another $800 million in military aid to Ukraine, Biden said Thursday, as well as $500 million in economic aid. There will also be a ban on Russian ships from entering U.S. ports, a move Canada and several European nations have already taken.
Biden said the U.S. is working with allies to provide assistance to Ukraine as soon as possible in order to further isolate Russia from the world stage.
"Putin is banking on us losing interest," Biden said. "He's betting our Western unity will crack. He's still betting on that, and once again we're going to prove him wrong. We will not lessen our resolve."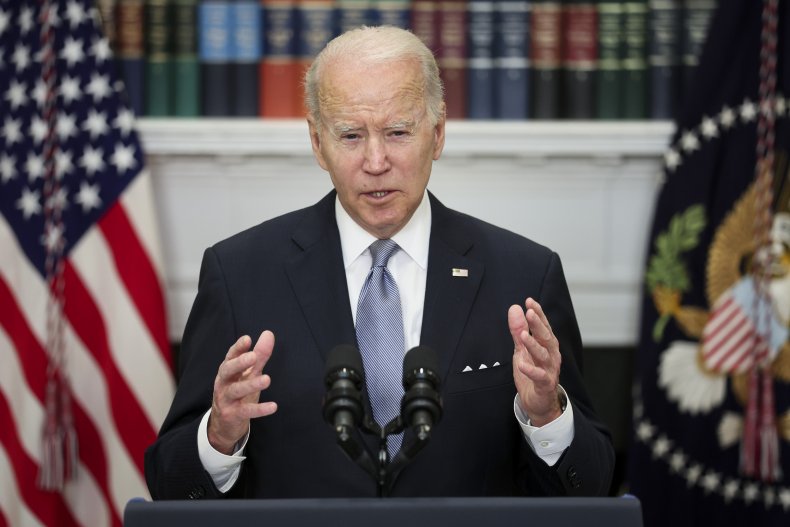 The Donbas region has long been of interest to Putin. Days before Russia launched its full-scale invasion of Ukraine, Putin declared Luhansk and Donetsk—two "republics" located in the region—as independent from Ukraine.
The Russian military earlier this week seized the city of Kreminna as its blitz in the Donbas region began. Serhiy Haida, head of Ukraine's Luhansk region, said the area was under constant shelling from Russian forces, making it difficult for civilians to flee.
After failing to seize Kyiv, Russia appointed a new top commander in the military campaign against Ukraine: General Kreminna Dvornikov led the Russian air bombardment in Syria and has been described as the "butcher of Syria."
The White House said at the time that the change in leadership wouldn't "erase the fact that this is a strategic failure for Russia."
As Russia moves into the Donbas region, U.S. officials have warned of possible upticks in cyberattacks.
"Russia's invasion of Ukraine could impact organizations both within and beyond the region, to include malicious cyber activity against the U.S. homeland, including as a response to the unprecedented economic costs imposed on Russia by the U.S. and our allies and partners," the U.S. Cybersecurity and Infrastructure Security Agency said on Wednesday.