Biden Praises DeSantis' 'Remarkable' Response to Hurricane Ian
President Joe Biden praised Florida Governor Ron DeSantis' response to Hurricane Ian as "pretty remarkable" during his Wednesday visit to southwest Florida, where he and First Lady Jill Biden flew down to survey the damage left behind by the storm.
"What the governor's done is pretty remarkable," Biden said during a press conference, before adding, "I think he's done a good job."
The President said that while he and DeSantis "have very different political philosophies", they've been "in complete lockstep" "in dealing with this crisis", according to a pool report.
DeSantis returned the kind words to the President, crediting Biden with "basically set[ting] off the massive mobilization" for relief when the White House swiftly approved the governor's disaster declaration.
Both Biden and DeSantis were recently embroiled in a feud over the influx of migrants at the southern border, but the two had promised to put politics on hold and focus on "working as one" instead in the wake of the devastating storm.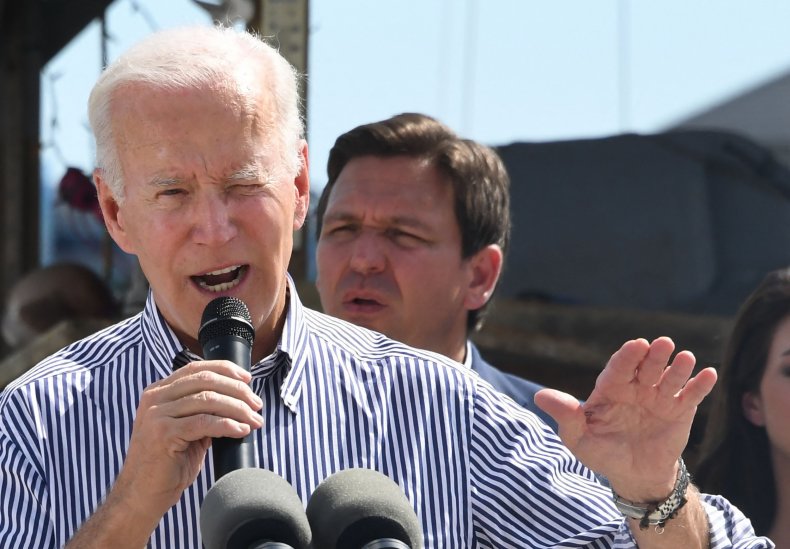 "There will be plenty of time to discuss differences between the president and the governor, but now is not the time," White House Press Secretary Karine Jean-Pierre told reporters during a Tuesday briefing.
On Wednesday, Biden announced that the federal government would fully cover the state's costs for debris removal, food and water distribution, and emergency shelters.
Wednesday marked the first face-to-face meeting between the Democratic president and Republican governor since DeSantis flew a group of migrants from Texas to Martha's Vineyard that the Biden administration blasted as a "political stunt."
On Tuesday, Jean-Pierre noted that Biden had "obviously...laid out his concerns and outrage by the stunt," but that he was committed to "delivering and making sure that the people of Florida have what they need, especially after Hurricane Ian."
Speaking of his visit to Florida, Biden said on Monday: "At times like these, our nation comes together, put aside our difference—our political differences and get to work. We show up when we're needed. Because if we lost our home, if we lost a loved one, we'd hope that people would show up for us as well."
DeSantis notably changed his tone towards Biden ahead of the storm's landfall, publicly thanking the administration for its "quick action" in approving Florida's declaration of emergency and defending that "the administration wants to help."
In a statement sent to Newsweek last week, the governor's office emphasized that it is "completely focused on hurricane response," and that DeSantis has "no time for politics or pettiness" while responding to what is shaping up to be one of the deadliest and costliest storms that Florida has seen in decades.