DeSantis Praises Biden as Florida Gov. Changes Tone Before Hurricane Ian
Florida Governor Ron DeSantis has expressed his gratitude towards President Joe Biden for his co-operation as Hurricane Ian is due to hit the state.
Speaking to Fox News' Sean Hannity Tuesday night, DeSantis said he is "very thankful" to Biden while discussing a phone call the pair had about preparations for Hurricane Ian, including the government providing federal assistance.
The Category 3 storm, which has already left all of Cuba without power, is expected to make landfall in Florida around Wednesday afternoon or early evening.
Biden previously confirmed he already spoken to three Florida mayors on Tuesday as Ian approached the state but seemed to wait until hours later to speak with DeSantis.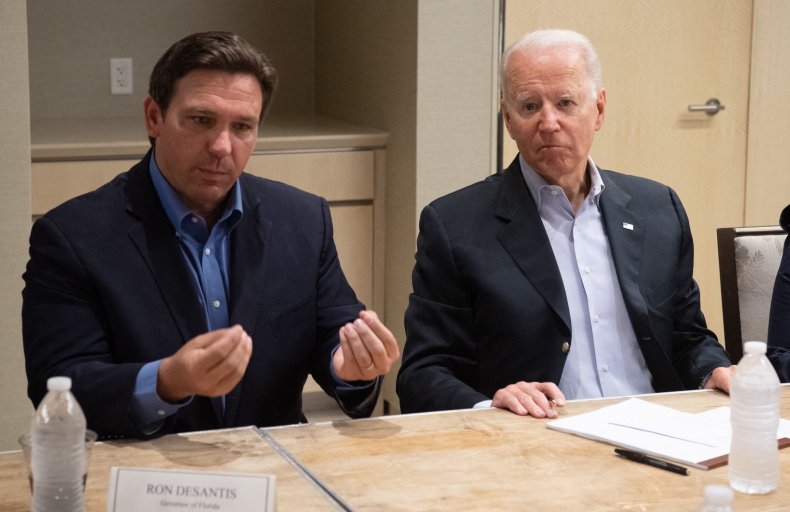 When Hannity asked about the call with Biden, DeSantis said: "What I said today is my phone line is open when people's lives and their property are at risk like this.
"We all need to work together regardless of party lines. The Biden administration has approved our request for a pre-landfall declaration and did that very quickly. So we're thankful for that."
DeSantis said that there will be more requests for federal assistance, especially for Floridians that may have been displaced by the major storm.
"And it's my sense that the administration wants to help. I think they realize that this is a really significant storm," DeSantis said. "We're working with the locals. We work very well with them. Of course, the state level, but we really need everyone working together to make sure people have their needs tended to."
DeSantis' comments echo previous remarks he gave where he said that "we don't have time for pettiness" when people's lives are at stake and that he is willing to speak to Biden about preparations and responses to the hurricane.
In recent days, the pair have clashed over DeSantis' stunt in flying migrants from Texas to the affluent Martha's Vineyard area of Massachusetts, as well as what appears to have been an aborted attempt to send a group to Biden's home state of Delaware.
In a tweet, White House press secretary Karine Jean-Pierre confirmed the Tuesday phone call between Biden and the Florida governor.
"President Biden spoke this evening with Governor DeSantis of Florida to discuss the steps the federal government is taking to help Florida prepare for Hurricane Ian," Jean-Pierre said. "The president and the governor committed to continued close coordination."
Also on Tuesday night, DeSantis warned south-west Florida residents to leave their homes if there are in an evacuation zone "now," as Hurricane Ian approached, bringing the possibility of gale force winds and flooding.
"Your time to evacuate is coming to an end. You need to evacuate now. You're going to start feeling major impacts of this storm relatively soon," DeSantis said. "Now is the time to do it, and now is the time to act."
The White House has been contacted for comment.