Ron DeSantis Tones Down His Trump Style Ahead of Dangerous Hurricane
As Florida prepares for a major hurricane to ravage its coast, Governor Ron DeSantis is all business in his press briefings.
The storm is DeSantis' first experience handling a hurricane's direct hit to Florida since he was elected governor in 2019. The crucial test comes six weeks before Election Day, in which DeSantis is campaigning to win reelection.
The governor, who often uses his briefings as a vessel for political sparring aimed at President Joe Biden, has instead focused recent briefings on the storm. In his Tuesday briefing, DeSantis didn't critique Biden but instead urged Floridians to take precautions and prepare themselves for when Hurricane Ian hits. He also urged those who are in the path of the storm to evacuate.
DeSantis, a 2024 presidential contender, is often compared to former President Donald Trump for his rhetoric and political stances. But on Saturday, the Republican governor thanked Biden for declaring a federal state of emergency in Florida. "They stand by ready to help, so we appreciate that quick action," DeSantis said.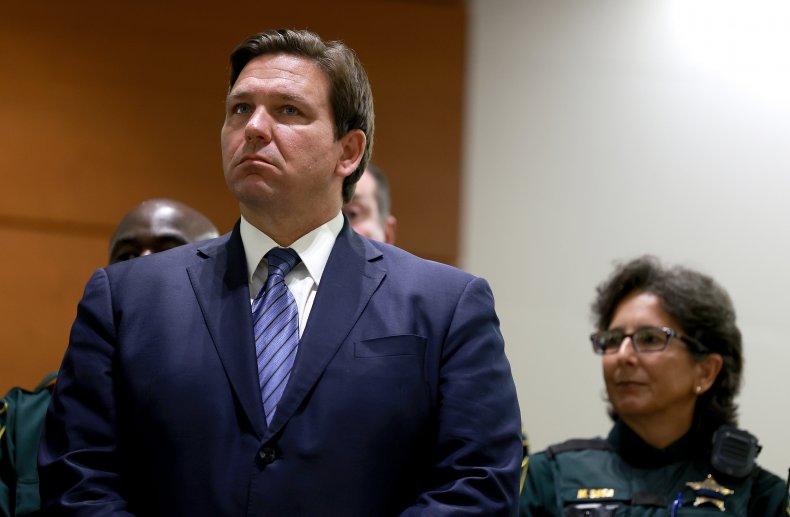 A week prior, DeSantis criticized Biden's actions regarding migrants entering the United States, saying he was "perplexed" that Biden was "scrambling to get his Cabinet together" to respond to Republican governors sending migrants to sanctuary cities. He told the crowd that Biden didn't seem to be scrambling when migrants were "pouring" across the border.
"It's only when you have 50 illegal aliens end up in a very wealthy, rich sanctuary enclave that he decides to scramble on this," DeSantis said, referencing his action to send 50 migrants from Texas to Martha's Vineyard earlier this month.
DeSantis called Biden's border policies "reckless" and said that he would continue to insulate Florida from those policies.
"And yes, that involves helping with transport," he said.
Biden planned to hold a political rally in DeSantis' home state of Florida today accompanied by fellow Democrat and Florida gubernatorial candidate Charlie Crist. However, the rally was canceled due to Hurricane Ian's impending arrival.
Reuters reported that it would have been the first time a president held a political rally in a state he lost during the election—Biden lost Florida by three points in 2020. One senior democrat official told the outlet that the president was expected to "throw punches" at DeSantis at the rally.
Biden and DeSantis have traded barbs for years, with DeSantis slamming Biden for his COVID-19 restrictions and Biden calling out Florida's "bad health policy" during a White House press briefing last year.
The sparring has only intensified as DeSantis considers a 2024 presidential run and mimics Trump in his mannerisms and critical approach.
The White House has repeatedly said the strife between DeSantis and Biden won't impact the federal government's hurricane response. Press Secretary Karine Jean Pierre denied that the two not speaking directly was anything to read into. She noted that Biden didn't call Mississippi Governor Tate Reeves during the water crisis in Mississippi but still provided aid.
DeSantis' handling of the hurricane could be a vital moment for his political future. Former Federal Emergency Management Agency (FEMA) administrator Craig Fugate told Politico that a failure could hinder his ability to get reelected. But, if DeSantis' response earns high praise, it could set him up for "higher office."
Newsweek reached out to DeSantis' campaign office and to the White House for comment.