Ron DeSantis' Migrant Plane was Scheduled to Head Toward Joe Biden's Home
A plane that was involved in flying undocumented migrants to Martha's Vineyard, Massachusetts, was scheduled to head to an airport near President Joe Biden's home on Tuesday.
Information about the plane's flight plan was available on FlightRadar24 and had led to speculation that it could be carrying migrants, though there was no evidence that migrants would be on board.
The same aircraft flew to Martha's Vineyard on September 14. Florida Governor Ron DeSantis sent two planes carrying undocumented migrants there in a move that has been strongly criticized by lawmakers including by President Biden.
FlightRadar 24 initially showed the plane, given the designation J328, was set to leave San Antonio, Texas, at 8 a.m. Central time (9 a.m. ET) and arrive in Crestview, Florida, at 10:03 a.m. CT (11:03 a.m. ET) for a brief layover, before departing for Delaware Coastal Airport in Sussex County, Delaware, at 10:17 a.m. CT (11:17 a.m. ET).
The airport is about a 40-minute drive from Rehoboth Beach, near to where Biden has a vacation home.
The plane had been scheduled to leave Delaware Coastal Airport at 2:30 p.m. ET and head to Teterboro, New Jersey. However, flight trackers showed the plane instead went from Nashville to Teterboro and did not arrive at Delaware. Officials in Delaware had been preparing for its arrival.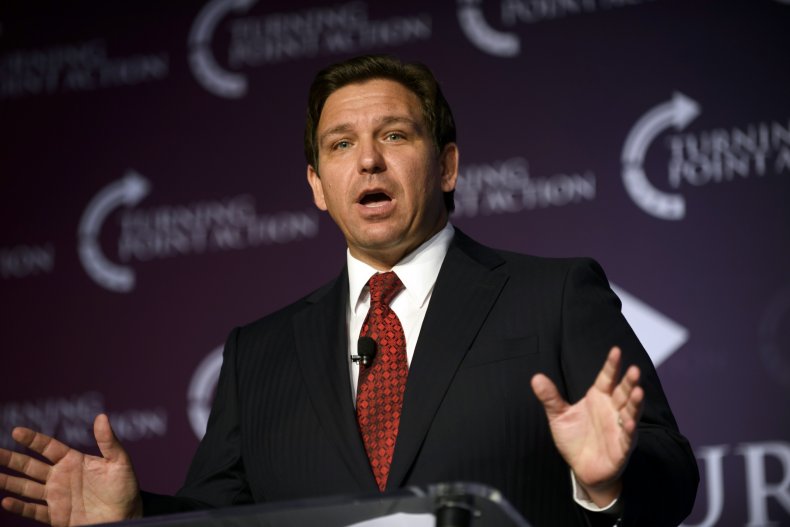 The destination of the plane that was recently involved in the migrant flight to Martha's Vineyard had led to online speculation that this flight may be carrying migrants. Texas Governor Greg Abbott recently sent a busload of migrants to the official residence of Vice President Kamala Harris in Washington, D.C.
The migrants transported to Martha's Vineyard were originally picked up in San Antonio.
"One of the planes used in DeSantis' Martha's Vineyard stunt is currently scheduled to travel tomorrow from San Antonio to Florida, to a small airport near Biden's house in Delaware," journalist Judd Legum tweeted on Monday, sharing a screenshot from FlightRadar24.
Twitter user @DefNotDorothy wrote that "DeSantis is flying them to Joe Biden's town in Delaware."
There was no evidence at the time that the flight would be carrying undocumented migrants or that the intention was to send migrants to Biden's Delaware home.
Daniel Uhlfelder, an attorney and founder of Remove Ron - a group opposed to DeSantis - tweeted overnight about a plane that had arrived into Bob Sikes Airport in Crestview, Florida.
Uhlfelder said he had received a tip about the aircraft and that it may have been used to transport migrants.
"The flight landed exactly when we expected it to. After landing it stayed on the runway for 10 minutes and then took off again," he tweeted.
The plane Uhlfelder saw and the flight scheduled to leave San Antonio on Tuesday morning appear to be separate aircraft and it isn't known if they are being used to relocate undocumented migrants.
Newsweek has reached out to DeSantis' office for comment.
'Political Theater'
In Texas, Bexar County Sheriff Javier Salazar has launched an investigation into the transportation of Venezuelan migrants to Martha's Vineyard. Salazar announced on Monday that he would begin a probe into whether migrants living in his county had been "preyed upon" for "political theater."
Governor DeSantis defended his actions in comments to Orlando NBC affiliate WESH, and he also criticized Bexar County as at least 50 migrants were found dead in a tractor-trailer in June.
"Immigrants have been more than willing to leave Bexar County after being abandoned, homeless, and 'left to fend for themselves,'" he said. "Florida gave them an opportunity to seek greener pastures in a sanctuary jurisdiction that offered greater resources for them, as we expected."
Update 9/20/22 8:38 a.m. ET: This article was updated to include more information about the flight and the fact it is due to travel to Delaware Coastal Airport.
Update 9/21/22 5:00 a.m. ET: This article was updated to reflect the fact that the plane did not arrive in Delaware.